Trash Compactors Buying Guide
A trash compactor is a useful, space-saving home appliance that's typically considered to be more sanitary than a traditional trash can. The trash placed into the compactor is compressed until it's reduced to a smaller and more manageable load. This device helps cuts down on waste, eliminates spillage from garbage overflow and requires less labor than a trash can. Imagine only walking trash to the curb once every couple weeks or so - this is a reality when you own a trash compactor.
Why buy a new trash compactor?
Trash compactors feature sleek, modern and space saving designs. Most models are meant to blend in seamlessly when installed beneath cupboards. They can be fitted with custom front panel to match your cabinetry perfectly.

If you prefer versatility, a stand-alone compactor is mobile and can be moved out of the way into a closet or used as a kitchen island.
If you pay to have trash removed by volume or on a weekly basis, a trash compactor will drastically reduce the volume of trash you're putting out each week, which could help save money if you're paying by the day or week.
It reduces waste volume by 75 to 80 percent, meaning you'll spend less on garbage bags, trash pickup and removing recyclables. In fact, you should be able to recycle more in a single bin.

---
Features of modern trash compactors
Technological features
Noise-reducing capabilities keep your kitchen quiet while the compactor is running
Key knob controls prevent accidental operation
Anti-jam and tilt sensors help prevent accidents or spills
Rear rollers are sometimes fitted to the back to ensure easy installation
Many models feature display panels which show when to replace components like filter disks
Side-opening models make it easy for children, elderly or disabled people to remove heavier bags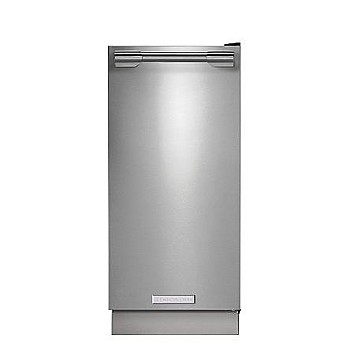 ---
Hygienic Features
Can compress one to four weeks' worth of trash into a single 30-pound bag (depending on household size and compactor's bin size)
Tightly sealing doors eliminate trash odors when the compactor is closed
Many feature built-in filters or deodorizer systems to further minimize odors
A tilt away trash basket allows for easier bag replacement, so there's no risk of spillage
A toe bar drawer-opener helps you avoid using your hands and potentially spreading
Some models come equipped with self-cleaning mechanisms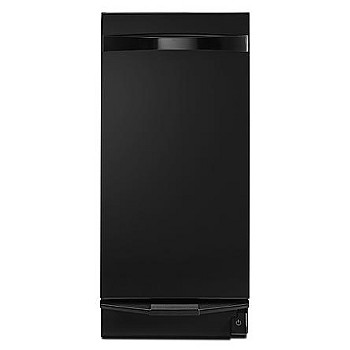 ---
Space-saving features
Can be fitted under countertops for a seamless look
Compacting your garbage results in fewer garbage bags lying on doorsteps or in outside bins
A freestanding unit requires no installation, and can be rolled out of the way or used as an additional countertop
Remember not to compact glass, as this could damage the compactor and/or rip the bag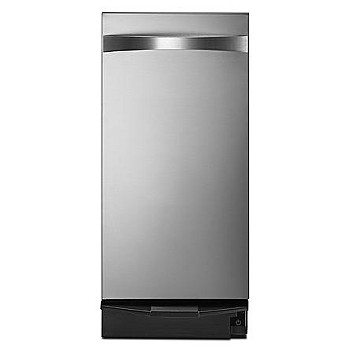 ---
---
Types of trash compactors
Built-in trash compactors
A built-in trash compactor is fitted underneath your kitchen countertop and, depending on the model, may require a professional installation.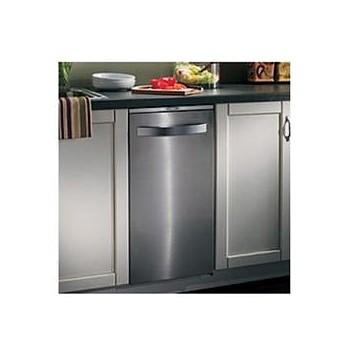 Built-in trash compactors are best for…
Small kitchens: These trash compactors take up the least amount of space, making them perfect for smaller kitchens.
---
Freestanding trash compactors
A freestanding unit requires no installation beyond plugging it in, and it also functions as a kitchen island.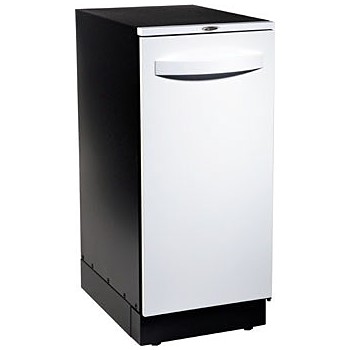 Freestanding trash compactors are best for…
Renters: A freestanding unit is ideal for renters who aren't typically able to alter the fixtures and cabinets in an apartment.
Home cooks: Freestanding compactors feature wheels that allow them to be moved around the room as needed, making them good for fast-paced home cooks who are all over the kitchen.

---
Convertible trash compactors
A convertible trash compactor can be built-in under countertops, or it can be used as a freestanding unit.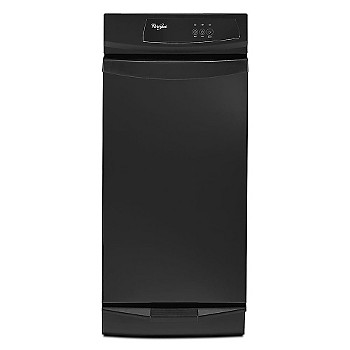 Convertible trash compactors are best for…
Future homeowners: A convertible trash compactor is perfect for those who plan to someday own a home and want a compactor that can be built-in at a later date.
Prospective remodelers: People who are saving up to install an under-counter compactor can go with the less expensive convertible compactor in the short term, then install it later when circumstances allow.

---
A trash compactor is a great purchase, and owning one has a lot of benefits. A built-in unit is perfect for homeowners who are able to handle the installation and the slight modification to their homes. Cooks who occasionally need some extra counter space will appreciate the versatility of a freestanding unit, while renters who plan to own their home or homeowners planning a kitchen remodel will appreciate the versatility of a convertible trash compactor.

---
---
---