How to Clean Hardwood Floors
Hardwood flooring can often look and feel dirtier than other floor types because the hard surface and cracks between panels allow grime to settle over time, dulling the floor's appearance. Bright and shiny hardwood floors look newer, contribute to the aesthetics of the room and are a lot more fun to slide on with socks. If your floors could use some added shine, it's easy to restore sparkle to your hardwood floors by routinely cleaning with the right product. These wood-cleaning techniques are listed in order of how often they should be performed, starting with daily remedies and finishing with deeper cleans needed only once a month.
---
Start with a quick dusting
Make it a habit to dust your hardwood floors on a daily basis instead of waiting until floors are visibly dirty. To dust hardwood floors, use a soft bristle broom or a mop with an electrostatic cloth to prevent the wood from scratching. You can use both sides of an electrostatic cloth before you toss it.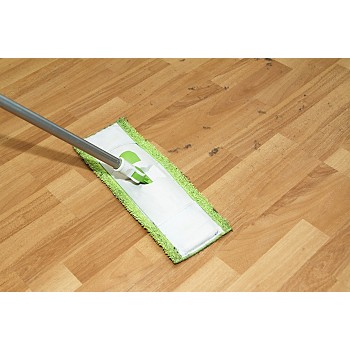 ---
Vacuum with the right attachment
Vacuuming your floors should also become part of your weekly cleaning routine, and you can do it once or twice a week instead of every day. Be sure to use a brush attachment with your vacuum so your floors don't get scratched.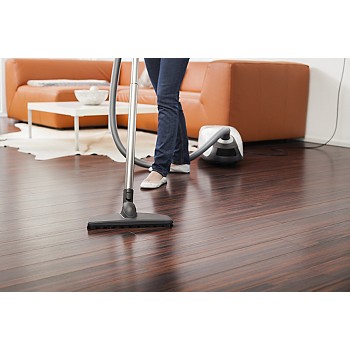 ---
Utilize a wood-cleaning product
For a deeper clean, use a wood-cleaning product and a damp mop. Be selective with the cleaning product you choose for hardwood floors, since alkaline-based cleaners like soap, detergent and baking soda will damage and dull hardwood over time. A pH-neutral, water-based cleaner won't leave residue on your floors, and will increase the life and beauty of your hardwood. If there is any dampness left on the floor after you're finished mopping, turn your ceiling fan on or bring a fan into the room to quickly air-dry the floor. This will prevent the wood from buckling over time.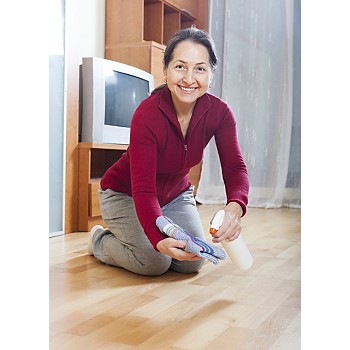 ---
Remove scuffs and marks
If gentler methods don't work to remove scuffs and other marks, you might have to manually buff the wood where it's necessary; this is something you'll need to do only once a month. Buffing and waxing your hardwood floors more often than that can cause more harm than good to the surface. Use fine grade steel wool and buff the desired area in a circular motion. Steel wool is light and won't damage hardwood as much or as quickly as other buffers. Rub in a floor wax, and hand buff to lighten and brighten your floors for a shiny finish.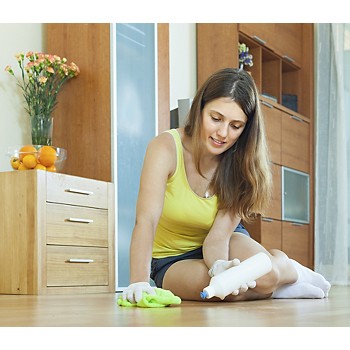 ---
---
---