Protect-A-Bed Mattress Protectors
Protect-A-Bed Mattress Protectors
Protect-A-Bed products encourage a comfortable bed and healthy sleeping environment. They also ensure that you keep your new investment protected and remaining like new for years to come!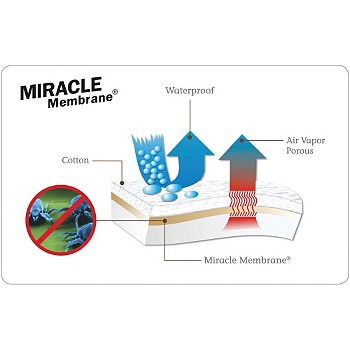 ---
Miracle Membrane® — Serves as a barrier to protect against allergens for a healthy sleep environment — nothing gets through but air. The waterproof design keeps mattresses and pillows dry and free of stains. Also, it's breathable, so the mattress remains cool and comfortable.
Protect The Mattress — The human body loses bodily fluids every night, which causes cushioning materials to lose their resiliency so the mattress will sag over time. A protector will help the mattress perform like new for much longer!
Thin Design — Premium and Plush protectors are very thin, so they won't change the feel of the mattress. Both products are quiet and cool to sleep on.
10-Year Stain Warranty — If the protector fails, resulting in a mattress stain, Protect-A-Bed will pay for professional cleaning or even replace the mattress. (Mattress and protector must be purchased on the same day.)
10-Year Product Warranty — Protects against fabric and manufacturing defects.
---
---
Protect-A-Bed items create a healthy sleeping environment. Dust mites can aggravate allergies, eczema, asthma and nasal congestion. But because these items keep moisture and skin cells out of the mattress, dust mites can't breed and you are left with a healthier sleeping environment.
Pay close attention to the care instructions so you do not damage the Miracle Membrane and make the product ineffective.
---
---
---