A Beginner's Guide to Buying a Shed
A Beginner's Guide to Buying a Shed

When you start maintaining a new garden or yard, having the right shed is a must. This structure can be used to store all your tools and equipment, and it's an ideal place to work during light rain. There are many different kinds of sheds with regard to sizes and styles. Here are some types of sheds and essential features to consider when making a decision for your property.

Metal Sheds
Metal sheds are the most common kind of sheds found in many yard and are made from steel or galvanized aluminum. If you choose a metal shed kit, you will also have to invest in an anchoring set to ensure it stays firmly in place. Though they're an economical option and sturdy, the metal can be very susceptible to corrosion and denting, especially in places that experience heavy snowfall frequently.




shop all metal sheds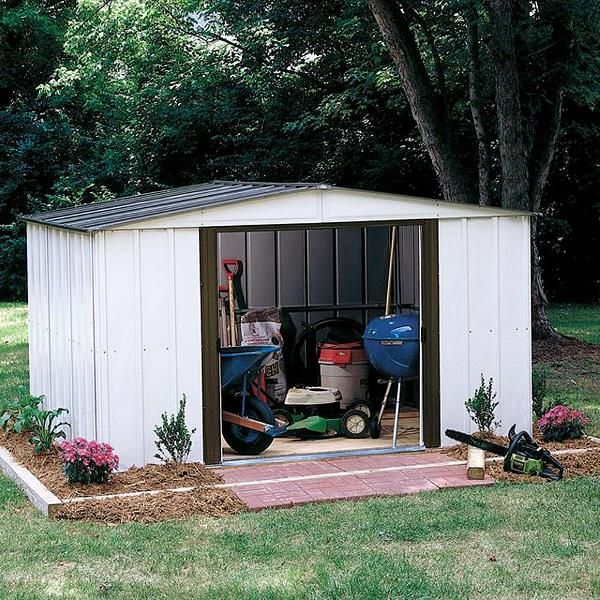 ---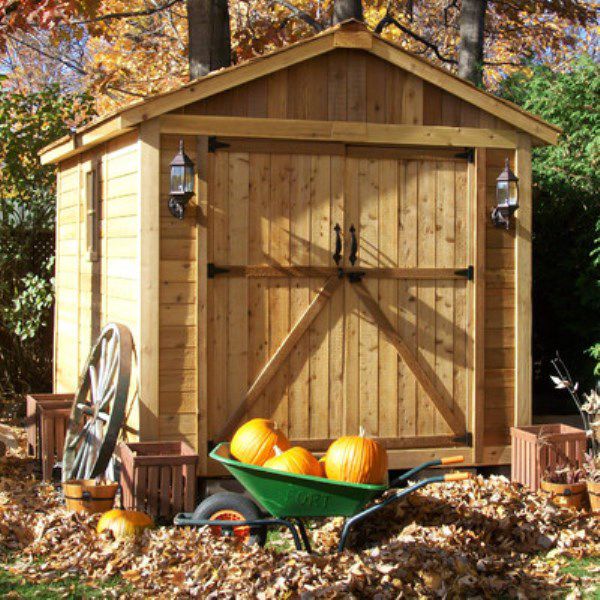 Wooden Sheds
Wooden models are the most traditional types of garden sheds and can be customized to meet your specific requirements. You can paint it any color and decorate it in any way you want. If you choose the right type of wood, the building will stand tall for a long time. However, it's important to note that while wood is stronger and more expensive. These options can be vulnerable to water, harsh weather and insects.




shop all wooden sheds
---
Resin Sheds
These types of sheds are becoming increasingly popular in the market as they're made from high-quality plastic materials that make them stronger and more resistant than wooden options. Resin sheds don't require frequent maintenance as many are UV-protected and stain-proof. Easy and quick to assemble, these storage houses typically are less expensive than wooden sets but usually more expensive than metal sets. While resin sheds are available in a wide variety of designs, they aren't customizable to match specific color palettes.


shop all resin sheds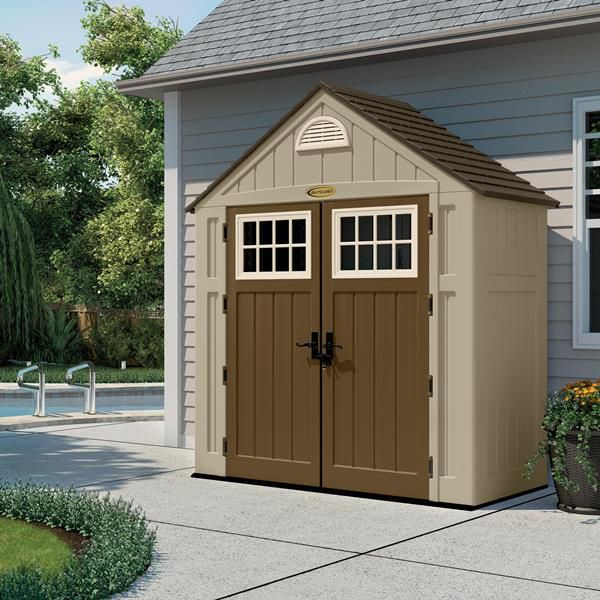 ---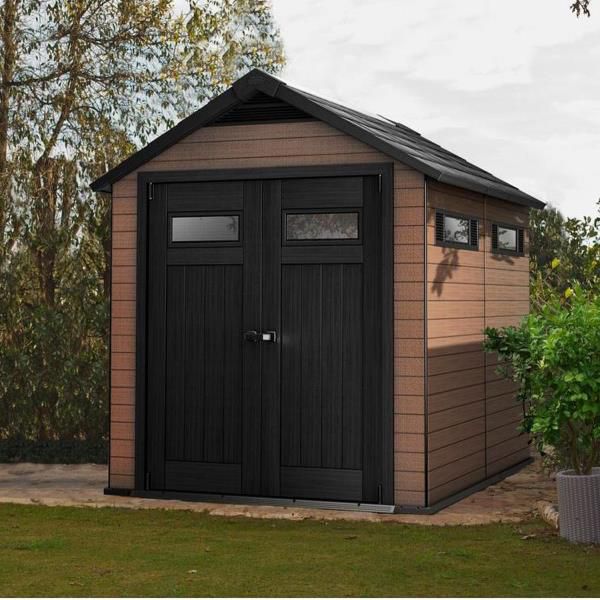 Wood Composite Sheds
Wood composite sheds combine the best of both, wood and resin, to offer a vast array of benefits for your lawn or garden. These sets feature the durability of resin with the natural beauty and strength of wood. The composite material is typically not affected by rodents or rusting and requires less or no maintenance over time. Eco-friendly options can be constructed from recycled plastics and residual wood fiber.




shop all wood composite sheds
---
Accessories
There are different ways to keep a shed neat and tidy. You can pick from a vast selection of storage solutions according to your specific demands and requirements.
Shelving - The right kind of shelving will help you to maintain an organized shed without any sort of mess. From roof storage to floor stands, shelving is one of the easiest ways to clean up the clutter.
Workbenches - Multipurpose workbenches can be used to carry out your tasks while also holding all your important tools.
Wall mounts and hooks - Wall mounts are a great way to store your equipment and also occupy less floor space.
Racks - Tool racks are ideal for short and long handled tools. These can be moved around to suit your convenience.
Cabinets - If your garden shed has enough room, you can install cabinets as a storage option.
Ramps - A ramp is always useful to wheel bigger equipment in and out of your shed.
shop all shed accessories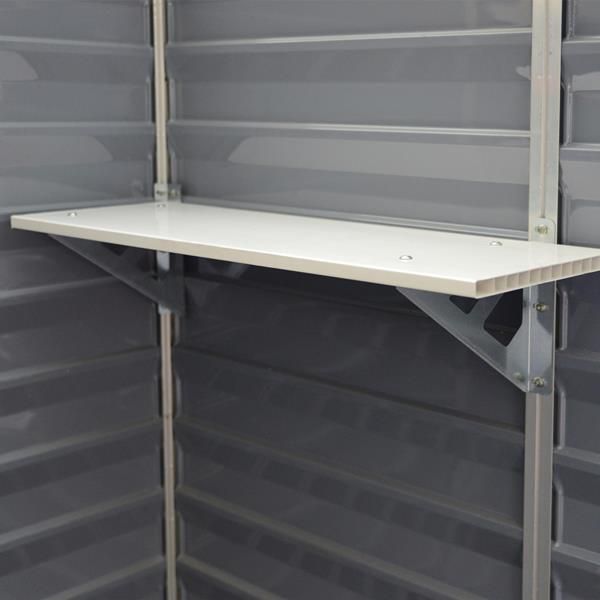 ---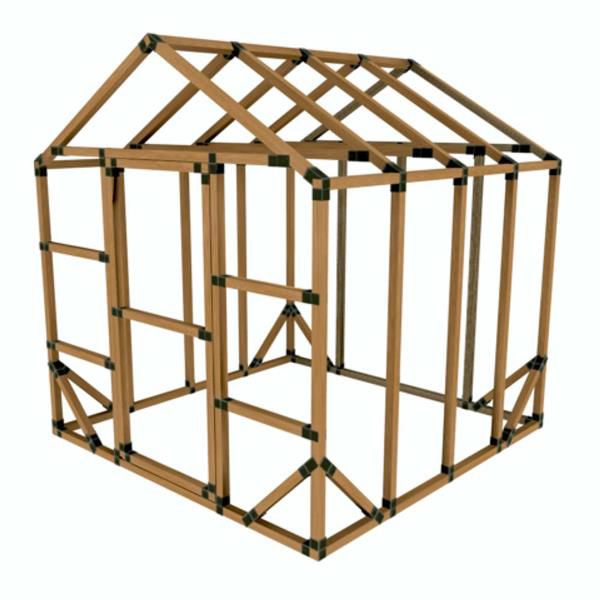 Garden Shed Sizes
When choosing a shed, it's important to consider the size you need. This can be determined by answering a few important questions. For instance, "what do you want to use the shed for?", "what do you plan on storing in it?" and "will it fit in the designated space?"
Small - Small sheds are typically around 6' x 6' and are just right for a small garden and serve as great storage spaces in addition to holding all your garden tools and equipment.
Medium - Medium sheds are about 8' x 8' and are ideal for a small, medium or large gardens or backyards. Besides holding all your garden equipment, you can also use this space to store all the things that have no place in your home.
Large - Large sheds are approximately 10' x 10' or more and can hold anything including your mower, tools, bikes or even excess furniture. These units are sturdy and provide great storage space as well as a comfortable area for you to relax and carry out any activities.
---
---
---