Grills 101: What is a Sear Burner?
Grills 101: What is a Sear Burner?


A sear burner features a heating surface that reaches high temperatures quickly for searin food. Searing meats on extremely hot surfaces helps lock in natural juices and flavor that could get lost on a standard grill burner. The grate rungs on a sear burner are wider than ordinary grate rungs, allowing you to sear food on a larger surface area. With this type of burner, you can ensure that the cooking surface will be hot enough to cook your food quickly while preserving flavor.
Uses of a Sear Burner
Searing meat helps seal in flavors for juicy burgers, sausages and more.

Quality steaks, such as filet mignons or porterhouses, benefit from from sear burners to help retain natural flavors.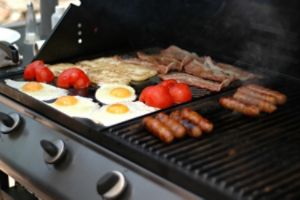 ---
---
---