Real Savings

What's Hot Now!

Categories

Top Brands

More Ways to Shop
Handbags & Accessories
Members* get $10 in points (10,000 points) to use 5/29/13-6/01/13
when you spend $50 or more** on qualifying purchase in store.
Related Products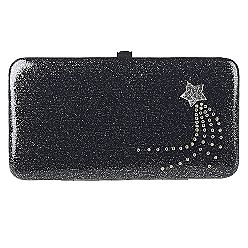 If you are into fun fashion, then you cannot be without this wallet. A glitter-accented exterior and shooting star design ...
Piper & Blue Fashion Frame Shooting Star Patent Glitter Wallet
If you are into fun fashion, then you cannot be without this wallet. A glitter-accented exterior and shooting star design make it a must-have buy. Read full description...
Handbags and wallets are a necessary part of life for women's fashion, and that's not a bad thing since most women adore them. Since they come in a variety of shapes and sizes, you can easily choose from crossbody, hobo, and shoulder bags to fit your needs. For those days when you have to carry everything from diapers to snacks to reading material, take along a large tote with lots of room. When you're headed out for a night on the town, choose a small handbag or evening clutch that will accommodate just the bare necessities. Need a traveling cosmetic bag/case? Find something practical that stores all your travel size toiletries and are TSA compliant. No matter where you're headed, there's a handbag out there to fit your needs.
Choosing the right handbag requires you to think about a lot of different factors, which even includes the time of year. While a cute straw handbag is most appropriate for summer, and floral for spring, you might choose to carry metallic or a leather purse in the winter. Of course, there's no wrong answer when it comes to handbags and wallets; they key is finding a purse that appeals to you and is capable of carrying all of your belongings.
There are other factors to consider when shopping for wallets. Some wallets are large and can carry as much as a small purse, which isn't a bad thing if it's your preference to grab exactly what you need when running a quick errand. Others have compartments meant to hold a checkbook, which is a nice feature if you don't mind the added bulk. An additional issue to think of when shopping is whether or not you prefer your handbag and wallet to match; if so, seek out a designer, such as Vera Bradley, that offers matching sets, or brands like Kardashian Kollection, Hello Kitty, Rosetti, Relic, Lina, Buxton, Sag Harbor and Stone & Co.
If you're looking for cold weather accessories, you've come to the right place. Hats, gloves and scarves from hot brands like Studio S, Jaclyn Smith, Isotoner, Luxury Lane and Private Island make great gifts for the holidays and keep your loved ones warm during the cold weather. You won't have to neglect the legs, either, because the Sears has a great selection of legwear to keep you warm this winter. A pair of chic hosiery or tights combined with a fashionable belt and a new pair of sunglasses is a great way to revamp your wardrobe at a fraction of the price, while comfy wool socks and leggings keep you warm under skirts and pants alike.
If you need new fashion jewelry to keep on trend in the new year, why not add a statement necklace or cocktail ring to your collection? Sears has goldtone, rhinestone, zirconia, and crystal jewelry from hot brands like Trifari, Studio S, Covington and more. Don't forget practical jewelry storage and trinket boxes to keep your valuables organized.