Clothing, Shoes & Jewelry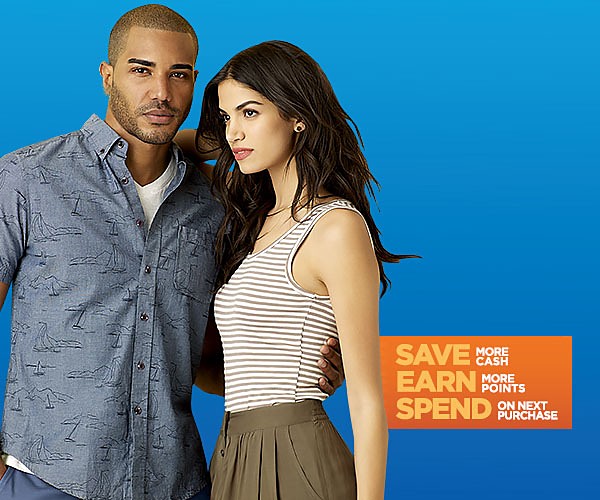 Purchase requirement before taxes and other discounts and must be made in a single transaction. Points can be earned but not redeemed on Levi's® purchases. Excludes Lands' End. Points valid for 90 days.
see details
---
---
---
---
---
---
Find styles to complement your personality with clothing and shoes from Sears
First impressions make a difference and that's why it's important to choose clothing and shoes that make you feel like you're at the top of your game every day. Everything from dresses in the latest styles to name-brand accessories say something about you to anyone you meet, so make sure you're sending the right message with fashions from Sears.
If you're looking for the latest in women's styles, you don't want to spend a lot of time searching multiple stores for the perfect outfit. Instead, find everything you need in one place. Choose from a wide selection of quality on-trend fashions in clothing and shoes. You'll also find the latest in menswear suitable for any occasion. Whether you need hunting apparel to wear out in the field or business attire to wear to work, choose from top brands for dependable and fashionable designs that will help you get the job done in style. Find what you need for your little ones, too, with quality kids' and baby clothing that looks great and is built to last.
When putting together your look, accessories are the icing on the cake. Choose from a large selection of jewelry to fit every fashion taste, whether your prefer delicate necklaces or bold statement pieces. A wide variety of watch styles for men and women alike will help you look your best when someone asks you for the time. When it comes to giving gifts, whether you want to get a ring engraved for a graduating senior or purchase a special gift for a mother that has birthstones for each of her children, choose from personalized jewelry options that are sure to please every recipient. If you're getting married, you'll love our selection of beautiful designer bridal sets that feature high-quality diamonds and stunning arrangements in gold, silver and platinum.
In addition to fine and fashion jewelry, discover accessories that can make travel easier and help you tackle everyday tasks. Choose from the latest luggage and travel accessories to help you navigate airports like a pro, or select stunning handbags and quality backpacks that allow you to carry a variety of loads in style.
Look and feel your best every day with designer jewelry and on-trend clothing and shoes that showcase your style. When you're looking for quality clothing or gifts for the special people in your life, turn to Sears for all of your needs.