Guide to Buying Fine Jewelry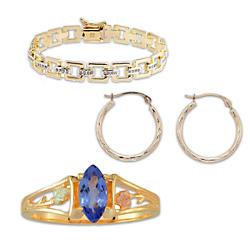 There's nothing more elegant, more tasteful or more romantic than fine jewelry. Whether you're buying yourself a stunning piece for a special night or you're shopping for someone special, knowing how to buy jewelry is the key to choosing the right jewelry. With a complete guide to buying fine jewelry, you'll finally understand the different types of metals and gemstones that make fine jewelry so unique.
How to choose jewelry metals
When you buy fine jewelry for women, you know that you can shop for gold in a variety of colors including white, yellow and rose gold, but you can also look for fine sterling silver jewelry and platinum jewelry depending on personal preferences and your budget. While platinum is the most expensive metal, it's also one of the sturdiest, so it's likely to last a lifetime. Because it's the most popular, gold metal offers the most variety, coming in a variety of colors and designs. It's also less expensive than platinum. For the budget conscious, you can find sterling silver jewelry that sparkles and shines just as much as gold or platinum.
In addition to sterling silver, gold and platinum, fine jewelry for men offers even more metal varieties including tungsten carbide and titanium. Choosing the right jewelry for men can be tricky with so many options. Some men prefer the look of gold, but others would appreciate a black tungsten carbide ring or bracelet. Tungsten offers a solid and modern look for men. While both tungsten and titanium offer a scratch-resistant metal for men, tungsten is the most scratch-resistant. Titanium is much lighter than tungsten, so men who prefer a heavier, solid piece of jewelry should opt for tungsten. Both metals are priced lower than gold or platinum, so you'll find that the cost is very affordable.
How to choose jewelry gemstones
When you shop for gemstone jewelry, it's important to understand the difference between the different types of gemstones. You can purchase natural gemstones, lab-created gemstones or imitation gemstones depending on what you're looking for. If you're looking for something beautiful on a lower budget, an imitation gemstone is a great alternative to precious and semi-precious stones. A natural gemstone is mined from the earth, while a lab-created gemstone is made in a lab. There is a big difference between lab-created gemstones and imitation gemstones, though. A lab-created stone has the exact same properties as a natural gem, while the imitation stone does not. Before you buy gemstone jewelry, make sure that you know whether you're buying natural, imitation or lab-created gems so that you understand the pricing.
There are many different gemstones to choose from. You can shop by color, birthstone or favorite stones. In addition to diamonds, some of the more popular precious stones include emeralds, rubies and sapphires. These can make stunning engagement rings or jewelry gifts, as well as accents to any formal ensemble. When you buy gemstones, whether for yourself or someone else, consider the unique style that each gemstone has to offer.
When you're shopping for jewelry, you want to make sure that you know how to choose the right jewelry for your outfit or for the perfect gift. The first step in buying jewelry is understanding the different metals and gemstones that fine jewelry is made of. Once you know what to look for, buying fine jewelry is not only easy; it's fun.
---
---