Enhance your tablet with accessories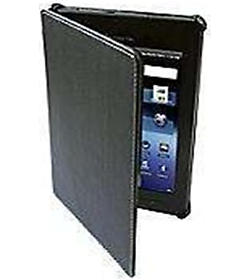 You finally took the plunge and purchased a tablet, which means you are exploring whole new worlds of connectivity and portability. After all, your tablet gives you the opportunity to socialize with friends, reply to work messages and unwind after a long day. While you can simply use your tablet as you purchased it, why not add to the experience and protect your investment with a few helpful add-ons? Extra power can help you handle long trips, sound options help you hear every movie detail with perfect clarity and protective covers keep your tablet safe from the bumps, bruises and spills that always come with well-loved purchases.
The most essential accessory you will need for your tablet is some sort of protection. Even with careful use, you will find that the occasional nick, scratch and bump will add wear to your device. You can keep it looking picture-perfect and ensure that it will run without a glitch by encasing it in a protective cover or sleeve and adding a little barrier to your screen. First, add a screen protector. Most screen protectors are thin sheets of plastic-like material that adhere to the screen and take the brunt of scratches and nicks. You can usually buy your screen protector in a traditional glossy covering that matches your original screen, or you can choose one that is built to reduce glare. A matte glare-reduction screen protector is perfect if you want to read books or watch movies out in the sunshine or even indoors under bright light.
Next, you will need some sort of cover, sleeve or case. Covers and cases typically add a little bulk to your tablet, so a sleeve may be the right choice for you if you want to use your tablet without any obstructions or extra bulk. Choose a neoprene or padded sleeve to offer the best protection as you transport and store your tablet. If you want to keep your tablet fully protected at all times, choose a cover or case that allows you to simply flip the top cover around to the back of your device. These covers come in both soft and hard varieties, depending on the level of protection you desire. Some latch using a piece of elastic, giving a more secure closure, good for tablets stashed in backpacks or loose in briefcases. If you plan to tuck it snugly into a bag pocket or other cozy spot, you may like the convenience of a magnet closure. Choose a type of closure that supports your needs and can stand up to the jostling you plan to give it.
You will also need a good set of sound options to help your tablet adapt to any environment. Headphones are the most common sound adapters because they allow you to privately listen to your videos in public spaces or on planes, where you need something to block out the excess sound of the plane engines. Additionally, you can still watch movies after your spouse goes to bed if you have a good set of headphones for your tablet. Ear buds are the least-expensive style of headphones, and they are extremely portable. Larger earmuff style headphones can cancel out ambient noise and give you a little clearer bass and treble tones, but they take more space and money. You may also want a small set of portable speakers for your tablet, to help provide sound if you want to share in a media experience with friends. Even small speakers can pack a lot of punch, so invest in a nice set that is durable and high-quality.
You can enhance your viewing experience if you use a few special tools to help keep your tablet in the most optimal position. A tablet dock or stand allows your tablet to rest upright so that you can set it on a table while you are watching a movie or listening to music and still have a good viewing angle from your seated location. Additionally, a good tablet stand can keep your tablet at an easy viewing angle when you are looking at recipes or instructions for a project. Media viewing can suck up a lot of energy as well, so you may want to consider using a stand that doubles as a power dock or battery so that you won't have to hunt for a charger in the middle of a movie.
The right tablet accessories can make your life easier and give your tablet a little extra personality. Show your sense of style and enjoy some practical advantages when you choose a tablet accessory from Sears. We have a wide variety of accessory options priced for any budget, so you know you can find something that is perfect for you and your tablet.
---
---