Garage Storage Ideas for Cleanup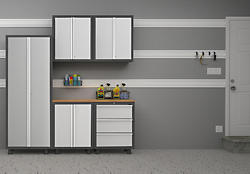 For many people, the garage is storage for all the excess stuff that can't or won't fit into the house. Tool collections, toys and holiday decorations all have a place in your garage. With so many items to store, it may seem like a monumental task to keep your garage organized. However, garage organization is easy when you separate, prioritize and get clever with a few garage storage tips.
Basketballs and yard tools often end up piled in a corner with no reasonable way to get them out. Instead of throwing these items in a heap, keep them corralled neatly so that you always have easy access. Cut PVC pipes and lay them upright in a box to make the perfect storage slots for yard rakes and shovels. String some bungee cords between a couple slats of wood to corral basketballs and playground balls for quick and easy removal and replacement.
While you might think it's easier to store all your tools in stacking toolboxes, think again. It may be easy to find and retrieve your tools, but once a project is over, those same tools likely end up on your workbench rather than back in the toolbox. Hang a pegboard on the wall, add hooks and hang your tools in plain view. Then, when your project is done, you can easily hang your peg on a hook without finding a heavy toolbox. Likewise, store your drill bits and blades on a magnetic strip on the pegboard. You can purchase magnetic knife strips in the kitchen department and use them to organize and display your tiny metal tools. Not only will they stay secure, but also you'll have easy access to your bits when you need them.
Especially if you don't have an attic, you need to use every ounce of space you can find, which is why the ceiling is a great option for garage storage. Make tracks out of two-by-fours and slide plastic storage boxes onto the tracks for easy and simple overhead storage. This option is perfect for storing items you don't use regularly, like holiday decorations and seasonal clothes.
Old peanut butter jars or mason jars can be fastened to the underside of a board for quick and easy nail or screw storage.
Hanging fabric shoe racks are great for organizing and storing spray paint cans, cleaners, oil and more.
Shelf brackets are great for holding coiled electrical cords or holiday garlands.
With some creativity, you can easily turn your garage from a household dump into a streamlined and organized space. Just a bit of effort will help make life easier, from playtime to gardening time and more.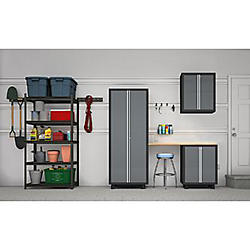 ---
Top Selling Garage Storage
---