Get easy connectivity with a tablet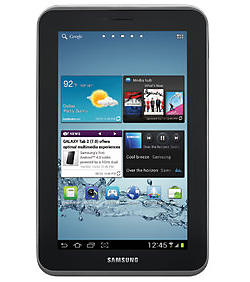 Laptops are great when you have to take work with you on the go, but they are large and heavy. Tablets are an easy solution to the cumbersome problem of laptops. They are smaller, weigh less and generally have a longer battery life than your laptop. Tablets are the perfect travel companions, allowing you to stay connected and entertained whether you are at home or on the go. Plus, many tablets now come with hookup options for external keyboards and both Wi-Fi and 3G connectivity, meaning that you will have everything you need at your fingertips for work or play, no matter where you are.
If you already have a laptop and a smart phone, you might not think you need a tablet, which bridges the gap between the two devices. However, the tablet gives you the portability of a smart phone with the easy communication of a laptop. After all, it can be tedious to type emails on tiny phone keys. In addition, you may need more space in your carry-on bag if you are toting all your gear on board to avoid baggage fees. Plus, if you are looking for travel entertainment, you can't beat the fact that tablets are simply easier to handle. They are small enough to rest in your lap without overheating, but big enough to accommodate large screens for reading books or watching movies.
As you select your tablet, you will need to consider several factors. While you may think all tablets are created alike, there are many varying features that will help you choose the one perfect for your needs. First, the size of your tablet will need to match your intended use. A larger tablet will be perfect for playing games, watching movies and sending emails. Since the screen is larger, you will get a slightly larger keyboard function that will help you type notes or handle the controls of your game. If you like to watch movies on the go, you will enjoy the fact that the larger screen lets you see all the details, just like a portable DVD player. A smaller tablet is perfect for someone who just wants to check the occasional email or play simple apps or games. The smaller tablet is also perfect for e-reading, since it is small and lightweight enough to hold in one hand.
You will also want to consider different Internet connectivity options when you choose your tablet. Most come with wireless Internet connectivity (or Wi-Fi), allowing you to sign onto any nearby wireless network. If you don't depend on constant connectivity, then this is the way to go. You can connect at home, at friends' homes and at many coffee shops or restaurants with ease. If you need to be able to reach the Internet in your car, at a hotel that does not provide free Internet or in remote locations, then you should look at a tablet with independent 3G connection options. Though the service costs, many people find that having a constant Internet connection is worth the extra cost.
Finally, consider your desired features. If you need an E-reader, then look for a tablet with an anti-glare screen and a small overall size so you can easily hold it in one hand to dive into a book for hours at a time. On the other hand, you will need a tablet with a larger screen and good graphics if you are going to use it to watch movies and play video games. Frequent e-mailers will want a tablet with an easy-to-use keyboard function as well as easy Internet connectivity that works anywhere. It is essential to select your tablet according to your needs so that you can get the most out of your investment. Also, you may want to consider what apps your tablet will allow you to purchase. Some types of applications are only available through certain companies, so if you are dying for an Apple app, then you will need an Apple tablet. Make sure to sample your tablet in the store before making a purchase. You can always buy online to get the best deals, but it is best to try the different tablets out in person before making your final selection. You will be able to get a good feel for the weight and size of the tablet, as well as experiment with features and test out the graphics resolution and sound.
When you are ready to buy your tablet, keep Sears in mind. We offer a variety of tablets from different manufacturers so that you can find the tablet that is a perfect fit for you. With affordable prices on all the hottest tablets and accessories, we are a perfect fit for your tech-savvy shopping adventure!
---
---