Holiday Jewelry Buying Guide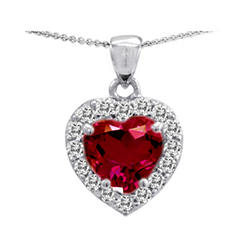 Buying jewelry for the women in your life can be one of the most rewarding gift-giving experiences. Ladies love the sparkle and shimmer of fine jewelry for any occasion, whether it's Christmas, Mother's Day or any other gift-giving holiday. It's not uncommon for women to have high expectations when it comes to the big 3 gift giving seasons. The number one gift that all women are hoping for is jewelry. Elegant earrings, stunning drop pendant necklaces and timeless bangles are exactly what she wants. For every holiday, give her the gift she longs for and she'll love you forever.
Hanukkah and Christmas jewelry gift ideas
With the holiday lights glistening over the snow, the glitter of homemade ornaments and the shimmer of tinsel and garland, nothing says, "Merry Christmas" or "Happy Hanukkah" like the sparkle of diamond jewelry. Whether you're buying a gift for your mother, wife, daughter or girlfriend, she'll love opening a small velvet box full of delight. For your sassy teen daughter, a pair of funky gold earrings that dangle may be the perfect gift. Of course, some teens might prefer classic and elegant styles, like a rose gold heart pendant necklace or an opal ring.
Buying holiday gifts for your wife or girlfriend can make or break her holiday spirit. As hard as it may be to believe, she is looking forward, possibly even expecting, to receive jewelry from you. The right jewelry can express emotions that words cannot. You'll love watching her open those gold hoop earrings that she's been pining for or that jeweled tennis bracelet that she never thought would end up in her stocking.
Mother's Day jewelry gift ideas
She gave you life, and every year in May you celebrate all of the wonderful things that make her your mom. Giving her the perfect gift can be a difficult task to accomplish, but when you know her style and the things that she loves most, you can give her the most wonderful Mother's Day present. Buying mom jewelry for special occasions like Mother's Day is the perfect excuse to show her just how much you adore her. If your mom is traditional with an air of elegance, consider a pearl necklace and earrings for a timeless and classic gift. For a hip and trendy mom, she'll love gemstone pendant jewelry that stands out in a crowd.
Of course, Mother's Day isn't just about your mom. Celebrate the mother of your child or children with beautiful mother's jewelry. Give her a birthstone ring or necklace with stones to represent the birth of each of your children. If it's her first Mother's Day, you want to make it a really special day for her. Give her the day off with a trip to the spa, but when she gets home show her how much you appreciate everything she does with a gold and diamond necklace emblazoned with the word, "Mom."
Jewelry gift ideas for Valentine's Day & Sweetest Day
Your lady deserves something special for those romantic holidays. Whether or not she loves Hallmark holidays, everyone else is going to expect you to give her the most romantic and special gift. Surprise her on Valentine's Day with flowers and a stunning ruby necklace or change her world forever by asking her to be your bride with a diamond engagement ring. She'll be yours forever when you give her jewelry that fits her personality and showcases her favorites. For Sweetest Day, choose something simple, yet elegant, A heart shaped amethyst necklace is perfect for the girly girl who relishes her femininity, while a sterling silver charm for her charm bracelet is exactly what your favorite fashionista is looking for.
With so many options for holiday jewelry gifts, you'll have endless possibilities to surprise her with something sparkling and stunning for every holiday. She'll love receiving jewelry for each occasion and you'll love the look on her face when she opens another gorgeous piece for her collection.
---
---