How To Clean Out Your Garage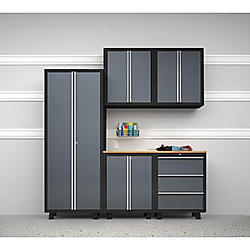 Whether you're spring cleaning or on a winterizing binge, you need to clean your garage and you might only have a weekend to do it. You may have put off cleaning out your garage because it seems like a monumental task. However, any large cleaning project just takes a little bit of organization. Start by prioritizing areas then tackle them one by one. You'll whittle down the clutter and get your garage organized again in no time.
If you don't know where to begin, split up your garage into smaller sections for cleaning. Instead of thinking of the garage as one big mess, think of it as several small ones. You could split your garage cleaning into these sections:
Once you've decided on your sections, work through each one and organize stray items according to the sections they belong in.
Perhaps the hardest part of any cleaning project is deciding what stays and what goes. As you go through each section of your garage, decide which tools and supplies are worth keeping. For items like outdoor equipment, assess both usability and previous use. If something is broken and you don't realistically have the time to fix it, donate or trash it. If you haven't used it and don't have any plans to use it in the future, it might be worth giving it to a neighbor or friend.
Paint, cleaning products and other items with expiration dates should be kept or tossed according to those dates. Additionally, if you only have a small dab of paint in a giant can, it might not be worth keeping the whole can. Think in terms of projects you will realistically complete in the near future as you decide whether or not to keep items that may expire. Make sure you dispose of paints and chemicals properly; refer to your town or county's policy on paint and chemical disposal.
Once you've made a pitch pile, be sure to properly dispose of the items according to health and safety regulations. This is also a good time to sweep out the corners of your garage, since it may be a while before you can clear out the dust again. Organize your remaining items according to category; don't forget to label shelves and storage containers.
Once everything has a designated space, it will be easier to keep your garage tidy in the long run. Proper garage storage helps you streamline your supplies and makes it easy to find tools and supplies when you need them.
---
Top Selling Garage Organizers
---