How To Hang Bikes In Your Garage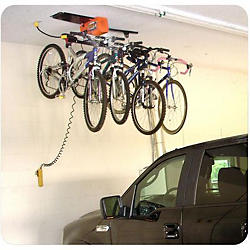 As you organize your garage, you may have to deal with plenty of large, bulky items. Bikes can be some of the most perplexing items to store in your garage. After all, bikes aren't supposed to be stored on the weight of their tires during the winter, but you want to have easy access to them during milder weather so that you can go for a ride at your leisure. Hanging your bikes can decrease the pressure on your tires and frame, extending the life of your bike and keeping it out of the way so you can move freely around your garage space. The best way to hang bikes in a garage will largely depend on your needs and lifestyle.
The simplest and most popular storage method for hanging bikes in a garage is hook hangers. Hook hangers are made from formed thick wire that's often coated in silicone or plastic so that the paint on your bike is protected as you slide it off and on the hook. These are great options for many reasons:
Affordability. Bike hooks are inexpensive and easy to find, which means you can store bikes for the whole family.
Versatility. Bikes can be hung upside down by both tires with two hooks, right-side-up by one tire on one hook, or even parallel to the wall and perpendicular to the floor with two hooks positioned under the frame. This allows you to store your bikes in a configuration that fits your space and needs perfectly.
Ease of installation. Most bike hooks are easily installed by drilling a hole in location and then simply hanging the bike in place. This no-fuss approach to installation will save you time and frustration.
Wall mounts are more stylish options that allow you to store your bike anywhere in your home, including your garage. While this style can be more expensive, it's a great option for people who aren't tall enough to reach ceiling hooks or have a lot of gear to store along with their bikes. Some advantages of wall mounts:
Storage options. Wall mounts can be designed as combination units that include a shelf or cabinet to store biking shoes, helmets and other gear. If you want to keep your gear easily accessible for an early morning ride, wall mounts give you the storage you need.
Safety. For shorter or younger household members, ceiling hooks can be tricky to manage. If you don't want to lift the whole weight of your bike over your head, a wall mount is a great way to store it.
Security. Many wall mounts feature fold-up bars that keep your bikes in position, even if inclement weather hits. Additionally, your bike won't be knocked out of gear when a houseguest backs into the wheel. Wall mounts hold your bike firmly in place until you want to remove it.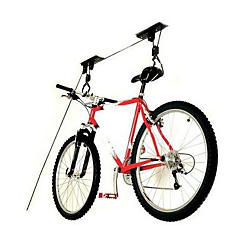 ---
Top Selling Garage Storage
---