How to Hem a Skirt Longer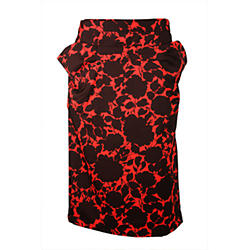 It can be hard to find a skirt that falls at just the right length, but you can make the search easier if you know how to adjust a hem. The natural shape of your body may even make a good skirt uneven at the hemline. If it is just a little shorter than you like it in the back, front or all around, you can easily tailor your skirt to the perfect length when you hem it longer.
Before you buy a skirt that's a hair too short, make sure to take a look at the hem to see if there's enough fabric to let you take it out a bit. You should at least have an inch of extra fabric to work with, which you will be able to see if you flip the skirt inside out and take a look. If you have some extra hem, you can gently rip out the old hem with a sharp seam ripper. Be mindful of your fabric; delicates like silk will rip and tear easily, and may not be good candidates for home tailoring, but cotton is sturdy enough to withstand a little re-design.
Once you have taken the old hem out, put the skirt on and start to measure out your new hem. Remember that your hem should fall at the ankle or just above or below your knees. Hems at mid-calf or mid-thigh can make you look shorter and generally look awkward on most body types. Using a yardstick, measure your hem so it's even all the way around. You may find that you have more extra fabric in the front than the back, or vice versa; this is okay. Just make sure that your hem is an even distance from the floor all the way around. You can mark your fabric using straight pins, a marking pencil or tailor's chalk.
Next, you're ready to roll and press. Roll your hem up and press it into place using an iron. At this point, you do want your rolled edge to be the same width all the way around, so enlist the help of a seam gauge to make sure that it looks perfectly even. With the hem pressed in place, secure it with a few straight pins and you will be ready to stitch your new hem. Place your skirt on the sewing machine arm with the right side out, facing you. You will want to have an eye on your topstitching as you work your way around the hem of your skirt. Since the topstitching is the most visible part of your hem, you will want to catch any snags or errors as they occur. If you catch mistakes quickly, you will be able to make corrections on the spot, instead of having to rip out half your hem to fix it.
If you have an old, beloved skirt that is simply too short, you may want to consider adding a cuff or flounce to the bottom to add length and style. Often, skirt hems are simply too short to be taken out, but you can easily attach new fabric for a fresh look. Choose a similarly weighted fabric in contrasting or coordinating colors, hem the strip and then stitch it on right at your old hemline. This will help you adjust to growing toddler legs or inevitable shrinking.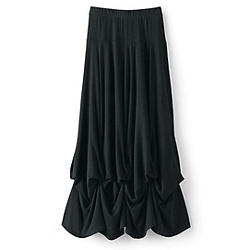 ---
Top Selling Sewing Machines
---