How to paint a range hood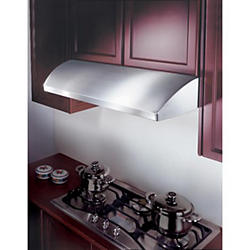 Over time, your range hood can collect a lot of dirt, grease and debris. In addition, wear and tear over time can chip and crack the finish. Add that to a little rust, and it is probably time to refinish or replace your range hood. Of course, upgrades can be costly, which is why a do-it-yourself job can save you money and give you the look you want for your kitchen. But before embarking, invest time in prep work and proper painting techniques so your project will last.
First, get your range hood ready for painting by cleaning and prepping the surface. You will need:
a bucket
a sponge
soap and water to remove dirt and dust
an additional cleaner to take care of all the grease build-up, if desired.
Paint won't stick to grease, so it is important to remove it completely before painting. You may also need to sand your old range hood to help remove any old paint flakes. The more time you take in prep work, the better your new paint will adhere to the hood.
Preparing surrounding surfaces is as important as preparing the range hood. Apply tape at the edges of your range hood so that you don't accidentally paint other parts of your kitchen by accident. It is best to use painter's tape, which removes easily without leaving a mark. You may also want to hang a drop cloth from your range hood to protect your cook top and wall or backsplash. Dress in old clothes that you don't mind ruining and wear a pair of safety goggles and a mask to protect your face and airways from irritants.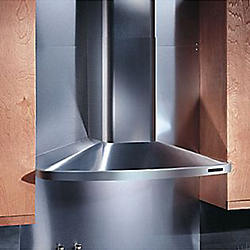 Your choice of paint is important because it will hang around your kitchen for years to come. First, choose the type of paint according to the material of your range hood. Certain paints work better on plastic, while others are designed to keep your metal hood rustproof. The right paint will adhere to the old surface and keep it protected, while the wrong paint may start peeling quickly. Most paint varieties come in glossy or matte finishes, so be sure to double check your can to make sure you get the finish you want.
Finally, you will have to decide on a color. You can paint your range hood to match existing colors, or you can go bold with an accent color to liven up your cooking space. If you are looking for something with more versatility, choose a chalkboard or whiteboard paint that lets you write notes and recipes right on your hood for character and convenience.
---
---