Mixer Makeovers: DIY Decoration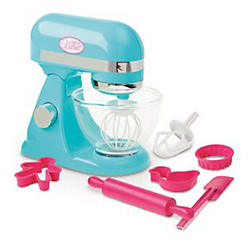 Your personality is unique and it probably shines through in every room of your home. After all, you can select your paint color, your linens and even your carpet to show of your sense of design and personal style. However, you might feel a little stuck when it comes to adding personality to your kitchen, where the main attractions are designed for utilitarian rather than aesthetic purposes. Your stand mixer is going to be a centerpiece item in your kitchen, but it looks a little bit standardized, even though you can probably buy it in one of many color choices. Just because you can't buy a customized mixer doesn't mean that you can't customize it yourself and create a truly unique piece of art that helps you put meals on the table at the same time.
One of the simplest and most popular ways to decorate your mixer is to adorn it with vinyl decals. Mixer decals can be purchased at specialty kitchen stores or you can make some of your own. Basic decals can be made using and Exacto knife or scissors, but a die-cutting machine will get you some of the best results. As an added bonus, you can customize your design on your computer and download it to a cutting machine for a look that is completely your own. If your tastes change from week to week, consider getting vinyl clings that remove easily so you can replace them with fresh new designs whenever your mood changes.
You can also customize your stand mixer with unique hand-painted designs. If you spend time making an intricate design that is completely new, you will have a machine that is as beautiful as it is functional. Even if you are a beginner artist, you can have success with DIY stand mixer painting when you purchase paintable outlines at your craft store. These outlines attach to your machine like stickers. Then, once your outlines are in place, you can paint inside the lines for a permanent and beautiful piece of art that's easy as a paint-by-number painting. If fine motor drawing and painting really aren't your strong area, try doing some fun work with a glue gun. You can bedazzle your mixer using strong glue and gems, glitter, sequins and more for three-dimensional fun that just screams personality.
If you don't use your stand mixer every day, you may wish to protect it from dust and debris. This is the perfect opportunity to match your decor scheme and show of your artistic style without making any permanent changes to your machine. Sew up a colorful color in fabrics and prints that match the season or the colors in your home. If you can't sew, you can always decorate a pre-made model or shop for a cover in a style that suits you.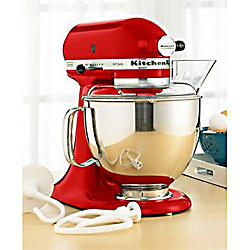 ---
---