Should I Steam Clean or Iron?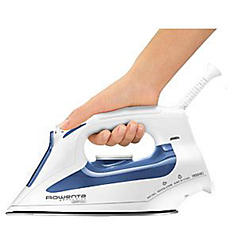 Irons have long been the staple of the laundry room. Whether you needed a crisp shirt or a flawless and clean dress, the iron can remove wrinkles and add class to any outfit. However, irons are hot and can be dangerous for delicate fabrics like silk and rayon. The old solution was to use a press cloth in between the iron and the fabric, providing a layer of protection against the heat. Recently, small home steamers have become available for people who wish to steam fabrics quickly without firing up the iron. However, steamers don't work on all clothes so it's important to know when to use the steamer and when to use the iron.
When it comes to cotton fabrics and linen, you will need to pull out the iron. These fabrics hold onto wrinkles so you need the dual power of pressing and heat to get everything smooth and wrinkle-free. You don't need a lot of fancy tools just an iron and an ironing board will do. It also helps to have a spray bottle handy; while steam alone won't get the wrinkles out, an iron combined with a little moisture will work wonders on your cottons and linens. You can also use the iron on just about any other fabrics, but be sure to check your wash and care tags to verify fabrics before submitting your garments to high heat; once something is melted, it can't be cooled back to its original state. If you really don't want to use an iron on your cottons or linens, remove them immediately from the dryer the moment they are dry and hang them up so that the wrinkles don't set as they sit in the heat.
Steamers are great for delicate fabrics and lighter blends that benefit from gentle steam rather than the extreme temperatures of a hot plate. A steamer works by heating water in a canister and emitting steam from a handle, allowing you to pull the fabric straight and apply steam exactly where you need it. The moisture helps loosen wrinkles and the heat helps it dry in seconds. A steamer usually heats up more quickly than an iron and your clothes never touch hot metal. Thus, a steamer is perfect for smoothing out draperies and everyday fabrics. Just remember to check your wash and care tags to make sure your garment can handle moisture; if it says dry clean only, then avoid the steamer.
It can be hard to keep your clothes wrinkle-free, since busy lifestyles can make you forget about the load of finished clothes in the dryer or leave too little time for ironing. However, you can cut some of your wrinkle-removing time in half by knowing when to use a quick and effective steamer. Let your fabric guide you to the right tool for wrinkle release without all the hassle. Once you know what you need, stop by Sears to pick up all the essentials. From irons to steamers to press cloths, we have everything you need to keep your laundry room well-stocked for any fashion emergency.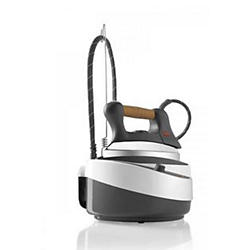 ---
---