Things to Cook with Your Toaster Oven
Your toaster oven can easily cook up a quick dinner for busy weeknight or weekend evenings. Plus, leftovers taste perfect when they are re-heated with the touch of an oven at a fraction of the energy cost. However, your toaster oven can do so much more when you let it work outside the box and help you get creative in the kitchen.
Perhaps the best use for your toaster oven is cooking single-serving portions of all the food you love. Whether you are heating up a batch of leftovers or getting ready to munch on a plateful of pizza rolls, the toaster oven helps you save energy and lets you get the taste you love out of your favorite foods. If you have to choose one countertop appliance for a bachelor pad, the toaster oven is an essential item that will make you feel like you are eating a home-cooked meal even though it is only for one.
While your main oven might be great for cooking the Thanksgiving turkey, there is really no need to waste all of that energy and heat up the house when you can make the smaller dishes just as easily in a toaster oven. For example, your toaster oven is the perfect place to toast up nuts or brown some pumpkin seeds on a crisp evening. Not only will you get the flavor of your oven but also you will be able to work in smaller batches focusing on flavor instead of quantity. Likewise, the toaster oven is great for drying batches of herbs. You want your herbs to get perfectly dry, but it seems like a waste to heat up the entire oven for a few green leaves. With the toaster oven taking care of drying activities, you can free up your main oven for cooking dinner.
Meat and smaller side dishes are perfect candidates for the toaster oven, since this keeps your other kitchen appliances open for other important dishes, like dessert. Small casseroles, a few rolls or even a single steak cook easily in the toaster oven, which gives you the versatility to cook several items at once. If you don't have room in your kitchen for a double wall oven, then a toaster oven is the perfect companion for your existing range when you need the added capacity of another cooking space without the steep increase in cost.
Don't forget that your toaster oven is perfect for all the finishing touches. You can crisp up a bagel or melt cheese to perfection with the help of your toaster oven, and you won't have to wait twenty minutes for it to preheat. In fact, since your toaster oven is smaller, it will be more responsive, giving you control over those finishing touches that you might not have in other kitchen appliances.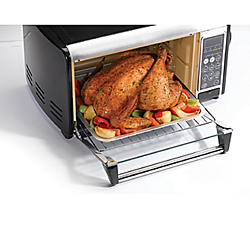 ---
---