What are the Birthstones for Each Month?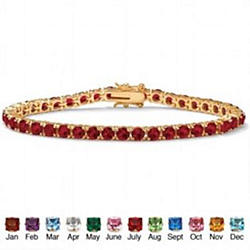 When it comes to giving jewelry as a gift, you don't always have to spring for expensive precious stones like diamonds, sapphires and emeralds. These gifts may be flashy and impressive, but they might lack real significance or fail to capture a person's true personality. Instead, take a look at birthstone jewelry for a present that reflects who the recipient really is. With a unique birthstone representing every month of the year, it's easy to give a gift that has personal significance to both the giver and receiver, and you won't break the bank since almost all birthstones are semi-precious.
Birthstones have a long history, so when you buy one you are buying into an ancient tradition, not a marketing gimmick invented in modern times. Many historians trace the tradition of assigning gems to birth months back to Biblical times, with the twelve gems set in the breastplate of Israel's high priest Aaron representing the twelve signs of the zodiac and months of the year. Today's birthstones are somewhat different from those originally described in the old texts, but the intention is the same: to invoke the special powers of your birth month for personal growth and spiritual strength. Even if you don't believe in the mystical elements of birthstones, you may find comfort in wearing a special piece of birthstone jewelry given to you by a loved one as a symbol of mutual affection.
What is my birthstone?
When shopping for birthstone jewelry, three common questions arise: what is my birthstone, what are the birthstone colors and what is the meaning of birthstones? January kids will love the deep red of garnet jewelry, which represents true love. Purple amethysts make great gifts for February births, and serve as a reminder of the power of spirituality. Sea green aquamarines are the right present for March birthdays, representing the clear thinking and intelligence of the wear. Moving into the spring months, sparkling diamonds provide mental and emotional clarity for those born in April, while deep green emeralds provide physical and emotional healing for May births. The hot summer months can be a trial to get through, which is why June's pink alexandrite radiates compassionate comfort for yourself and for others. July's crimson ruby arouses powerful passions and August's golden peridot provides calmness to help you ride out the storm. The left-brain intellect and wisdom of those born in September is reflected in blue sapphire jewelry, while the creative right-brain October births among us can broaden their imaginations with the multitude of colors found in opals. November births will never lack for worldly wealth if they are wearing orange citrine jewelry, while December children will prize the otherworldly revelation that comes with the blue-green of turquoise.
Whether you're surprising a close friend with a gift, picking out a present for a baby shower or just buying something special for yourself, birthstone jewelry is the affordable way to give a gift that says something significant about the receiver. Shop the online jewelry store at Sears to find the right birthstone pendant, bracelet or earrings for any occasion.
---
Top Selling Birthstone Jewelry
---