Congeladores y máquinas para hacer hielo
---
---
Entrega estándar local gratis en electrodomésticos desde $399. Se aplica a artículos vendidos por Sears. La oferta puede variar en la tienda. El descuento se muestra en la facturación. El servicio de entrega estándar incluye las entregas dentro del área local y las entregas que no requieren servicios ni tiempo adicionales. El valor minorista de la entrega local estándar es de $69.99. El cliente debe pagar una tarifa por entrega no convencional. Las áreas locales y los cargos por entrega no convencional varían. No incluye accesorios, refrigeradores empotrables, refrigeradores compactos, calentadores de agua, desmineralizadores, filtros de agua, cuidado de pisos, máquinas de coser, calefactores, humidificadores, ventiladores ni limpiadores de aire. Oferta no válida para órdenes hechas en tiendas locales de Sears, centros de venta, ferreterías o en tiendas de exposición de electrodomésticos.
Applies to orders over $399 | see details
---
Deep freezers are secondary freezers that offer additional storage space for frozen foods. Investing in a new freezer or replacing an old one can offer a variety of benefits, from more energy efficient options to newer technological features. Both upright and chest freezers are available in different sizes to accommodate families and individuals... leer más
Deep freezers can help you de-clutter the freezer on your standard refrigerator. When deciding whether to invest in a chest freezer or an upright freezer, there are many variables to consider. From the amount of floor space you have available to store your freezer to the amount of food you plan to freeze, you'll find a variety of options with different advantages and limitations to consider... leer más
When it comes to capacity and freezing power, chest freezers are hard to beat. With such a large space to hold frozen food, you can store your food in a way so you can easily find what you need when grabbing meal ingredients. With simple guidelines to organize your chest freezer, you can count on efficient meal planning and easy ingredient retrieval... leer más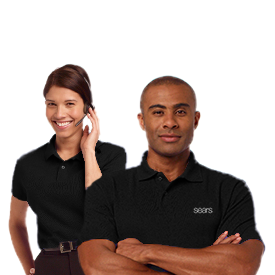 ¿Preguntas sobre electrodomésticos?
LLAMA AL: 1-888-295-5965
---
Use freezers and save on grocery bills
Freezers offer space for items that you cannot fit in the freezing compartment of your refrigerator. A home freezer allows you to save money by storing garden produce. You can also buy bulk food items at discount rates and store them for long periods. Freezing is a less laborious and time-consuming way of storing vegetables and fruits than the canning process. You also preserve more of the original quality of the produce without the need for pickling solutions. Freezers also store meat and are much preferred over difficult processes like smoking and drying.
Sears offers upright and chest freezers that can fit well in your kitchen and garage spaces. In addition, we also have a wide selection of freezer parts, accessories and paquetes de electrodomésticos. An upright freezer looks like an ordinary refrigerator and is perfect as an addition to a large kitchen. Chest freezers take up more floor space and are more appropriate for home garages. Our chest freezers have capacities up to 19.7 cubic feet.
The Frigidaire 19.7 cu. ft. Ice Cream Freezer is an impressive product that is suitable for home or business applications. The cooling system can handle big jobs by storing up to 690 lbs of frozen food. Equipped with rugged swivel casters, the freezer is easy to move around despite its size. Three lift-out baskets in the storage space provide for convenient loading and unloading. With this NSF-certified freezer, you can save significant money by buying food items like pizza in bulk for long-term storage.
At the other end, the Kenmore 5.1 cu. ft. Upright Freezer is a compact upright option that will easily fit into your kitchen. The freezer stands 49.6 inches high, 21 inches wide and 22.4 inches deep. Although it is not Energy Star compliant, this Kenmore product has an energy rating of 321 kilowatt hours per year, which provides respectable power efficiency. The temperature control and defrost systems are both manual. The Hanover Energy Star 13.8 Cu. Ft. Frost-Free Upright Freezer is a truly eco-friendly product that allows you to significantly reduce your carbon footprint. At the same time, you can save on your electricity bills. The Energy Star compliant freezer offers 13.9 cubic feet of frost-free storage space. There are four door racks, four wire shelves and a pullout pizza shelf with interior lighting.
Sears has upright and chest freezers for every need including commercial appliances. To find the product for your home or business, use our search and narrowing tools. You can search by keyword or item number and then narrow the results by criteria offered in the left-hand sidebar. For additional help, please use your live chat and phone options and a Sears expert can assist you in finding the product for your needs. By joining Shop Your Way Max, you get free two-day shipping on most orders and free standard shipping on all orders. Shop Sears today to find a great freezer for your home or business.
---
---