Electrodomésticos para cocinar
---

Entrega estándar local gratis en electrodomésticos desde $399. Se aplica a artículos vendidos por Sears. La oferta puede variar en la tienda. El descuento se muestra en la facturación. El servicio de entrega estándar incluye las entregas dentro del área local y las entregas que no requieren servicios ni tiempo adicionales. El valor minorista de la entrega local estándar es de $69.99. El cliente debe pagar una tarifa por entrega no convencional. Las áreas locales y los cargos por entrega no convencional varían. No incluye accesorios, refrigeradores empotrables, refrigeradores compactos, calentadores de agua, desmineralizadores, filtros de agua, cuidado de pisos, máquinas de coser, calefactores, humidificadores, ventiladores ni limpiadores de aire. Oferta no válida para órdenes hechas en tiendas locales de Sears, centros de venta, ferreterías o en tiendas de exposición de electrodomésticos.
aplica a órdenes desde $399 | ver detalles
---
---
---
Cooking Appliance Buying Guides
A new kitchen range offers a variety of modern technological advances to assist you every time you cook. When you... leer más
Wall ovens are built directly into your kitchen wall. Instead of a bulky kitchen range, these ovens add an aesthetic appeal... leer más
Cooktops are cooking surfaces that often sit at counter level. Some models come combined with an oven range... leer más
The microwave oven is one of the most commonly used appliances in the kitchen because its versatility is hard... leer más
---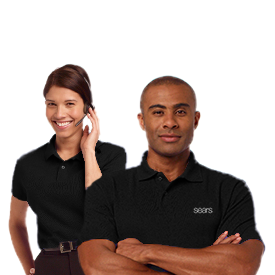 ¿Preguntas sobre electrodomésticos?
LLAMA AL: 1-888-295-5965
---
Warm up your kitchen with perfect home cooked meals
Your kitchen handles everything from typical family dinners to memorable spreads for special occasions. Find everything you need at Sears to supply your kitchen with appliances that fit your cooking habits, so that you can prepare every meal the way you want.
You can find your favorite kitchen appliances in size options that will fit any space. A range gives you the convenience of an oven and a stovetop in one unit. This way, you won't need to leave one dish unattended to check on another. Boil a pot of pasta on the stovetop while a side dish of garlic bread heats in the oven below with these classic appliances. You can find gas or electric models that suit your cooking style, or try dual-fuel ranges that pair the precision of a gas cooktop and the convenience of an electric oven for greater versatility. Pick up a Kenmore Elite dual-fuel range featuring two electric ovens to get even more out of your appliance.
Electric and gas ranges each offer unique features to suit any chef. Electric ranges have smooth glass tops that are easy to clean in one step. Kenmore electric ranges include indicator lights so you'll know when the cooktop has safely cooled. Dual element burners let you customize the heated area to accommodate larger or smaller fry pans and cookware. Although electric burners are convenient, some cooks may not prefer the way they are slower to heat and cool. For precision you can see, a gas burner is ideal. The flame immediately lowers and rises as you change the heat intensity, so it's great for complex dishes that require different heat levels during the cooking process.
If you already have a wall oven, you might want to supplement it with a cooktop that uses your preferred heat source. You can find gas and electric cooktops from brands like Whirlpool and LG to fit any kitchen island or counter. Models with a convenient downdraft fan are also available, so smoke and fumes are vented away without installing a campana extractora. Supplement your setup with a microwave from LG to easily reheat leftovers and quick meals. A countertop model requires no extra installation and can be easily moved around when you want to rearrange your kitchen. Try an over-the-range model to keep your microwave out of the way while a vent fan takes care of cooking odors from the range top.
You can prepare a full holiday feast on your range or heat up a quick breakfast in the microwave with the variety of cooking options available at Sears. Pick up the appliances that suit your style and fit your home.