Electrodomésticos de cocina
---


Entrega estándar local gratis en electrodomésticos desde $399. Se aplica a artículos vendidos por Sears. La oferta puede variar en la tienda. El descuento se muestra en la facturación. El servicio de entrega estándar incluye las entregas dentro del área local y las entregas que no requieren servicios ni tiempo adicionales. El valor minorista de la entrega local estándar es de $69.99. El cliente debe pagar una tarifa por entrega no convencional. Las áreas locales y los cargos por entrega no convencional varían. No incluye accesorios, refrigeradores empotrables, refrigeradores compactos, calentadores de agua, desmineralizadores, filtros de agua, cuidado de pisos, máquinas de coser, calefactores, humidificadores, ventiladores ni limpiadores de aire. Oferta no válida para órdenes hechas en tiendas locales de Sears, centros de venta, ferreterías o en tiendas de exposición de electrodomésticos.
Coupon is applicable online only on appliance orders over $399 and applies to items sold by Sears. Excludes accessories, built-in refrigeration, compact refrigerators, water heaters, water softeners, water filtration, floor care, sewing machines, heaters, humidifiers, fans and air cleaners. Oferta no válida para órdenes hechas en tiendas locales de Sears, centros de venta, ferreterías o en tiendas de exposición de electrodomésticos. Un solo código de cupón por transacción. No puede combinarse con ninguna otra oferta. No puede combinarse con descuentos asociados. No se permite la igualación de precios en las tiendas en esta oferta.
aplica a órdenes desde $399 | ver detalles
---
---
---
---
Kitchen Appliance Buying Guides
Refrigerators are often the central focus of a kitchen. When you're ready to remodel your kitchen or breathe a little new life... leer más
A new kitchen range offers a variety of modern technological advances to assist you every time you cook. When you... leer más
Whether you're building your home and buying a dishwasher for the first time, or renovating and upgrading... leer más
Wall ovens are built directly into your kitchen wall. Instead of a bulky kitchen range, these ovens add an aesthetic appeal... leer más
Cooktops are cooking surfaces that often sit at counter level. Some models come combined with an oven range... leer más
The microwave oven is one of the most commonly used appliances in the kitchen because its versatility is hard... leer más
---
---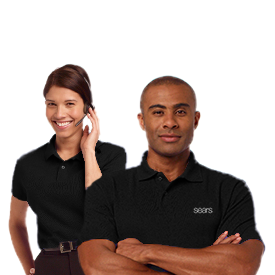 ¿Preguntas sobre electrodomésticos?
LLAMA AL: 1-888-295-5965
---
Discover the possibilities of time-saving kitchen appliances
Cooking homemade meals is a great way to bring your family together and make healthy creations, but sometimes the whole process from food prep to cleanup just seems too daunting to fit into your busy lifestyle. Kitchen appliances at Sears can help you out by cutting down on time-consuming tasks so that you can spend more time enjoying the fun and creativity of cooking.
When you're in a rush, small kitchen appliances are the ideal partners to handle plenty of tasks that would otherwise be slow and tedious. Grate up cups of cheese or chop plenty of nutritious vegetables in minutes with a Kenmore food processor. Stir cookie dough in a stand mixer that leaves you free to work on your main course while it runs. When you're in a rush in the morning, you can skip the stovetop and get your caffeine quickly with a single-cup coffee maker or electric tea kettle.
However you decide to prepare your favorite home-cooked meals, you'll want to make sure everything is stored carefully so you can enjoy the leftovers. You can find refrigerators from your favorite brands like LG and Whirlpool to suit any kitchen. A stylish French door refrigerator keeps your fresh ingredients at eye level. Food storage containers can help you organize the fridge space and preserve everything from leftovers to produce. If you have a side-by-side refrigerator with plenty of room in the freezer, try a vacuum sealer to store frozen meals and ingredients on a longer basis than with its normal packaging.
With the leftovers out of the way, you might face a stack of dishes and utensilios de cocina filling the sink until you deal with the tiresome task of washing them by hand. Add a dishwasher to your kitchen so it can take care of the clean-up while you focus on family fun and relaxation. You can find 18-inch models from reliable brands like Kenmore and Whirlpool that will fit smaller homes. If you have room for a full-size, 24-inch dishwasher in your kitchen, the Kenmore Elite line includes premium features 360-degree PowerWash and TurboZone™ washing features that use extra powerful nozzles to get every corner of your dishes clean from even the toughest food stains.
Kitchen appliances at Sears help cut out hours of extra preparation and cleanup time. Whether you're cooking for your family or trying to eat healthier on a busy schedule, you can start enjoying delicious homemade options with our selection of appliances.