Comprar neumáticos para auto

There are a lot of important parts that make up your vehicle, but car tires are perhaps the most crucial component. Tires are the only parts that touch the road, which means they can take the biggest pounding. Whenever you start seeing noticeable wear on your car tires, consider upgrading them as soon as possible. Before you select a set of tires, make sure to research which ones are best for your vehicle.
Why buy new tires?
Automotive tires not only take a beating from the road, but they also carry the entire weight of your vehicle. Every driver has different habits so it's hard to predict exactly when to replace tires. However, signs of tread wear might pop up in about three years or after 30,000 miles.
Driving on bald or worn-out tires can be a safety hazard to you and other drivers. Damaged car tires can not only blow out any moment, but they also can ruin your vehicle's handling or cause your vehicle to spinout or hydroplane, especially in harsh weather conditions. New tires can improve handling and ensure a safer ride.
Having bald or flat tires causes your vehicle to work harder, which can burn more fuel and sink your car's gas mileage. A new set of tires increases fuel economyby lowering friction.
If you're moving to a different climate, you might require new tires. For instance, some car tires give you better performance in heavy snowfall while others are more suited for drier climates.
Some vehicles are used for racing and off-road driving. You might need to swap out their standard tires with ones suited for high speeds or rough terrain surfaces.

---
---
Features and consideratios of new tires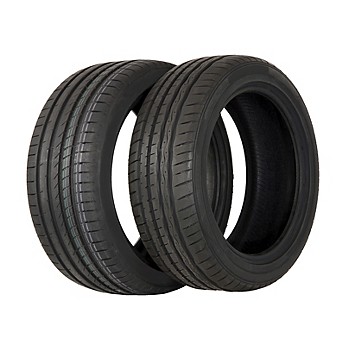 ---
Performance grades
Passenger tires are typically constructed with higher profiles to reduce noise and create a comfortable ride

Performance tires have a thinner composition suited for sports cars or aggressive drivers

High performance tires improve handling, cornering and traction at high speeds by using a softer tread compound

Ultra high performance tires usually operate best at the highest everyday speeds and give driversa smooth ride

Touring tires use a low profile and wide tread to create exceptional control in more dry conditions

All-terrain tires are commonly used on four-wheel drive vehicles to handle on and off-road capabilities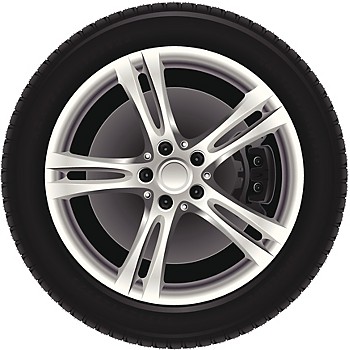 ---
Tire codes
Tire size lists a tire's class, section width, aspect ratio, construction and wheel diameter

The speed rating denotes a tire's maximum driving speedusing different letters that indicate specific mph.

Tire load index measures the maximum amount of weight your vehicle's tires can carry

Maximum pressure lists the maximum air pressure in pounds per square inch that a tire can handle

Tread wear grade measures a tire's durability based on manufacturer tests

Tire traction rating grades how a tire stops on wet surfaces in controlled conditions

Temperature ratings specify a tire's resistance to heat in normal conditions

Tire sidewalls include a code specifying U.S. Department of Transportation standards and the official tire manufacturing date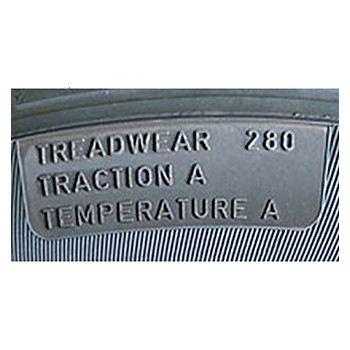 ---
Tire tools
A car jack raises your vehicle off the ground, allowing you to change a flat tire or swap out an older one

Tire irons allow you to remove and reinstall the lug nuts on your car's wheels

Road flares and reflective triangles are a great warning tool, especially when changinga tire at night

Wheel chocks keep your vehicle from rolling while you change a tire

Tire repair kits keep you prepared to patch small punctures at anytime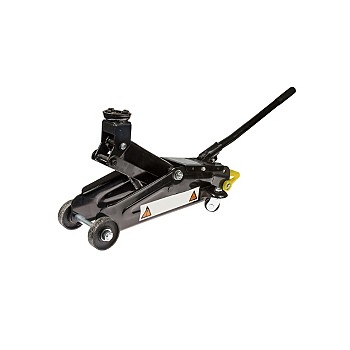 ---
Types of tires
Passenger tires
Passenger tires can handle the everyday commute and are commonly used on sedans, minivans or small SUVs.
Margen de precio: $30-$800

Common seasonal usage: All-season, winter and summer

Performance grades: Performance, high performance, ultra high performance and touring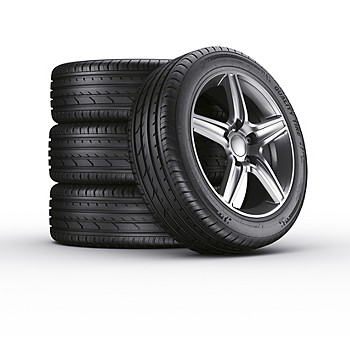 Passenger tires are best for...
Sedans, hatchbacks and minivans: Passenger tires can fit on almost any size vehicle, but most models are best suited for small hatchbacks, standard minivans or sedans.
Sports cars: Certain passenger tires are made with different performance grades, providing an optimal driving experience for sports cars.
Small pickup trucks and SUVs: Some pickup trucks and SUVs are small enough to use passenger or performance graded passenger tires.
---
Light truck tires
Light truck tires are specially built for mid-size to heavy duty SUVs and pickup trucks.
Margen de precio: $50-$950

Common seasonal usage: All-season, winter, summer

Performance grades: All-terrain, touring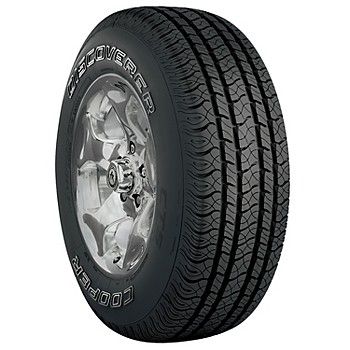 Light truck tires are best for...
SUVs and pickup trucks: A set of light truck tires is perfectly suited for a mid to large-sized SUV or pickup truck to handle everyday commutes.
Hauling materials: If you're someone that uses your pickup or SUV to transport items regularly for work, light truck tires are able to handle heavy loads for almost any project.
---
Mud tires
Mud tires feature large block tread patterns, which grip well on muddy surfaces.
Margen de precio: $100-$900

Common seasonal usage: All-season, winter

Performance grades: All-terrain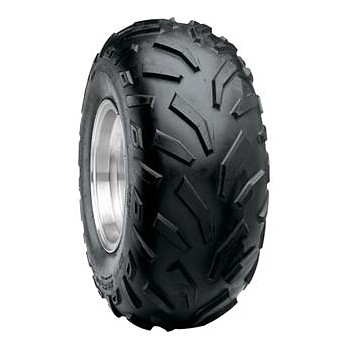 Mud tires are best for...
Off-road driving: Whether you're breaking ground on a construction site or racing on a dirt track, mud tires are perfect for trucks and other vehicles that aren't regularly driven on highways.
ATVs: Different ATVs and recreational vehicle require special tires to operate on mud, sand or gravel tracks. Mud tires provide the proper grip for ATVs to handle accordingly.
---
Conclusión
When the time comes to purchase new tires, the decision ultimately comes down to the type of vehicle, your driving habits and the climate. While passenger, light truck and mud tires have clear-cut differences in usage, it's important to know what seasonal treads or performance grades you'll need. For instance, if you live in an area that experiences heavy snowfall, snow tires are a sure bet. However, if you reside in a place that experiences different temperatures and climate, you're safe with all-season tires.
---
---
---