Shop by Category

Spring Savings

Featured Shops

Shop By Brand
Girls Shoes
Related Products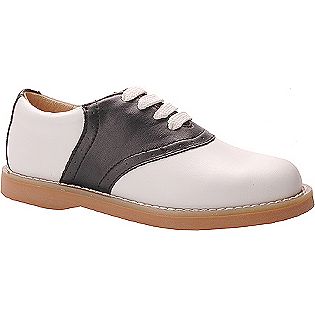 This classic cheer saddle features a flexible (littleway construction) for superior versatility. Features a full grain leather upper and a ...
Willits Girls' Cheer Saddle - White/Black w/ Coral Sole
This classic cheer saddle features a flexible (littleway construction) for superior versatility. Features a full grain leather upper and a padded comfort for comfort. Non marking outsole. ImportedFit: True to Size
Girls' Shoes For Any Outfit or Occasion
It's never too early to start accessorizing properly, and Sears' selection of girls' shoes makes doing so a lot easier. Parents will approve of the affordable prices of these shoes, while girls will delight in the wide range of stylish and comfortable designs that are available. From twinkling sneakers to dress shoes that go the extra mile, Sears has girls' footwear for every imaginable occasion and situation.
When it comes to putting the perfect finishing touch on an adorable outfit, styles like TKS Youth girls' shoes are hard to beat. These types of shoes come in many different colors, patterns and designs, which makes finding just the right thing an absolute breeze. From ballet flats with gorgeous floral patterns to casual slip-ons with unique and exciting touches, these shoes are sure to come in handy in a wide range of situations.
For superior style and plenty of modern flair, Skechers girls' shoes and options like them are second to none. Exciting new styles are coming out all the time, which allows girls to stay on the cutting edge of today's fashions. Low-top styles are easy to slip on and off, while high-top designs provide extra support and bring a little extra flair to the table. From traditional sneakers that are adorned with dazzling sequins to basic slip-ons with small but enticing touches, these styles are perfect for girls of all ages.
To get the most out of athletic pursuits, a girl needs to have the right footwear. Sears offers a comprehensive assortment of girls' running shoes that make it easy to put a confident foot forward. Breathable mesh panels keep feet cool and free of sweat, while convenient Z-straps simplify the task of taking shoes on and off. Rubber traction soles and top-notch cushioning add to the thoughtful designs of these high-quality shoes, which are perfect for the trail, the gym and just about anywhere.
Stocking up on stylish shoes is more fun when they are affordable. Options like Paris Blues girls' shoes fill the bill nicely. They not only boast attractive and trendy exteriors, but they are delightfully comfortable, too. On top of that, they come with remarkably low prices that any parent is sure to love. From dressy styles to casual shoes for everyday use, these are practical and worthwhile options for today's fashion for women.
With its huge array of sizes, colors, styles, designs and brands, Sears' selection of girls' shoes is simply unbeatable. By shopping this extraordinary selection, a girl is sure to find just the right thing.