A Beginner's Guide to Buying a Cooktop | Sears
A Beginner's Guide to Buying a Cooktop


Whether you're whipping up a feast or just sautéing veggies, a cooktop is an essential component of any kitchen. With multiple types, styles and sizes available, deciding on a new one isn't easy. Every kitchen has a unique layout and every person has unique cooking needs. We've highlighted some helpful information to make buying the right cooktop a little easier.


Electric Coil Cooktops



The most common of electric models, coil cooktops work well with most cookware. The coils, which are operated by dials, sit above a metal drip pan and use electric power to heat the cookware. Because spills and splatter can easily slip through the coils, the drip pans can be removed to simplify cleaning.

Benefits…
Low cost - These cooktops are usually one of the most affordable types available. You can find a reliable model for a lower price that suits your budget.


Versatile design - If you have a large, diverse collection of cookware, this option is perfect for you. The electric coils allow you to use almost any type of cookware.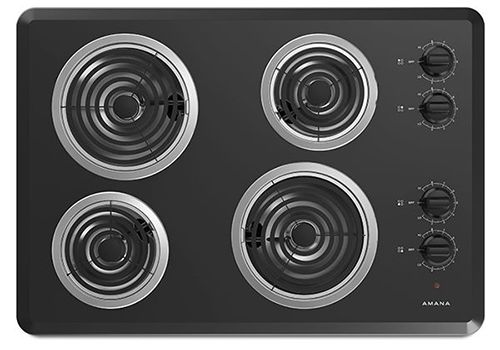 ---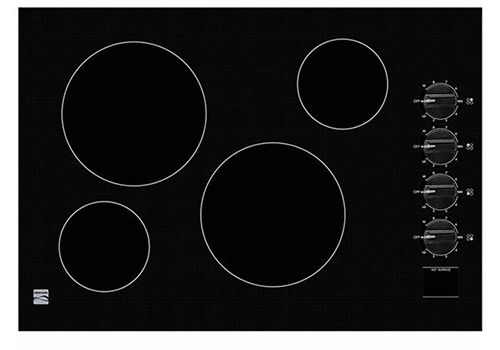 Electric Radiant Cooktops

Often referred to as smoothtop cooktops, these models are stylish and sleek, offering an easy-to-clean glass or ceramic surface with an electric heat source. These options are completely flat across the top, with the burners built into the surface. Some burners even offer dual and triple element burners.
Benefits…
Simple to clean and use - Unlike coils, radiant cooktops feature smooth glass or ceramic surfaces that are a breeze to clean. Plus, they're specially designed to transfer heat quicker, making cooking quick and easy.


Contemporary design - Perfect for home decorators, these sleek cooktop models also add a modern feel to your kitchen.

Shop all electric radiant cooktops

---
Electric Induction Cooktops
Instead of using a direct heat source, induction cooktops use electro magnetism to heat the cookware directly with a cooking surface that's always cool to the touch.

Benefits…
Cool to the touch - These are one of the safest cooktops on the market, helping keep you or your children protected from burns. Induction models don't generate heat but instead induce the pot or pan so the heat only goes where it's needed.


State-of-the-art design - Induction cooktops are not only safer than standard models, but they also look stylish in any kitchen. Pair one with a new range hood, wall oven or under-the-counter oven for a kitchen space that really stands out.

Shop all electric induction cooktops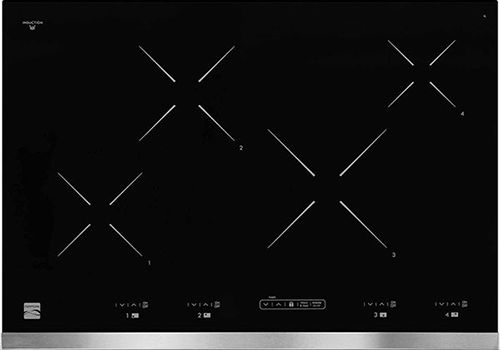 ---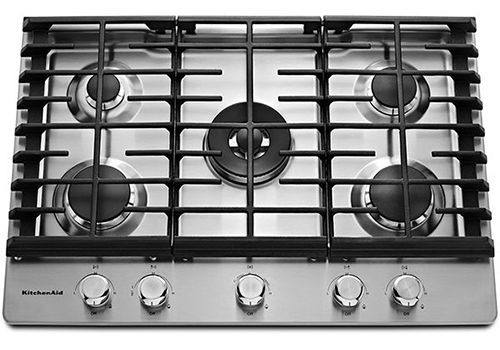 Gas Cooktops
Gas cooktops are a traditional choice in most homes. These models let you cook meals atop a gas flame, which allows you better control of your heat source.

Benefits…
Perfect for busy home chefs - Because gas flames turn on in an instant, you don't have to wait for the heating element to reach the desired temperature. Even if the power's out, all you have to do is ignite the burner with a match to start cooking.


Precise heat - Where electric cooktops evenly cook food, gas options are designed for precision. When you set the dial to your desired heat, you'll know exactly what you're getting.

Shop all gas cooktops

TIP: Unless you're remodeling or building a new home, consider a model that's the same as your existing style but with updated features. Before purchasing, always measure your countertop and check the energy requirements. Some homes have limited countertop space or might only accept gas heat, which will reduce your options.

---
Know Your Heat



When looking at cooktops, you'll see terms related to heat and might not know what they mean. Here's a brief overview of two common measurements of heat:
Watts - This is a standard unit of power that you'll see associated with electric cooktops. Electric models feature burners that measure the power in watts. The higher the wattage, the more power that burner's going to bring to the pot or pan.


BTUs - Short for "British Thermal Units," this unit is a measurement of heat for gas burners, or specifically, the amount of heat required to raise the temperature of 1 lb. of water by 1°F. The higher the BTUs, the more heat you'll be able to use.
TIP: Look for a cooktop with at least one high-heat/power burner so you'll be able to take on a wider variety of dishes.

---
Know Your Sizes

When measuring your countertop space, you'll need to keep in mind the different cooktop sizes to best fit your kitchen's needs. Designs that are 30" or 36" are typically the standard sizes in most homes, and they give you plenty of elbow room for cooking. If you're looking for a more customized size, select cooktops can go from 12" all the way up to 60".

---
Performance

Simmer burners - This burner is perfect for cooking food at a lower and more gradual heat for sauces or soups.


Power burners - Power burners allow you to sear or boil to perfection, making them extremely beneficial for high-heat cooking.


Multiple element burners - Some cooktops come with two or three elements in a single burner to handle a variety of cookware sizes, allowing your food to get the right amount of heat. Turn on the smaller element for small pans and the larger element for big pots and pans.


Sealed downdraft - Select models come with a downdraft ventilation system that draws grease and smoke down into the cooking unit and disperses them outside. Best of all, you won't need to put down the cash for a range hood.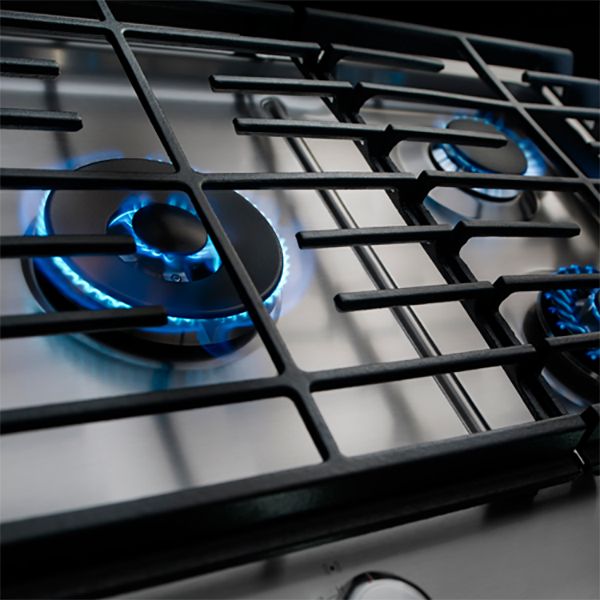 ---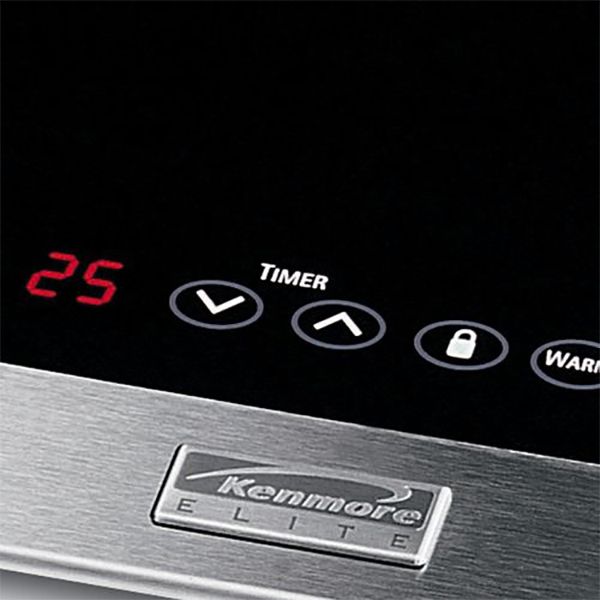 Conveniences

Open burners - Featuring exposed openings, cooktops with open burners give cookware more direct heat while easily lifting open to clean spills inside.


Sealed burners - Some models feature a protective cap and a metal drip pan around the base to cover the gas jets. You'll get an indirect flame but an easier time cleaning up.


Bridge element - Certain cooktops come with a special element that lets you connect two elements for a larger cooking surface.


Electronic touch controls - No more dials. These controls quickly and easily set the temperature on a flush, easy-to-clean surface.


Hot-surface indicator - Even after you've turned the cooktop off, this helpful indicator light lets you know when the surface is still hot.


---
---
---