What is Downdraft Ventilation?
What is Downdraft Ventilation?

Downdraft ventilation is a type of ventilation in cooktops and kitchen ranges that uses a fan to pull cooking fumes and smoke downward. A downdraft ventilation feature is a substitute for a traditional range hood that sucks smoke and steam upward. In addition to ventilating gas and electric stoves from fumes and smoke, a downdraft cooktop offers a modern look in an updated kitchen. The sleekly designed cooktop even allows room for extra cabinets where you would typically place a range hood.
Within the arena of downdraft ventilation, there are two types of downdraft vents. The first is a built-in downdraft vent. This, as the name implies, is built directly into the cooktop itself. They look like a basic air vent.
The second type are telescoping downdraft vents. These ventilation systems will rise from the counter from behind the burners with the press of a button. Once you're done cooking, you can have the vent descend back into the counter until you need it.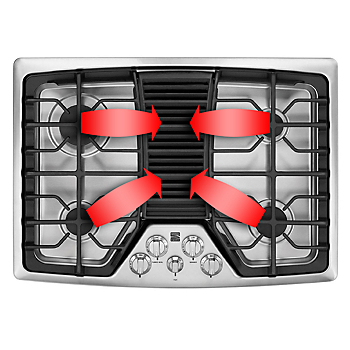 Whether it's telescoping or built-in, downdraft cooktop vents are typically easy to clean and maintain. Plus, a cooktop with downdraft vents are perfect when setting up a station that doesn't have cabinets or any overhead space for a full range hood.
Uses of a downdraft ventilation system
Removing dangerous smoke and fumes from cooktops

Replacing a range hood with additional cabinet space in a small kitchen

Ventilating smoke and steam from a cooktop on a kitchen island where there isn't a range hood

Recirculating air after removing cooking odors and moisture (some models)

---
---
---