How to Microwave Apple Crisp
Often, baking in the oven is preferred because the preheated interior and circulating hot air causes desserts to rise and crisp to perfection. Baking takes a long time though, and sometimes you need instant gratification when it comes to feeding your sweet tooth. Microwaving apple crisp is simple, and the final product is a warm apple center with a perfectly crispy crust on top. The best part: it takes less than 15 minutes to prepare and cook.
What you'll need:
Apples. Use 4 large apples of your choice.
Butter. Use ½ cup of melted butter.
Brown Sugar. Use ¾ cup of packed brown sugar.
Quick Cooking Oats. Use ¾ cup of quick cooking oats.
Flour. Use ½ cup of flour.
Cinnamon. Use 1 teaspoon of ground cinnamon.
Allspice or Nutmeg. Depending on your personal preference, use ½ teaspoon of either allspice or ground nutmeg.
Baking Dish. Use an 8-inch square glass baking dish.
Mixing Bowl. You'll use this to mix all of the non-apple ingredients.
Spatula. You'll use this to transfer the crispy topping from the bowl to the baking dish.
---
Step 1: Peel and core your apples.
Use a peeler or peeling knife to remove the skin from your apples and cut them into slices.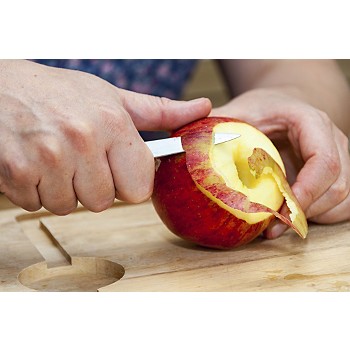 ---
Step 2: Arrange apples in baking dish.
Fill the bottom of your 8-inch glass baking dish with apple slices. They don't have to be perfectly arranged in a particular fashion.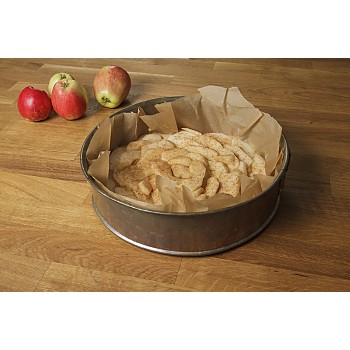 ---
Step 3: In a separate bowl, mix other ingredients.
Combine the brown sugar, cooking oats, flour, ground cinnamon and melted butter in a medium mixing bowl. Make sure all of the ingredients are mixed well to form a consistently chunky topping.
---
Step 4: Layer crispy topping on apples.
Use a spatula to empty the crispy topping from the mixing bowl on top of the apples. When you're done layering, sprinkle ½ teaspoon of either all spice or ground nutmeg on the crispy top layer.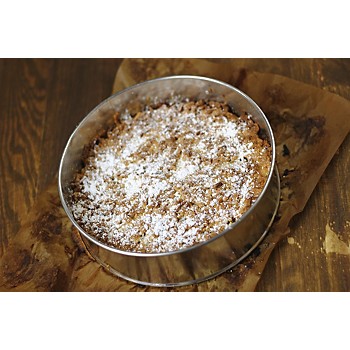 ---
Step 5: Microwave.
Place the baking dish in the microwave and cook uncovered for 10-12 minutes. Poke the apples with a fork when the apple crisp is done cooking, and if you can cut through the apples with ease, your apple crisp dessert is finished and ready to enjoy.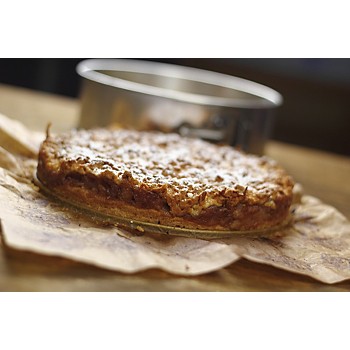 ---
---
---