A Beginner's Guide to Buying a Range
A Beginner's Guide to Buying a Range



Whether you're moving into a new home or looking to upgrade your existing appliances, finding the right range is essential. With a variety of fuel types, styles, configurations and features, there is always a model designed just for you. Here are some features, tips and types of ranges to help make your decision easier.


---
What's the Difference?
Sometimes you'll hear certain industry lingo that might confuse you. The words "oven", "cooktop" and "range" are sometimes used interchangeably. Here's the difference:

Cooktop - The flat surface used for simmering, boiling and frying. Cooktops are also referred to as "stoves."


Oven - The specific space dedicated to baking, cooking and broiling.


Range - The combined unit that features both a cooktop and an oven.

---
Trying to install a range that is either too bulky or too small not only makes it an eyesore, but it also could make the unit unusable. Before you buy an appliance for your kitchen, make sure it properly fits your available space.


Measure Width, Depth & Height of the Appliance Opening
Using a tape measure, check the opening's height from top to bottom, width from left to right and depth from front to back.


Make sure your range cooktop is level with your cabinets and countertops.

Measure Door Openings & Hinge Spaces
In order to have clear access to the oven racks, the door(s) should be able to open 90 degrees or more. Most ranges are between 30" and 36" wide.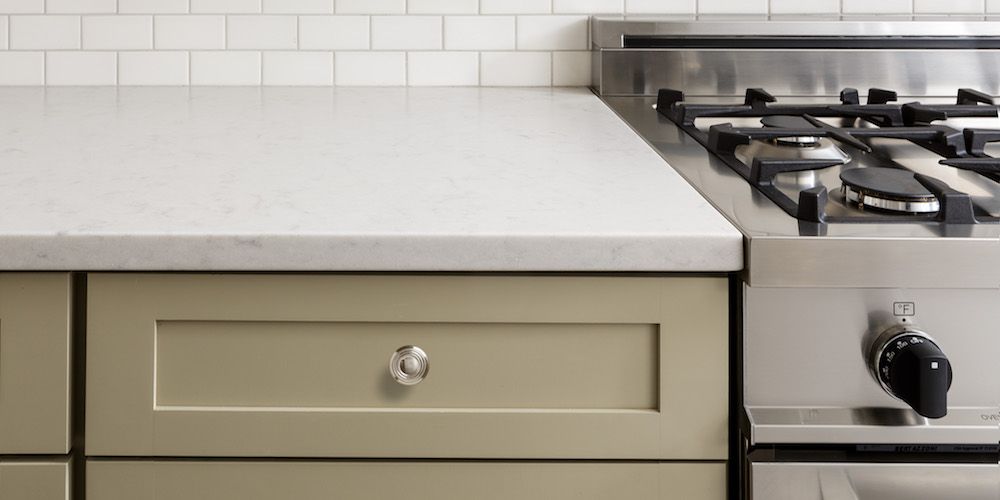 Check Your Doorways
Check all doorways between the outside of your house and your kitchen to ensure your range can easily get where it needs to go. Measure from the stops on each side since those are the closest contact points.


Some models have handles that can be removed for moving and reinstalled once inside. Make sure to check the manufacturer guidelines before performing any disassembly.


Measure the corners and hallways along the route to your range's new home.


Avoid floor damage by using plastic mover strips or part of the range box under the unit's legs so you can slide it into place without scratching the floor.

Refer to a measurement cheat sheet or hire a general contractor for additional help installing your new appliance.

---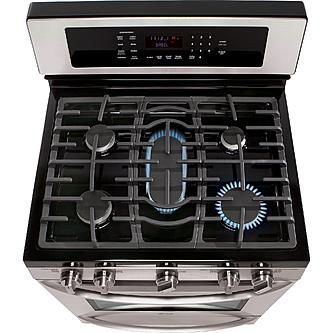 Gas Ranges
If you have a natural gas line in your home, gas ranges are a great choice. Food on the cooktop and in the oven are heated using an open flame. Certain options also feature ovens with fan convection heating.
Benefits...
Heats up quickly - Turning on a gas range offers direct heat, so food heats up faster than with electric models. Plus, it's perfect for broiling.


Doesn't waste electricity - Gas ranges run on either propane or natural gas, so you don't run up your electric bill.

Shop all gas ranges


---
Electric Ranges
Forget flames and plug in an electric range. Choose between coil, smoothtop or induction cooktops. Select models come with true convection or fan-only convection options.
Benefits...
Save money where it counts - Electric models provide a gas-free option for cooking, so you don't run up a gas bill.


Cooks evenly and precisely - Since most options come with a flat, smooth cooktop surface, your food will cook more evenly than most gas cooktops. You can also more accurately control the temperatures in the oven than a traditional gas model.


More accessories available - Select electric ranges come with accessories you won't find on traditional gas ranges including grillers.


Shop all electric ranges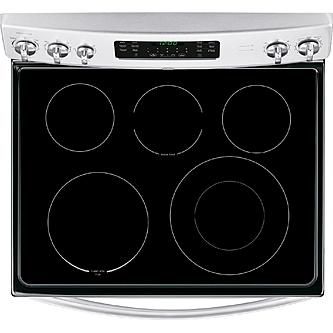 ---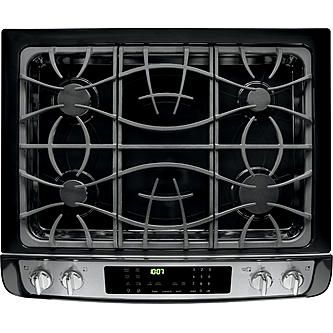 Dual-Fuel Ranges
Dual-fuel ranges give you the best of both worlds with a gas cooktop and an electric oven. Certain options come with convection features.
Benefits...
Precision meets power - The ability to precisely control the oven's temperature in an electric range comes together with the high, direct heat of a gas cooktop.


Keep the gas line - If you still have a gas line from your previous range but want to use an electric oven, this is the perfect option for you.

Shop all dual-fuel ranges


---
Single-Oven Ranges

These styles are traditionally found in most homes. Single-oven ranges don't take up a lot of space, and they add a classic look to any kitchen's design.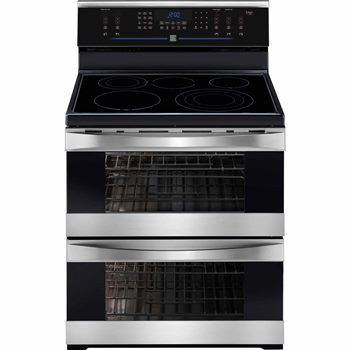 Double-Oven Ranges

Double-oven ranges give you more cooking space so you can get more done in less time. Most designs come with low-capacity ovens, but the combined total capacity makes up for it.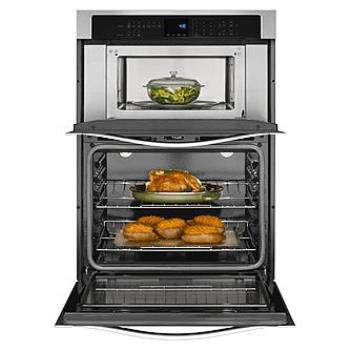 Combo Wall-Oven Ranges

The built-in look of the latest combination wall ovens and microwaves add convenience to your life by bringing every essential appliance within easy reach.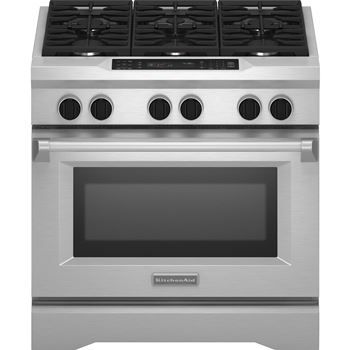 Pro-Style Ranges

Designed for chefs and food-channel addicts alike, pro-style ranges are the centerpiece to any serious kitchen. They come with a sleek, professional look that is sure to be the talk of any guest.
---
Installation Configurations

Find the right fit - Make sure your range will fit flush with your cabinets, level with your countertops or can be installed inside your wall before purchasing. Hire a professional contractor for any installation assistance.


Consider capacity - Think about how much oven space you'll need when deciding the style and configuration, as models vary by capacity. If you live alone or with one other person, it's recommended to aim for 3 cu. ft. If you cook for a family of two or more, consider a range or wall oven with a capacity of 5 cu. ft. or more.


Freestanding Ranges
Freestanding ranges are traditional configurations that feature controls on the backsplash panel and have finished sides. Most options come with a bottom drawer for additional space when you need it.
Fits just about anywhere - Electric, gas and dual-fuel freestanding models are designed to fit almost anywhere in your kitchen.


Space for what you need - These ranges come with optimal oven space, and many feature a bottom drawer for storage, warming or broiling.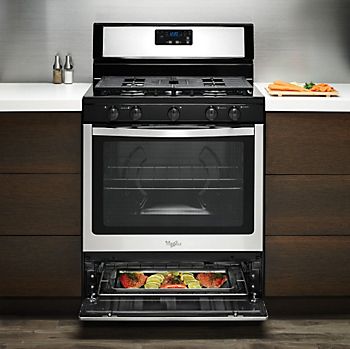 ---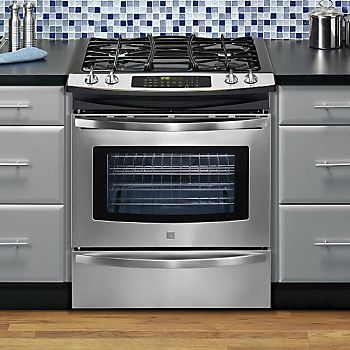 Slide-In Ranges
Slide-in ranges give your kitchen a built-in look with a range that fits perfectly with your kitchen cabinetry. Controls are found in front, and some units come with unfinished sides.
Designed for your kitchen - Most of these models are built for a perfect height to sit flush with the tops of most kitchen cabinets.


More room on top - With no backsplash panel, you'll have more elbow room for pots and pans on the cooktop.


Easy to install - All you have to do is plug the unit in and slide it between your cabinet countertops. Installation is that simple. Some accessories are required.


Keep that storage - Most slide-in models also feature a bottom drawer for storage or warming.



---
Drop-In Ranges
Drop-in ranges seem nearly identical to slide-in models. Like slide-ins, they don't have backsplashes, the controls are found in the front and they're designed to fit flush with the top of your cabinets. However, these options require custom-designed cabinets for installation and come without a bottom drawer.
Ideal for kitchen upgrades - Pro-style and drop-in ranges are designed with a professional kitchen look. You may need to hire a general contractor when remodeling.


Custom fit - Much like slide-in options, these ranges are a perfect when you want to create a look that suits your space best.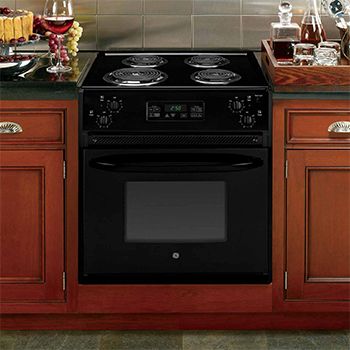 ---

Essential Features
Fan convection cooking - With this mode, a fan placed in the back of the oven circulates hot air inside to make sure food cooks faster and more evenly.


True convection cooking - Similar to fan convection, the setting comes with a third heating element so the fans blow heated air. This gives your oven a more uniform temperature and makes sure food comes out fast and is perfectly cooked.


Induction cooktop - On a smooth electric cooktop, induction technology uses electromagnetic energy to heat your food upon contact with magnetic pots and pans. This style is typically safer than traditional gas and electric models as the cooking surface is always cool to the touch. However, special cookware is required.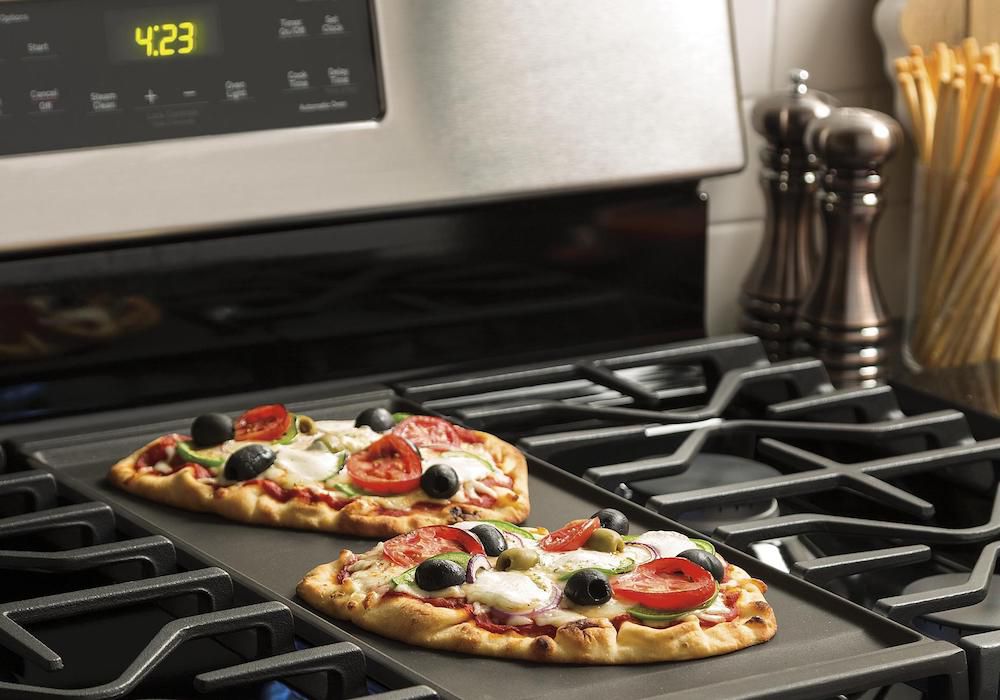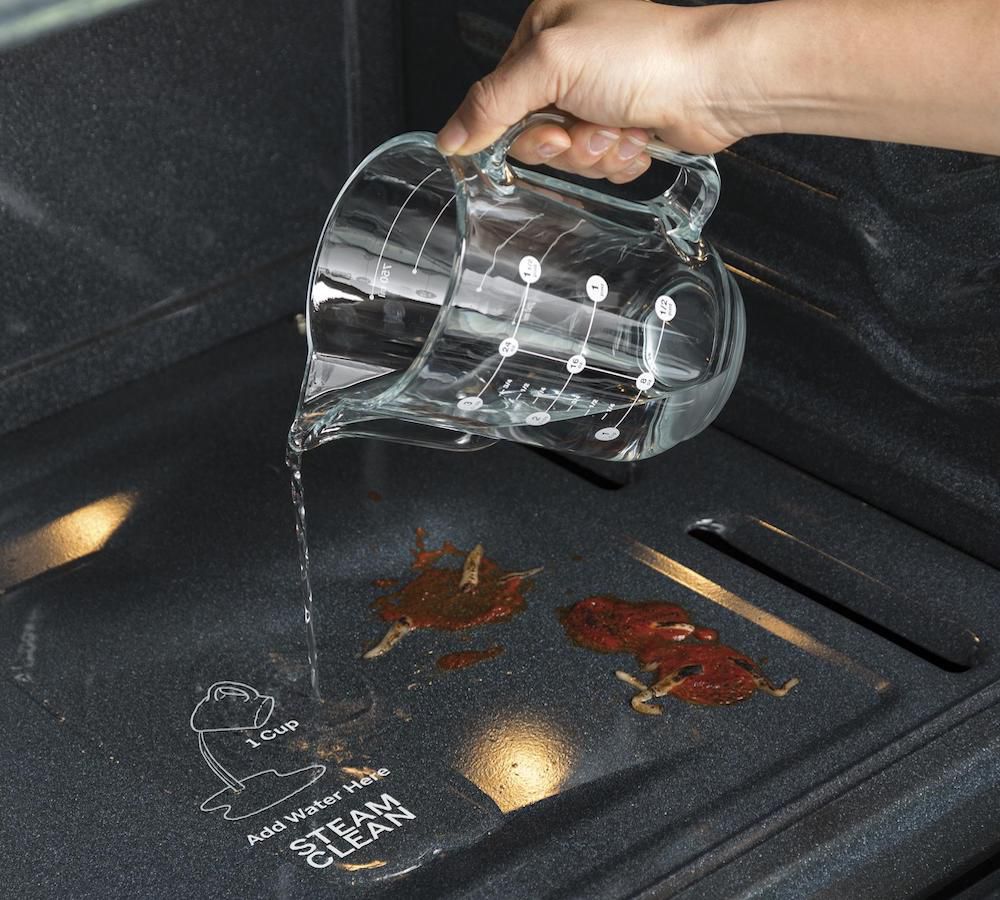 Variable broil - Most ovens that come with a broil feature are set at a fixed 500°F. Ovens with variable broil let you customize the broil settings.


Delay timer - This features lets you set the range to turn on at a specific time it begins baking when you're ready.


Hidden bake element - Standard ranges feature an exposed heating element on the top or bottom of the oven. Select models come with a hidden bake element that stores the element below the oven floor. This makes it easy to wipe down when it's time to clean.


Warming drawers - Warming drawers use low heat and temperature sensors to make sure your food stays warm and ready until it's time to serve. Plus, humidity controls make sure food inside doesn't dry out.


Expandable elements - Switch from a small low-power element to a large high-power one without switching spots with an expandable element. Select models come with triple elements that accommodate 6", 9" and 12" size cookware.


Steam clean or self clean - Select models feature self-clean that uses high heats to turn stubborn stains into ash, making it much easier to wipe clean. New models feature steam clean that uses a cup of water to get rid of light spills and reduces the need for frequent self-clean cycles. Steam cleaning is faster than conventional self-cleaning and uses less energy.

Sabbath mode - This mode shuts off heat for those whose religious practices restrict use on the Jewish Sabbath and other holidays.


Range hoods - These help rid your kitchen of smoke, steam and odors during or after cooking. Vented options direct the exhaust outside and non-vented models recirculate the air and filter out exhaust.

---
Cooktop Features
Simmer burners - These options cook food at a low and gradual heat, perfect for soups and sauces.


Power burners - Power burners produce high heats, perfect for boiling water. Plus, these models reach higher heats than standard burners.


Dual element burners - These electric radiant burners have multiple heat rings to accommodate large and small cookware. Some models let you use both elements for powerful heating.


Sealed gas burners - Sealed gas models emit flames from a cap instead of directing heat straight up to your cookware. They come with a metal drip pan around the base for easy cleaning and protecting your cooktop from food and grease.


Open gas burners - These feature jets that project flames directly upward toward the cookware.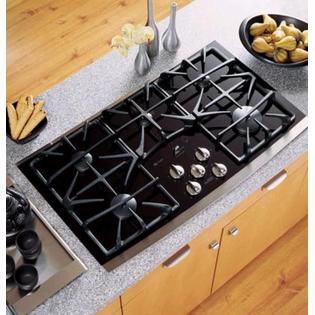 ---
---
---