A Beginner's Guide to Buying a Refrigerator
A Beginner's Guide to Buying a Refrigerator


A refrigerator is the centerpiece of any kitchen. Whether you're moving into a new home or upgrading an outdated kitchen, there are plenty of options designed to fit your space. Some of the latest models have settings that keep food fresh longer and run efficiently to help save on your energy bill. Here are some features, tips and types of refrigerators to consider during your search.


---
Before you start looking for a new refrigerator, make sure it fits your space properly. Having an appliance that is too bulky or small can make it an eyesore or sometimes unsuable. Here are some useful tips to help you find the right size unit.
Measure the opening - Make sure to measure the height, width and depth thoroughly. Leave at least an inch of extra space to allow your unit to ventilate properly.
Measure for door opening and hinge space - Leave room so the doors can open up to at least 90 degrees. Be sure to leave an extra two inches of space between the hinges and the wall for proper clearance.
Check your doorways - Measure each doorway that will be part of the delivery path. Check the stops on each side of the door jamb, and measure the corners and hallways along the route. In some cases, you'll have to remove the fridge's handles.
Determine the proper capacity for your home - A general rule of thumb is that 4-6 cu. ft. of space be devoted to each adult in your household. However, other factors come into play as well, including whether you prefer fresh or frozen food, have kids or entertain frequently.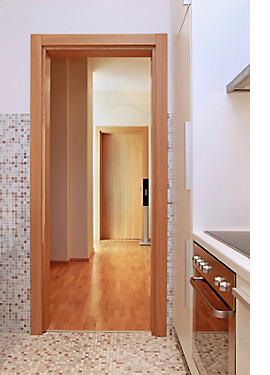 ---
Top Freezer Refrigerators
Top freezer refrigerators feature large fridge space on the bottom with a moderately sized freezer on top. Both sections have single-door closures with the hinges on the same side, allowing you to adjust which side the appliance opens based on your space's requirements.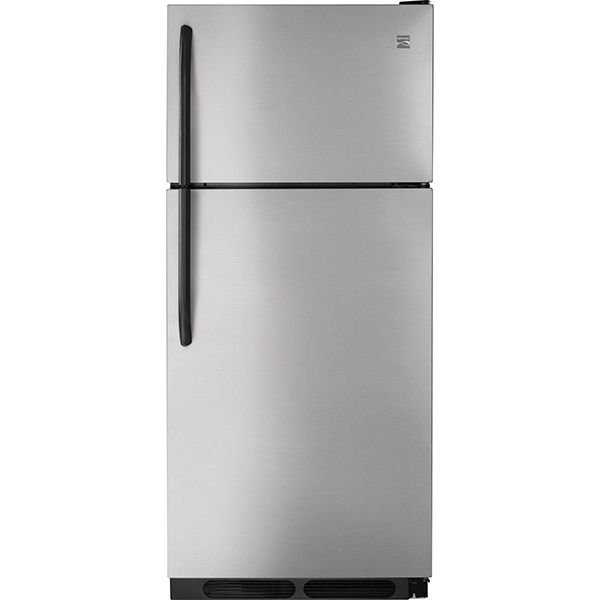 Benefits...
Places freezer at eye level - Having the freezer at eye level creates quick and easy access to frozen food. If you're someone who frequently eats frozen veggies or freezes meals for later, these models make organizing simple.
Multiple options - Since these are one of the most common models available, you'll typically find a wide variety of sizes and finishes that suit your space.


shop all top freezer refrigerators
---
Bottom Freezer Refrigerators
Bottom freezer refrigerators are designed with the fridge space at the top for easy access.
Benefits...
Places the fridge at eye level - If your most-used items are in the refrigerator section, you can find your favorite foods and beverages easily at eye level. These fridges' bottom shelves are also easier to reach and organize than top freezer options.
Generous freezer space - With the freezer on the bottom, it's similar to having a small chest freezer. If you store frozen food for long periods of time or like buying in bulk, these freezers provide ample room.
Variations - There are multiple options designed to fit your household's organizational needs. For instance, some configurations are available with up to five doors.

shop all bottom freezer refrigerators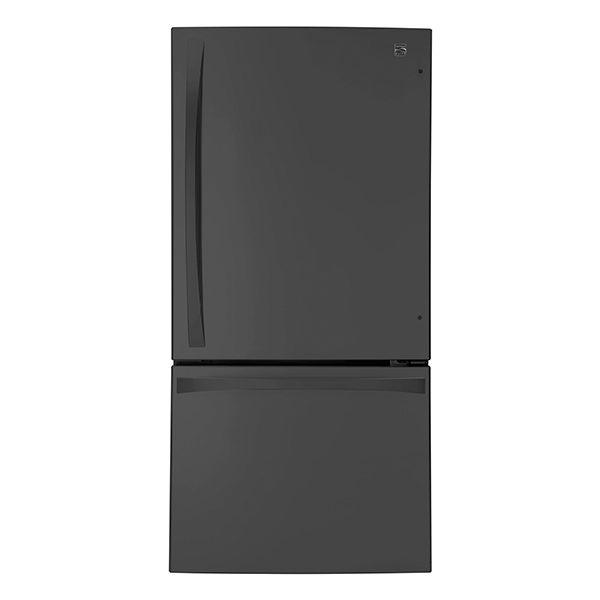 ---
Side-By-Side Refrigerators
Side-by-side models place the fridge and freezer sections right next to each other.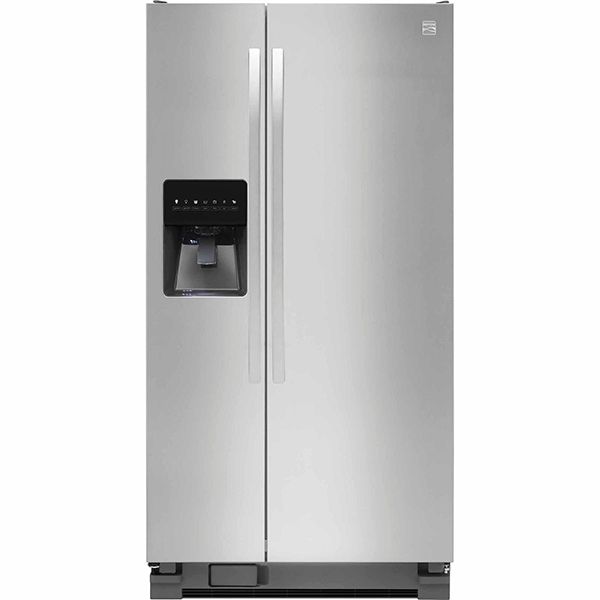 Benefits...
Perfect for small kitchens - The thin, side-by-side build makes these models ideal for kitchens with minimal space and door clearance.
Easy for grabbing items quickly - By having two adjacent doors, you'll have everything in front of you at once, so you can easily grab fresh and frozen ingredients in a snap.
Options with water and ice dispensers - Many side-by-side options come with in-door ice and water dispensers, so you can quickly access tasty, filtered water and fresh ice.

shop all side-by-side refrigerators
---
French Door Refrigerators
French door refrigerators feature two doors that open up to a wide fridge section above a bottom freezer, helping maximize your storage space.
Benefits...
Ideal for entertaining - If you're someone who frequently throws parties, French door constructions have plenty of space to store party platters, trays and other large items.
Easily accessible storage - These models have ample door storage that is perfect for storing sauces, salad dressings and drinks for quick access.
Variations - French door fridges are usually available in three-door options with bottom-mounted freezer compartments and four-door options with dual freezer compartments. Some advanced variations have bottom-mounted freezers and counter-height drawers.

shop all French door refrigerators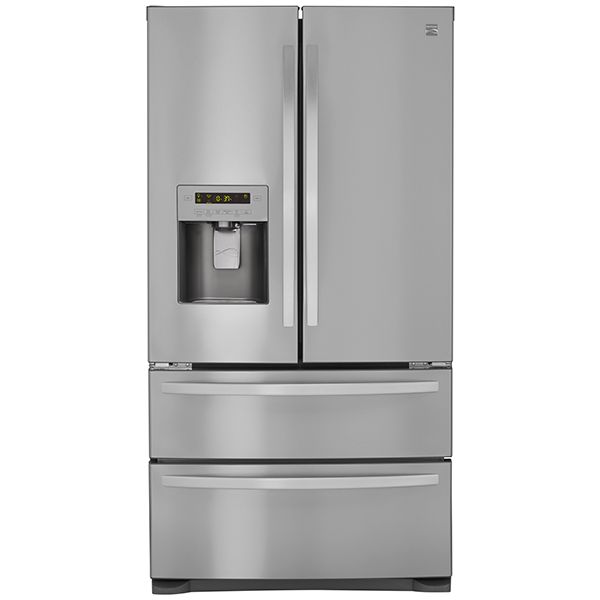 ---
Freezerless Refrigerators
Freezerless models come without freezers but have more top to bottom storage space for perishable goods.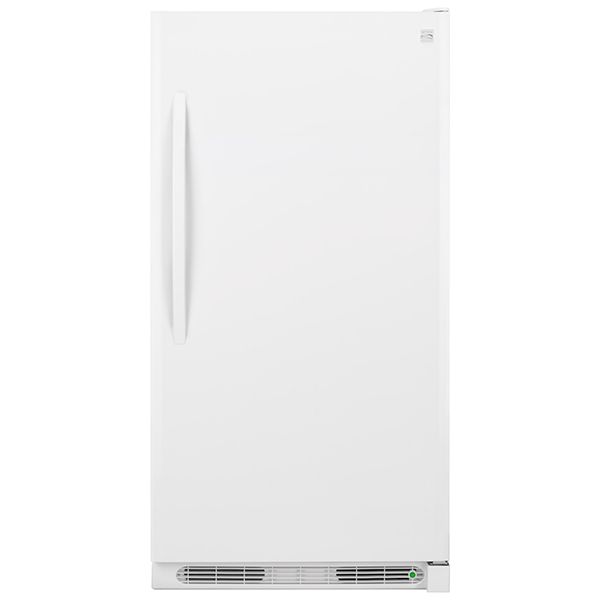 Benefits...
Perfect secondary option - These fridges are perfect for the basement, garage or another room to store leftovers and keep extra drinks cool.
Thin design - Many models boast a narrow construction, making them perfect to fit in any space in your garage or basement.

shop all freezerless refrigerators
---
Compact Refrigerators
Compact refrigerators provide food storage space in small areas, and some models have a small freezer shelf for frozen goods.
Benefits...
Perfect for dorm rooms - When you're sending your kids off to college, a mini fridge is perfect for them to store leftover food from the dining hall and energy drinks for late-night study sessions.
Ideal in shared apartments or offices - Whether you share a kitchen space at work or with roommates, having a mini fridge in your own office or room is essential. This compact model lets you store small items easily so you can keep the main fridge open for larger items.
Glass-door options - Some models feature glass doors, so you can quickly see when something needs to be restocked.

shop all compact refrigerators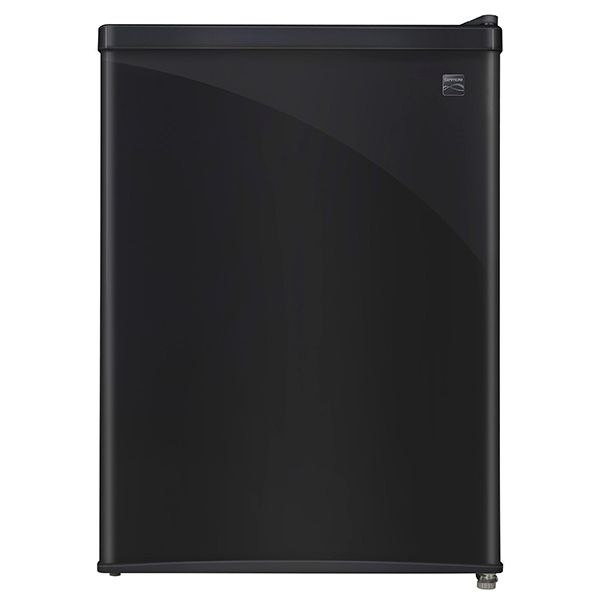 ---
There are a wide variety of features to consider when buying a new refrigerator. Not every model has every accessory, but deciding which ones are essential to you will help you make an informed decision.

Popular Features
Dual cooling - Dual-cooling technology provides a separate cooling system for the fridge and freezer. This keeps the temperatures of each section steady with minimal fluctuation.
Temperature control - Fridges with temperature management have built-in sensors that measure and adjust internal temperature if necessary, creating efficient cooling so your food and beverages stay fresher longer.
Door alarms - These beep whenever you leave the refrigerator door ajar.
Child safety locks - Some of the latest models feature locks to prevent small children from opening the refrigerator.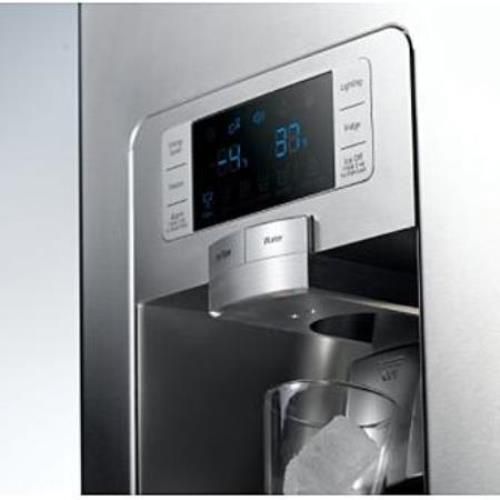 Ice and water dispensers - Dispensers provide clean, filtered beverages and ice with just the press of a button. They can keep you from having to refill ice trays constantly throughout the week or during parties.
Dual ice systems - These systems have ice makers in the refrigerator cavity and in the freezer.
Connected Solutions - Some models have Wi-Fi enabled features and other smart technology, so you can monitor your appliance from afar.
Air filters - Improved air flow can keep your fridge smelling great and evenly distributes cool air. The latest humidity technology maintains the right moisture level for frozen and fresh items.
Spill-proof glass - This special glass helps keep liquids from dripping down the rest of the fridge, making messes easy to clean.

---
Storage Options
Pull-out freezers - These tiered options can make frozen food organization simple. You won't have to worry about tossing frozen veggies around to find your carton of ice cream.
Sliding shelves - These types of shelves bring the food to you, making it easier to reach items at the back of the fridge.
Pantry drawers - Pantry drawers allow you to put snacks and sodas in one spot, so you can avoid opening the main fridge compartment just to grab a treat.
Crisper drawers - The latest crisper drawers let you store fruits and veggies at your desired humidity, helping food stay as fresh as possible while stored.
Adjustable door shelving - Adjustable door shelves allow you to make plenty of room for items you use the most.
Outer door storage - Exterior solutions help you keep items like juices and condiments chilled and easily accessible. Outer door storage also frees up more space on the interior door for larger items.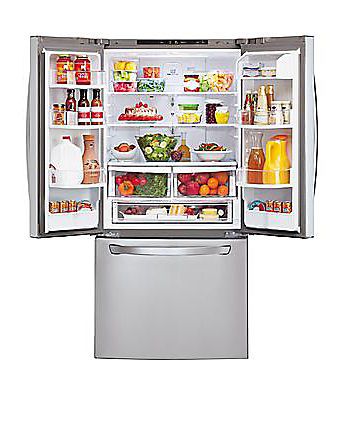 ---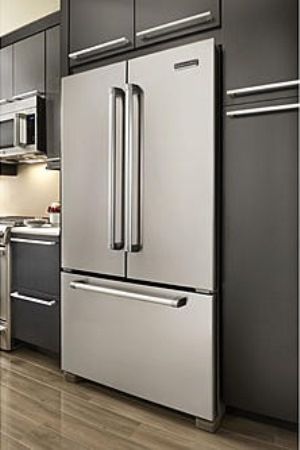 Multiple finishes - You can choose from a wide variety of stainless steel, white and dark finishes that fit any kitchen's style and decor.
Counter-depth refrigerators - These models appear to be built into your kitchen cabinetry, offering a custom-made look without the custom-made price.
Reversible doors - Reversible doors offer more options when arranging your kitchen, especially in tight spaces.

Fingerprint-resistant finishes - Some stainless steel models use fingerprint-resistant coatings to keep your appliance looking as good as new.
Active Finish™ Stainless Steel - This Kenmore-exclusive feature helps resist smudging and holds magnets on stainless steel refrigerators.


Learn more about Active Finish™ Stainless Steel.
---
Energy Efficiency
ENERGY STAR® rating - ENERGY STAR® rated refrigerators are built to do the same work as standard models but use less energy. This helps reduce your carbon footprint and overall energy bill.
LED lighting - An LED light is specially designed to use less energy than a standard refrigerator bulb.
EnergyGuide labels - These labels can help you see the energy efficiency of refrigerators without an ENERGY STAR certification.
Energy rebates - Depending on your state, you might qualify for a rebate by owning an energy-efficient appliance.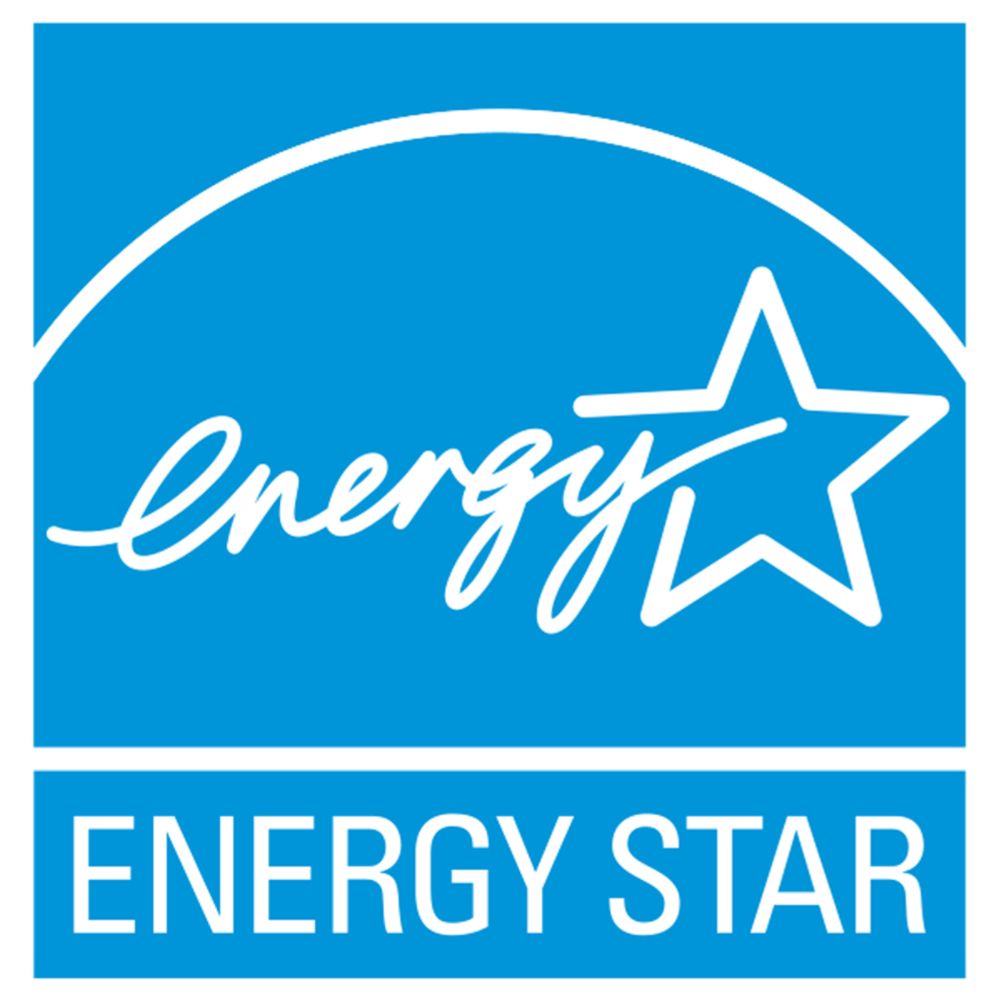 ---
---
---