Product Insight: Kenmore Side-By-Side Refrigerator
Kenmore Side-By-Side Refrigerator
This Kenmore® side-by-side refrigerator delivers on performance and looks great while doing it. Inside, space-saving and organizational features keep food fresh, organized and easily accessible. Outside, it features a sleek look and feel, thanks to the new door and dispenser design.
Product Specifications
Kenmore 25 Cu. Ft. Side-By-Side Refrigerator in White - #51332, Active Finish - #51335, Black - #51339
TuckAway™ Shelf: One shelf adjusts to give you a 19 ¾"-high space to fit tall containers.
SpaceSaver™ Ice System: The in-door ice maker design gives you room to organize on the top shelf.
Pizza Pocket: Provides freezer storage flexibility - the shelf folds up to fit two 14" pizza boxes and folds down to give you full shelf space.
Dual-Pad Water and Ice Dispenser: You can easily switch between ice and water without pushing a single button. The visible spout helps prevent spills.
Humidity-Controlled Crisper Bin: Helps produce stay fresh by storing fruits and vegetables at the ideal humidity levels.
Gallon Door Storage: Three adjustable door bins mean large containers don't take up valuable shelf space.
Dual LED Lighting: Helps save energy and sheds a bright light on the contents of the refrigerator.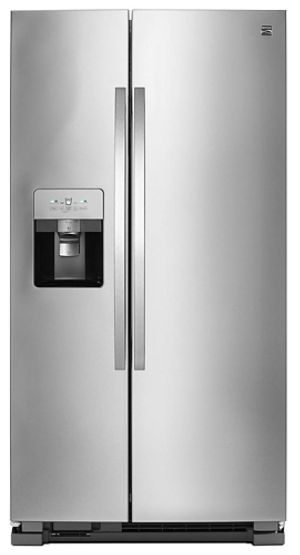 ---
How About That!
Thanks to the SpaceSaver Ice System, you get more usable space in the freezer and can reclaim the top freezer shelf.

---
Check It Out
The visible spout on the dual-pad water and ice dispenser that lets you accurately fill containers with small openings.

---
---
---
---