A Beginner's Guide to Buying a Coffee Maker
A Beginner's Guide to Buying a Coffee Maker


The world will never be a beautiful place till that first morning cup of Joe. For any regular coffee drinker, conversation, let alone straight thinking, is hard to do without a swift kick of caffeine. A reliable coffee maker is a must to ensure your day starts off on the right note. With many options out, buying a new one can be tricky. No worries! We've laid out the latest types of coffee makers, features and tips to help you out.


Drip Coffee Makers
Drip makers are easy to use and very affordable. All you have to do is fill the filter with ground coffee, pour the required amount of water into the reservoir, place the pot under the filter and hit the brew button. In just minutes, your steaming cup of coffee will be ready to go.

Benefits…
Easy to use - They involve a simple setup and most models come pre-assembled.
More control - The automatic settings allow for maximum control.
Convenient - Enjoy the convenience of programming options that let you set a timer.
Adjustable options - Adjust the amount of grounds you use to determine the strength of the coffee.
Fresh coffee at all times - Your coffee can be kept fresh and hot for hours.
---
Single-Serve Coffee Makers
Single-cup brewers ensure that you get exactly one cup, so none of that precious coffee goes to waste. With less or no clean up after use, these machines are quick, convenient and give you what you need in a minute or less. Single-serve models also use a precise amount of water and pressure, helping your coffee come out tasting perfect almost every time.

Benefits…
Simple to use - Many of these brewers have user-friendly controls, making them easy to program and operate.
Exact amount of coffee - There is no wastage of coffee on a daily basis as you will get just the one cup that you need. Many machines can brew a full 12, 16, 18 oz. cup or higher.
Easy cleanup - There is less work involved with minimum clean up after you are done.
---
Grind-and-Brew Coffee Makers
Grind-and-brew machines produce aromatic and delicious coffee that makes your mornings even brighter. Simply pour water into the reservoir, add whole beans to the basket and press the brewing button to get it started. The grinder works to process the beans for a richer flavor and better tasting coffee.

Benefits…
2-in-1 - These coffee makers not only brews coffee, but they also grind coffee beans. With a built-in grinder, you won't have to take up counter space with two separate appliances.
Coffee to suit your taste - The grinder and other advanced features give you greater control over the strength of your coffee.
More refined flavor - You can enjoy fresher, aromatic coffee as a result of on-the-spot grinding.
---
Percolators
Percolators are carafe-style makers that brew coffee by continuously cycling very hot water through ground coffee beans. With a trial-and-error process over time, you can use this device to create a hot, robust cup of coffee as and when you desire it.
Benefits…
Richer coffee - Thanks to its brewing process, these coffee makers let you enjoy a full-bodied brew that stays richer and hotter for longer periods of time.
No disposal required - Percolators use reusable filters made of metal that can be washed and used again.
Convenient & portable - The carafe design makes these coffee makers easy to bring on the go, whether it's vacations or trips to the office.
---
Coffee Maker Features & Considerations

There are a vast variety of features to keep in mind when buying a new coffee maker. Not every model will come with all of them, but deciding which ones are essential to you will help you to make the right decision.
Design - Coffee makers are available in a wide range of styles and colors. Choose a model that blends in with your other appliances and suits your requirements. Whether it's a black or steel finish or a large or small machine, pick a brewer that suits your daily needs.

Advanced settings - Every model is equipped with different controls depending on the brand, price and type. A standard maker will perform its basic role of producing just a cup of black coffee while other, while more advanced brewers allow you to choose between a Grande latte and a cappuccino with just the push of a button.

Carafe capacity - When picking a coffee maker for your home, ensure that you are considering everyone's requirements. A single person needs a device with a small carafe for one or two cups while a bigger family can opt for a machine with a bigger carafe that can produce up to 12 cups of coffee for many people. Glass carafes are the conventional choice while insulated carafes help to keep your coffee warm.

Hot plate - There are many brewers that feature a hot plate which is helpful when it comes to keeping your drink warm and fresh. If left on too long, it can also become a safety hazard and burn the coffee.

Functionality - Select a design that is perfect for your home. A grind-and-brew model helps you to save on space as the grinder is inbuilt, leaving you with extra room on the countertop for other items. If you're someone who loves to travel, a percolator could be the right option for you.

Brew strength settings - Enjoy the liberty of determining the intensity of the brew you drink by moderating the strength of the coffee that is produced.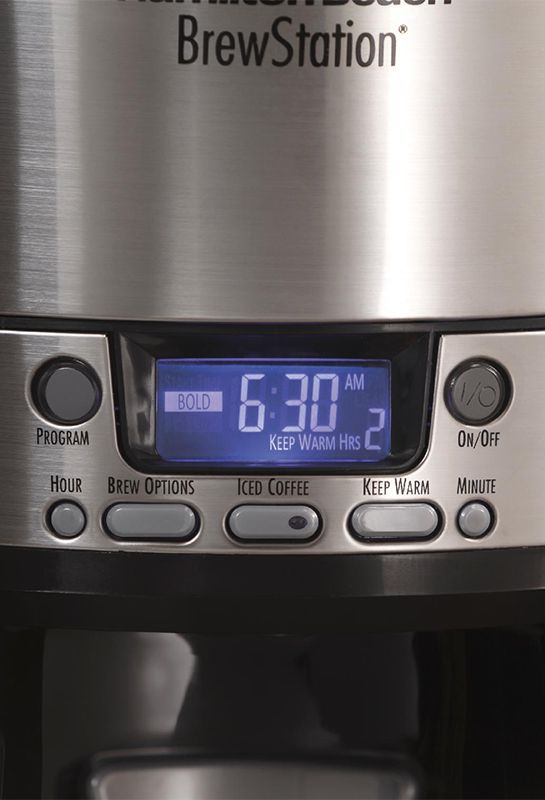 Timers & clocks - Some machines feature timers that can be programmed to ensure a cup of your favorite brew every day when you wake up. You can set the program the night before to save time in the morning.

Automatic shutoff - This safety feature is perfect for forgetful coffee lovers as it turns off the machine and hot place automatically.
---
---
---