Maximizing Kitchen Space: 10 Ways to Organize Your Kitchen
Maximizing Kitchen Space: 10 Ways to Organize Your Kitchen



If it feels like your kitchen walls are closing in on you, a remodel isn't the only way to fix the problem. You can be savvy and work with the space you've got. From color camouflage to storage solutions, here's a list of 10 tips to help maximize the use of space in a small kitchen.


Lighten Up
It's amazing what a little brightness can do to a room. Install window shades to let natural light into your kitchen, but steer clear of heavy window treatments as they tend to look bulky. Hang long, small light fixtures to create the illusion of increased wall and ceiling height.


Free from Clutter
Out of sight doesn't have to mean out of mind if you're organized. Kitchen storage containers are always helpful, or you can store utensils in a large jar on your counter. Use metal strips inside a cabinets for magnetic spice jars, or install cabinets that reach the ceiling for the best use of space.

Look Down
What grounds you can make a difference. Install a patterned floor covering to make your kitchen look wider. Stripes and diamond shapes work best. Experiment with color to find what suits your kitchen best, but try to avoid dark colors that can make a room feel tight.

Think Clearly
Unless you'd rather not have your dishes on display, try replacing wood cabinet doors with glass. Clear doors give the illusion of space and encourage organization.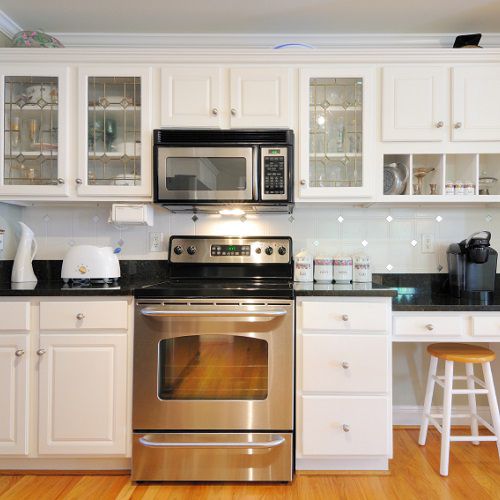 Surround Yourself with Space
Kitchen islands serve a dual purpose: they can replace a traditional dining room table, and can also be used for food preparation. If you're going the dining table route, choose small stools or chairs to make the area look larger.

Don't Crowd the Counter
When it comes to a cozy kitchen, less is usually more. Small items can be placed on counters, using the wider corners and nooks for bigger items that need to be left out. If cabinet or pantry space allows, store small appliances until you need to use them.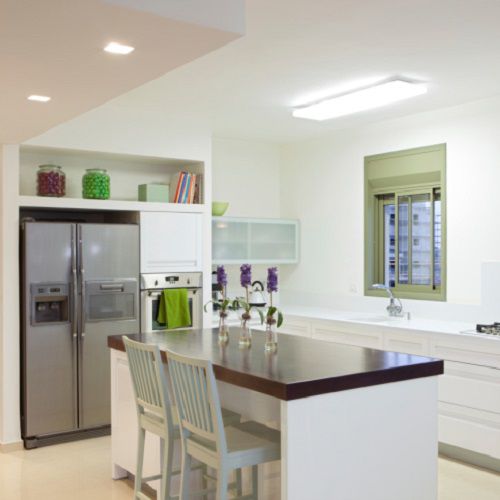 Start With a Blank Slate
If spatter doesn't scare you, paint your kitchen walls white. This opens up the room and makes it look lighter. Add colorful artwork and decorative accents. Again, try to avoid dark colors to keep the space open and inviting.

Be Open to Shelves
Open kitchen shelving can take away some of the bulkiness of cabinets. Use shelves for additional storage, or simply to show off decorative bowls and plates even if you don't use them that often.

Believe in Built-Ins
Pull out your microwave when you need to use it, and slide it back in when you don't. Microwave drawers save space and are easy to install.

Be a Color Chameleon
Make monochromatic magic by painting your cabinets the same color as your walls. This adds dimension to make the room appear larger.

---
---
---