A Beginner's Guide to Buying a Wall Oven | Sears
A Beginner's Guide to Buying a Wall Oven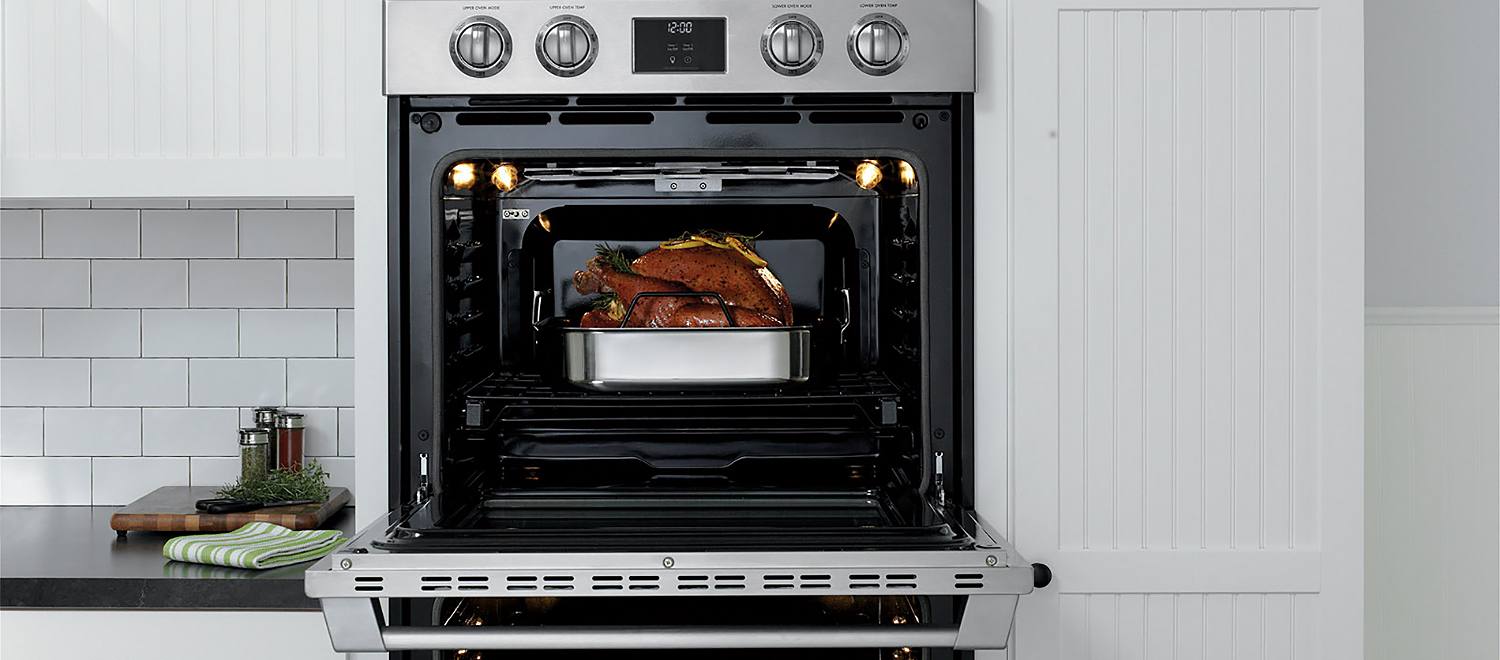 A wall oven is a fantastic addition to any kitchen. This state-of-the-art appliance not only saves space, but it also creates a sleek look in your home. Built-in models allow you to enjoy more room for cabinets and kitchen appliances. Before you make a decision, learn about the latest types, features and considerations.

Electric Wall Ovens
An electric wall oven uses electric heat to cook, bake and broil your food. With heat elements located on the top or bottom, this model is offered in both conventional and convection settings. This oven is ideal for cooking at a constant temperature since it maintains even heat.
Benefits & Uses...
Great for baking - Convection ovens provide even heat so your baked goods turn out perfect every time. The heat is also typically a drier heat which works well for baking.


Easy to install and maintain - These models plug into an electric source, eliminating the need for a gas line. They are also simpler to clean, so you can worry less about upkeep and enjoy entertaining your guests.

Shop all electric wall ovens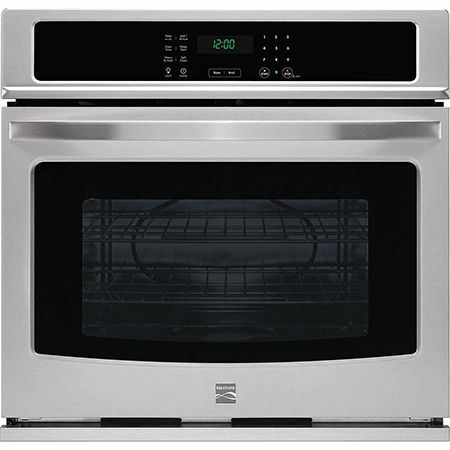 ---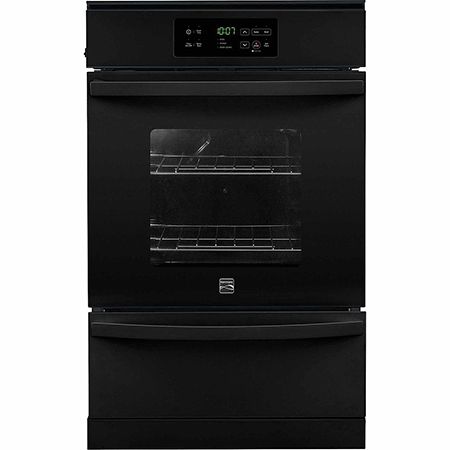 Gas Wall Ovens
A gas wall oven uses an open flame to cook your food. It tends to heat up and cool down quicker than an electric oven, and a fan-assisted option offers convection-style heat. Some models feature a broiler option, which includes flame heat at the top of the oven as well.
Benefits & Uses...
Quick cooking - A gas oven features rapid temperature change. Since the oven heats up quickly, you'll be ready to cook a feast in no time. With a quick cool-down period, enjoy meals sooner or get dishes ready for a potluck.


Helps keep energy bills low - This option typically costs less to operate than an electric model. Depending on how often you use your oven, you can stay on budget without sacrificing good food.

Shop all gas wall ovens


---
Wall Oven & Microwave Combinations
A wall oven and microwave combo can help you maximize counter space. This model includes both a full-capacity oven and a powerful microwave, easily meeting your cooking needs in one appliance.
Benefits & Uses...
Saves space - This type of wall oven is best for small kitchens where counter space is at a premium. Instead of a microwave taking up room on the countertop, you can use the space for other small appliances or cooking prep.


Creates a streamlined look - If you want to have a clean, uncluttered appearance, a wall oven and microwave combination is your best bet. It also achieves a more modern look that is aesthetically pleasing.

Shop all wall oven and microwave combinations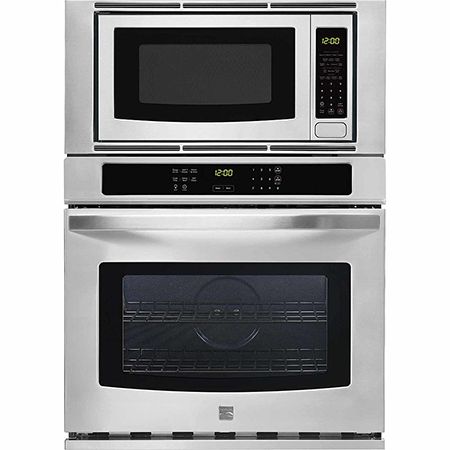 ---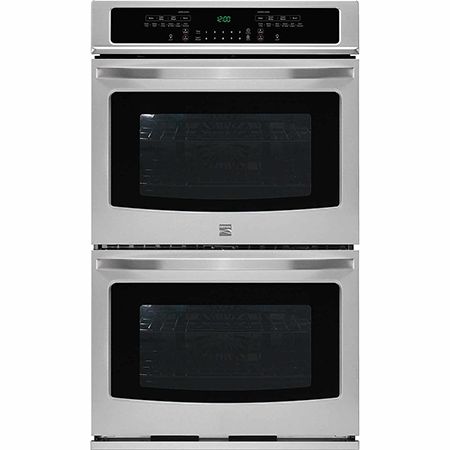 Double Wall Ovens
This type of wall oven includes two ovens stacked on top of each other. Fitting in the same footprint as the average oven, you can cook separate dishes at different temperatures, helping you cook for a large gathering in less time.
Benefits & Uses...
Saves time - Since you can cook dishes separately, you can heat up a main entrée while baking a dessert. With two dishes in each oven at the same time, you can go back to relaxing or entertaining guests.


Ideal for large meals - A double oven lets you cook multiple sides and entrées at the same time, making it great for dinner parties or holiday feasts. This type of oven eliminates the need for a tight cooking schedule and the math of cooking items at different temperatures.

Shop all double wall ovens


---



Technological Features
Hidden bake elements - This option hides the heating element from plain sight, moving the bake element to inside the oven floor.


Automatic convection conversion - Auto convection conversion helps you modify the temperature and cook time of your recipes to a convection oven.


True convection - This cooking features combines a bow-tie shaped burner design and convection fan, which provides even heating and cooking.


Delayed start - A delayed start feature lets you set a precise start time for when you want cooking to begin.


Warm & hold - This setting keeps dishes at the perfect serving temperature for hours without overcooking.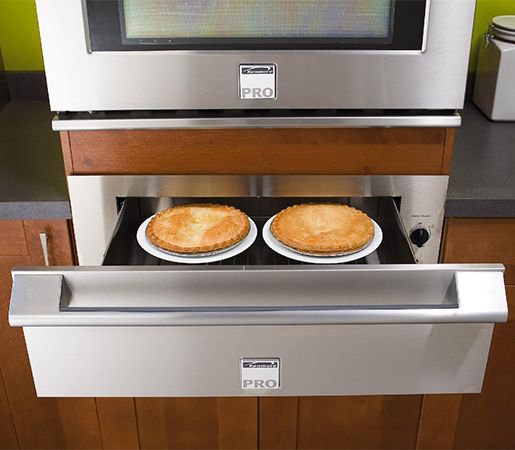 Conveniences
Warming drawers - Warming drawers, which are located under the oven, keep food warm while you prepare other foods inside the oven.


Broilers - A broiler is a direct heat source inside your oven or a special oven compartment that quickly heats food with a close, direct flame.


Self-cleaning - This feature cleans the inside of your oven with the push of a button, burning spills and soot without scrubbing.


Control lockout - This safety setting lets you temporarily disable the cooktop and oven controls. That way, if you accidently press the pads below, you don't accidentally activate different controls.


Extra large viewing windows - A wall oven with extra large windows helps you clearly see how your dish while it's cooking.

---
---
---