A Beginner's Guide to Buying a Washer
A Beginner's Guide to Buying a Washer


Whether you're tired of hauling loads of laundry to the laundromat or need to upgrade an existing washer that's seen better days, finding a new washing machine can help save you valuable time and energy. Modern washers are loaded with useful features that are specially designed to help simplify housework and get you back to doing the things you love faster. From traditional top-loading options to sleek, modern front-loading styles and more, choosing the right washer for your needs can be easy with a little help. Here are some of the most popular washing machine styles and features available.


Front-Loading Washing Machines
If you're short on space and value efficiency, stackable front-load washers are a great option. These compact appliances feature easy-to-access controls and many can hold just as much laundry as their top-loading counterparts.

Benefits…
Efficient - Front-load washers are specially designed for efficiency, which means they often require less energy, water and detergent to operate.
Big capacity - Because front-load washing machines rely on unobtrusive impellers for agitation and do not utilize a central agitator, they also typically have a larger overall capacity and are gentler on fabrics.

shop all front-load washers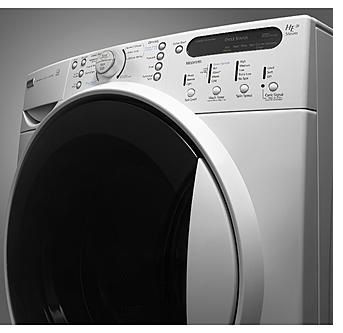 ---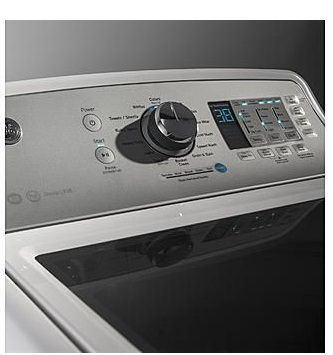 Top-Loading Washing Machines
Top-loading washing machines are the tried-and-true home washing machine units that many of us are familiar with. The upright, straightforward design is intuitive and makes standard maintenance simple. Thanks to technological innovations, traditional top-loading washing machines are also increasingly incorporating high-efficiency features.

Benefits…
Wide selection of options - Top-loading washing machines are available in a wide variety of high-efficiency and conventional styles. They're also typically more affordable than comparable front-loading units.
Easy to fix - Even the most dependable appliances will need to be serviced occasionally, and traditional top-loading washing machines are typically easy and affordable to fix. Many repairs can be completed with just a few common household tools.

shop all top-load washers
---
Portable Washing Machines
What portable washing machines lack in functionality and ease-of-use, they more than make up for in versatility. Apartment-dwellers without access to a dedicated laundry space will find a lot to love with these compact appliances.

Benefits…
Simple to transport - Caster wheels and compact frames make these units easy to move and set up. Store one away in a closet or pantry until laundry day, then simply connect it to a faucet and a power outlet and avoid a trip to the laundromat.
Cost-effective option - Portable washing machines are far more affordable than full-size units, and the smaller wash basins can lead to considerable savings over time by cutting down on water and detergent use.

shop all portable washers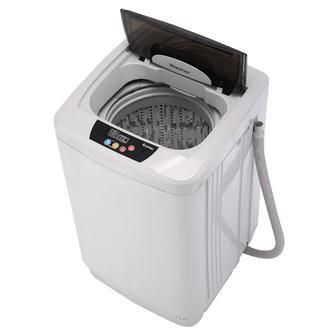 ---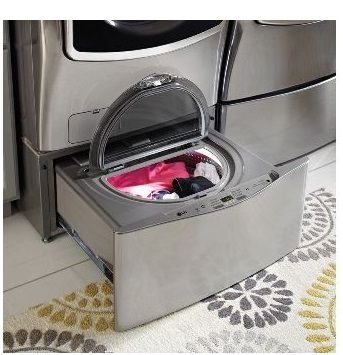 Twin-Loading & Pedestal Washing Machines
For especially busy households, a twin-load washer offers a larger capacity and added versatility. With two wash basins that can be operated simultaneously, and on different cycles, you'll save valuable time and energy by consolidating your workload on laundry day.

Benefits…
Run multiple loads - With two independently operating wash basins to choose from, you can run two completely different loads at the same time. The easy-to-use controls make it possible to clean a small load of light colored delicates in cold water using the drawer basin while washing a large load of darks in hot water using the front-load compartment without missing a beat.
Different combinations - Some twin-load washer components are available independently, meaning you can mix and match front-loading and drawer-style units to find the right combination for your family's unique needs.
shop all twin-load & pedestal washers
---
Modern washers have much more than just a hot or cold water option. After you've got a good idea of the type you want, you should also familiarize yourself with the advanced features available today to get the most for your money.

Wi-Fi capability - Busy moms and dads and on-the-go young professionals alike will appreciate smart washers that can sync with a compatible smartphone and be controlled from nearly anywhere. Whether you decide to start a load on your way to work, or just want to be sure your delicates get the gentle care they deserve, a smart washer can add more flexibility to laundry day.
Self-cleaning designs - If you've ever pulled a load of laundry out of the washer only to realize that it smells more like mildew than detergent, you know the results of an unclean washer. Instead of having to take the time on a busy laundry day to clean the machine by hand, many modern washers feature self-cleaning cycles that will keep your laundry smelling fresh for years to come.
Automatic detergent dispensers - Instead of adding detergent and fabric softener to each and every load, consider a washing machine that can self-dispense enough cleaning solution to handle up to 12 loads of laundry or more before refilling.
Advanced venting - Forget to pull your clothes out of the washing machine before going to bed or leaving for work? Cutting-edge washing machines include advanced ventilation systems that will actually keep your clothes smelling fresh long after the cycle has ended, which means you won't have to worry about lingering odors in the wash basin or on fabrics.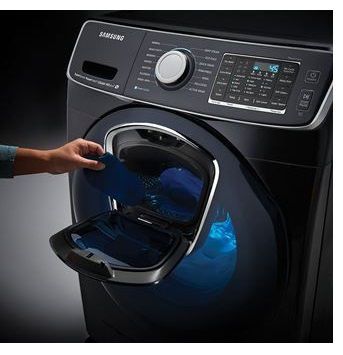 ---
What Should I Consider When Buying a Washing Machine?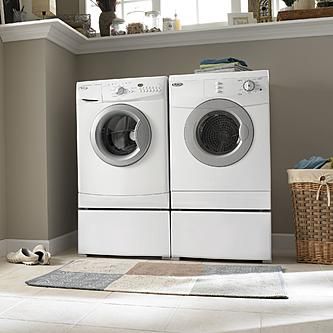 Style - Many modern washing machines are as attractive as they are functional. It's likely that you'll find a washer that includes all the great features you need and matches your decor, but don't settle for a unit that lacks important features for a cooler looking model.
Size and capacity - The size of your washing machine is going to be largely determined by the amount of space you have to work with in your laundry room. If you're outfitting a cramped closet or under-the-counter area in an apartment, then a compact, stackable or portable option will be ideal. If you're regularly doing laundry for the whole family and have a little more room to spread out, a larger capacity washer will save you from having to do more loads than necessary.
Efficiency - High-efficiency washers are some of the most popular options available. While it's estimated that you'll save water and energy in the long run, keep in mind that the initial cost may be higher and that you'll be restricted to certain types of detergents.
Agitator or Impeller - Old-fashioned washing machines may include an agitator in the wash basin that can help deep-clean fabrics, but can also break down materials more quickly over time. Modern washers generally incorporate impellers to cycle clothing through the water, resulting in an equally efficient and more delicate cleaning cycle.

---
---
---