How to Remove Common Stains from Laundry
Most stains can be removed with the proper treatment, so take a moment to consider how to best care for your garments before tossing them in the washer. If you make a mistake, you could cause that stain to set and become permanent. Read on for some stain-removal tips to help keep your wardrobe in tip-top shape.
General stain-removing hints
No matter what kind of stain you have, there are a few tips that can help improve your chances of removing it.
Treat new stains as soon as possible. Speed is your friend here because the longer a stain sits untreated, the more it will set. If you're away from home, rinsing the stain with water will help prevent it from becoming permanent until you have a chance to treat it.

When rinsing stains, remember you want to push the stain out of the fabric, not further into it. With that in mind, rinse the fabric from underneath or behind the stain.

Avoid hard scrubbing, because it can force the stain deeper into the fabric. Dab instead.

If the garment is made from delicate fabrics like wool or silk, consider taking it to a dry cleaner's for professional cleaning that won't damage your clothes.

After spot-treating and soaking the stained garments, you should generally launder them on the hottest recommended setting. There's one exception to this rule, however, and that is stains that contain protein. Blood, milk and eggs are all examples of protein stains. Washing protein stains in hot water can cause the stain to set, so use cold water instead.

Don't put stained garments in the dryer until the stain is completely gone. Dry heat will speed up the bonding process between the stain and the fabric, causing the stain to set.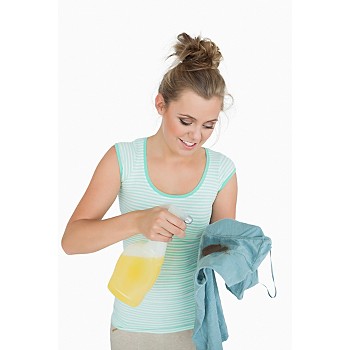 ---
Coffee
Spot-treat the stain with liquid detergent or white vinegar and soak the fabric in warm water. Stay away from bar soap because it can cause a coffee stain to set.
---
Blood
Soak the stain in cold water with detergent for 10-30 minutes, spot treating with ammonia or enzyme cleaner. Wash in cold water, since hot water can cause blood stains to set.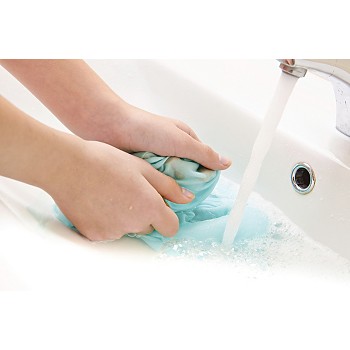 ---
Ink
Spot-treat the stain with alcohol. If you don't have any rubbing alcohol, hand sanitizer is a convenient substitute.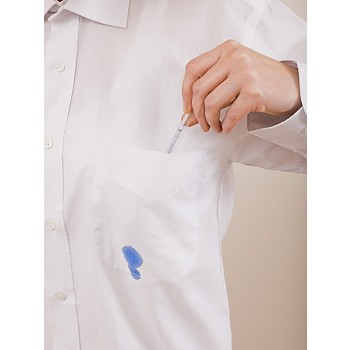 ---
Armpit stains
Soak the area for 10-30 minutes in white vinegar or liquid detergent. Then launder the with an enzyme detergent. Use bleach on your whites as a last resort.
In the future, keep in mind that your antiperspirant will be less likely to stain if you let it dry before putting on your shirt.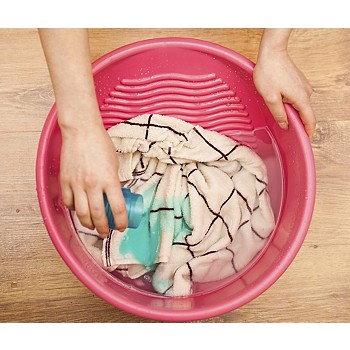 ---
Spaghetti sauce
Rinse with cool water and spot-treat the stain with liquid detergent.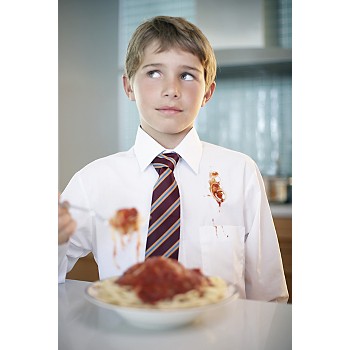 ---
Grass
Spot-treat grass stains by working liquid detergent into the stain with a damp toothbrush or wash cloth. Let the detergent sit for 10 to 15 minutes, and then wash on colde. If the stain is gone, dry as normal. Should the stain persist, air dry and repeat the process until the stain is eliminated.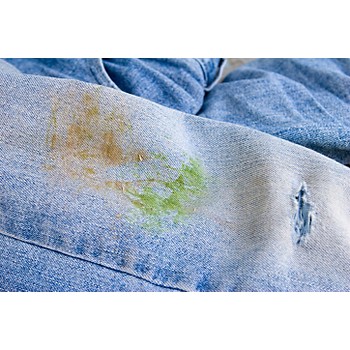 ---
Wine
Blot the wine as much as possible, then pour club soda on the stain and blot again. Avoid bar soap because it can cause the stain to set.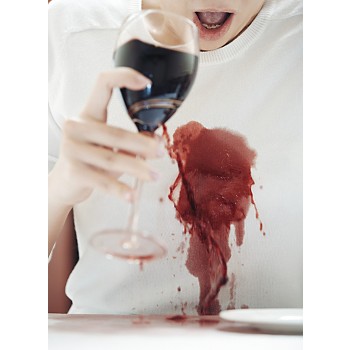 ---
Toothpaste
First, try rinsing the stain in warm water. If that doesn't work, spot-treat the area with liquid detergent. Whitening toothpastes can leave a permanent white stain, so treat these stains as quickly as possible.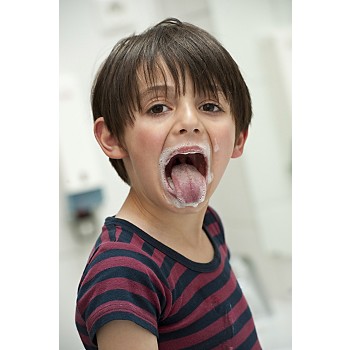 ---
---
---
---