Product Insight: Samsung Top-Load Laundry with FlexWash and FlexDry
Product Insight: Samsung Top-Load Laundry with FlexWash and FlexDry

The Samsung FlexWash™ and FlexDry™ laundry pair is a revolutionary time-saver! In the washer, a front-load washer is combined with a top-load washer in one 27" configuration. You can wash two load simultaneously, or run the washers independently of each other. In the dryer, there's a traditional tumble dryer for your large, everyday items, and a top dryer that's the solution for drying your more delicate items.
Common Features and Benefits: FlexWash and Flex Laundry Pair
Wi-Fi Connectivity: You can remotely monitor cycle time, receive alerts and schedule cycles for your washer and dryer.
Smart Care: Enables you to control your Samsung laundry pair remotely from your smartphone, and gives you the status of your washer and/or dryer. If the washer or dryer has a problem, you will be notified of the problem and you′ll receive actions you can take from your smartphone. This means you can discover the solution for errors without searching the user manual or contacting a service center.
Child Lock: Locks the buttons, which prevents changes from being made to the laundry cycle.
2017 ENERGY STAR® Certified: The lower (full-size) washer and dryer are ENERGY STAR certified to save energy, as well as money on utility bills.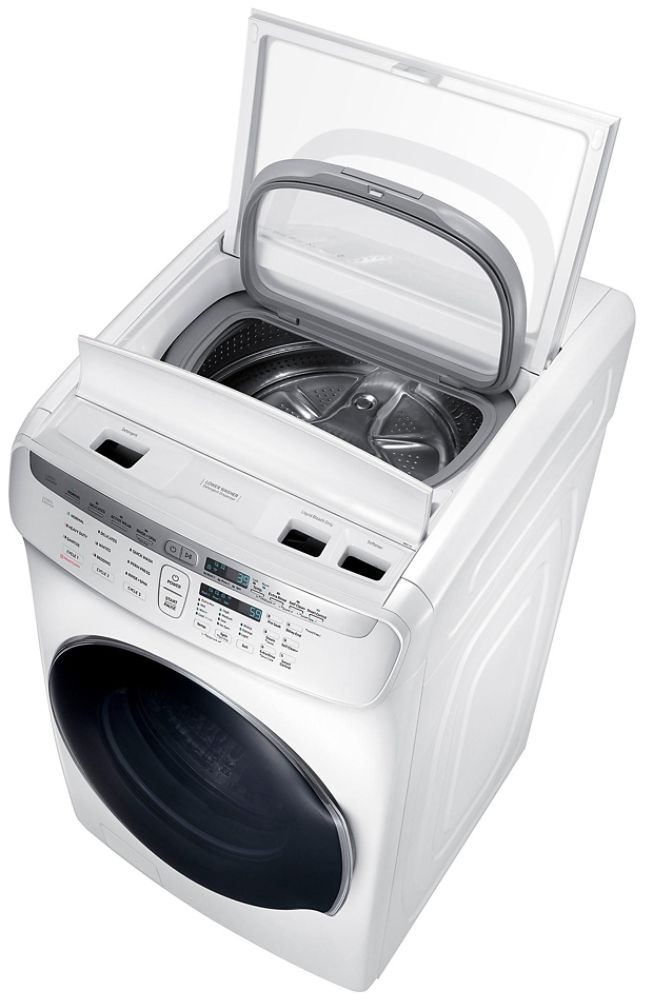 Common Features and Benefits: Washers
FlexWash: With two washers in one, you have the flexibility to wash separate loads at the same time. By running two different washes with different settings and options, you can save time and keep your clothes clean and in great condition. The full-size front-load machine is great for everyday loads, and the 1.0 cu. ft. top-load washer is ideal for smaller or more delicate loads. It also offers easy installation with a one hose connection.
Steam Wash: Uses steam to eliminate stains without pre-treatment.
Self Clean: Keeps the laundry drum fresh and free of odors, without the use of additional chemicals.
Delay End: You can set the washer cycle to start at a time that works for you. For example, you can set it before leaving for the day, and the cycle will start at a later time so it's finished up by the time you get home.
VRT Plus™ Technology: Offers quiet operation, so you can install this pair in a second-floor laundry rooms without having to worry about it being disruptive on the lower floor.
Common Features and Benefits: Dryers
FlexDry: Offers two dryers in one, so you can dry two separate loads at the same time with different temperature settings and options. The front load dryer is ideal for your everyday loads, and the top dryer has a flat, dry zone that's great for your more delicate items.
Heated Delicate Rack Zone: The top dryer offers a unique space for you to lay delicates and accessories flat to dry with a controlled, heated airflow. It adjusts the heat between room temperature and 95 degrees F automatically, depending on the type of fabric you are drying.
Multi-Steam Technology: With powerful and flexible steam options, you can reduce and remove wrinkles, odors, bacteria and static. Unlike other steam dryers, which require users to manually refill a water reservoir, this dryer requires no refills. Now you can confidently steam away wrinkles and spend less time ironing.
Eco Dry: Uses up to 25% less energy for every load, giving you superior drying power while saving money in the long run.
Sensor Dry: Optimizes the time and temperature of the dry cycle so you can rely on dry clothes without all of the guesswork.
Vent Sensor: Detects duct blockages and reminds you to clean vents.
Dryer Drum Light: Makes it easy for you to see all of the items in the drum so nothing is left behind.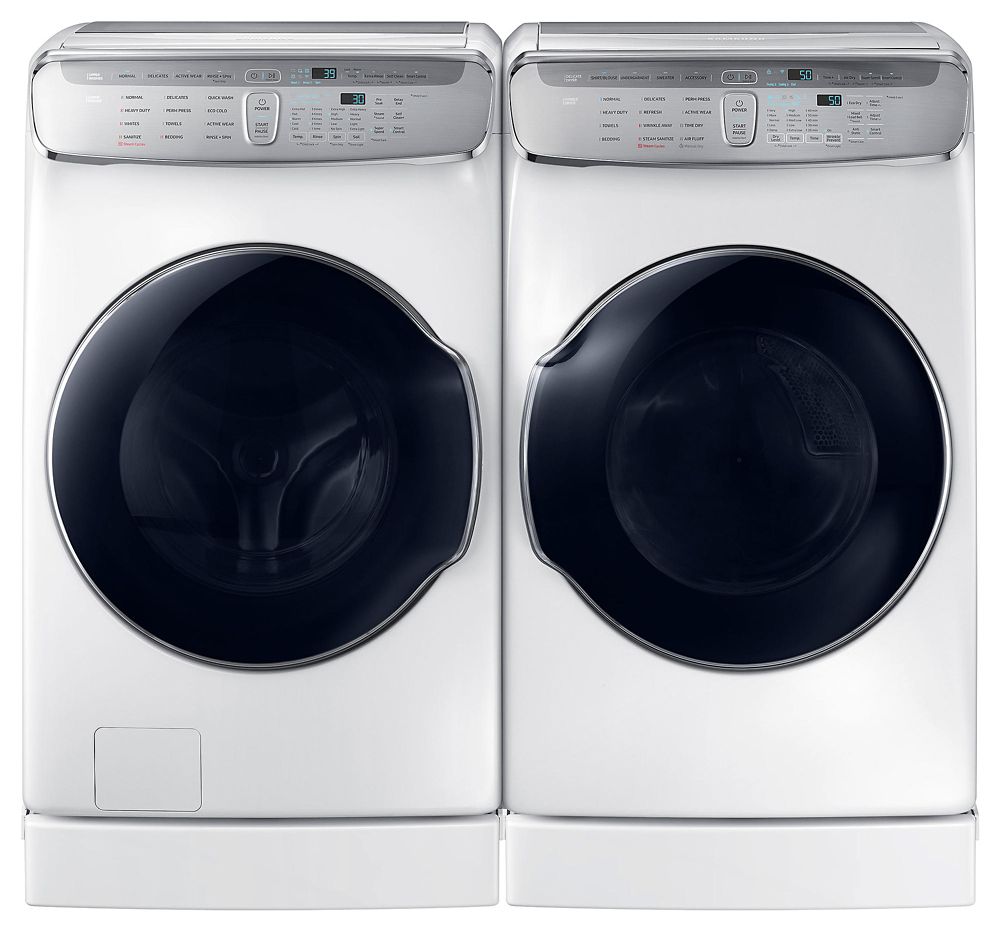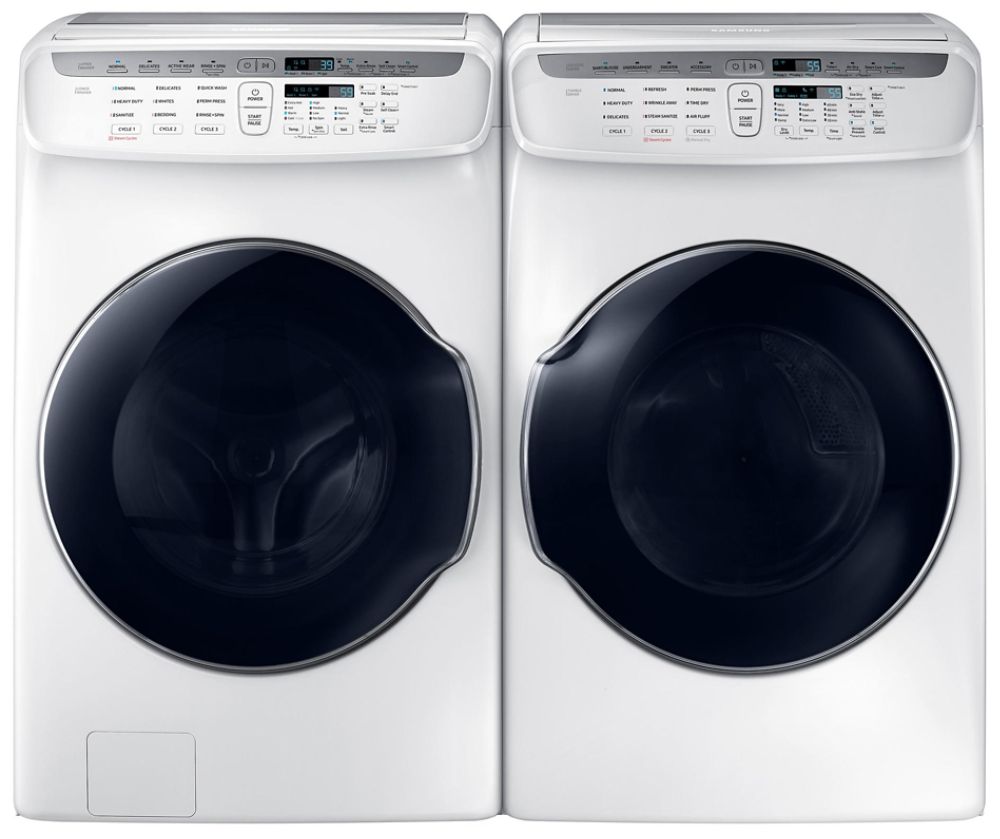 6.0 Cu. Ft. Capacity Laundry Pair with FlexWash and FlexDry:
White: #46902 Washer, #86902 Electric Dryer, #96902 Gas Dryer
Black Stainless Steel: #46905 Washer, #86905 Electric Dryer, #96905 Gas Dryer
6.0 Cu. Ft. Total Washer Capacity: Includes the 5.0 cu. ft. full-size washer and the 1.0 cu. ft. washer on top.
Super Speed: You can wash a full load (normal wash) in as little as 30 minutes, without losing cleaning performance.
PowerFoam™: Utilizes an innovative mixture of water, air and HE detergent to penetrate deep into fabric. You can clean even their bulkiest items with the power of foam.
Integrated Full Touch Controls: The washer and dryer both feature a sleek, contemporary touchpad design for the perfect blend of form and function.
---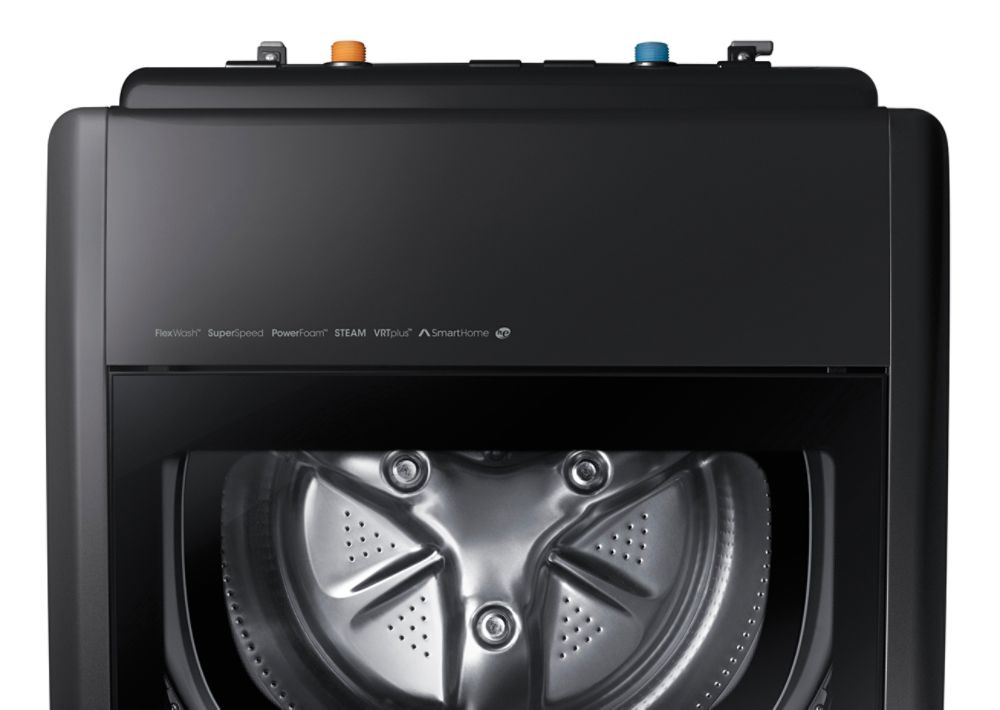 Ask An Expert

How hard is this product to hook up?
This pair has a standard laundry hookup -- nothing additional -- so installation is as simple as any other laundry pair.
---
---
---