Water Heater Buying Guide
Water Heater Buying Guide

Whether you need hot water for showering, cleaning dishes or doing laundry, your water heater works hard all year round. In fact, the average household uses about 64 gallons of water per capita per day, so finding and maintaining the right heater for your home is important. Here are some of the types and features of water heaters you'll find in the market today.
TIP: Play it safe! We recommend hiring a professional to install your new heater in your home, as installing a heater can be a difficult and dangerous process.

Tank Water Heaters
Tank water heaters are the most common models on the market. You'll most often find these heaters ranging between 20-80 gallons. Available in natural gas, liquid propane and electric, these options feature insulated tanks where water is heated and stored until needed.

Less expensive - Tank water heaters are often the most economical of the three types. However, gas tank models cost more than electric at the time of purchase.
Lower maintenance - Units with a tank are built with durability in mind, so you won't have to deal as often with maintenance as you would with other types.

shop all tank water heaters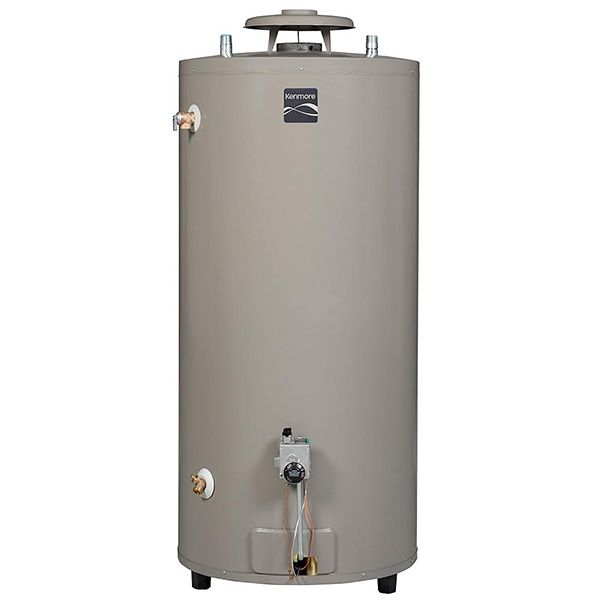 ---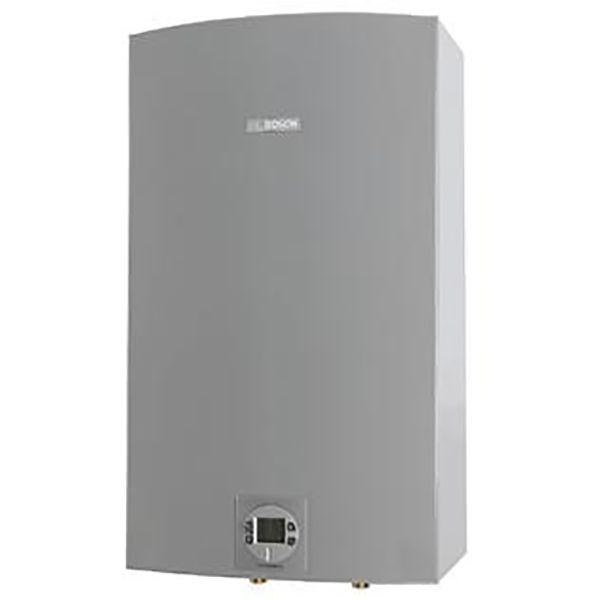 Tankless Water Heaters
Also known as "on-demand" water heaters, these models have no storage capacity as it heats the cold water as it flows through it, then piped to wherever it's needed. These units are mounted to the wall and can be run on electric, liquid propane or natural gas.

Benefits...
Reduced energy waste - Since you don't have to heat a tank full of stored water, you'll use between 30 to 50% less energy than traditional tank models.
Space saving - With no tank, you can mount it wherever you have the space. This will free up more room for storing the things that really matter to you.

shop all tankless water heaters
---
Heat Pump Water Heaters
Many homeowners use heat pumps use them to heat or cool their home, but they can also be used to heat water. Rather than generating heat directly, heat pump water heaters extract energy from the air to get water nice and hot. They are typically available as built-in water tanks or as add-ons to existing tanks, ranging between 50-80 gallons.


Energy efficient - Heat pump water heaters use existing outdoor or indoor air, so they can be two to three times more efficient than typical electric heaters.
Perfect for warmer climates - Because they take air to generate heat, if you live in a climate with warmer air, you'll be able to use even less energy.

shop all heat pump water heaters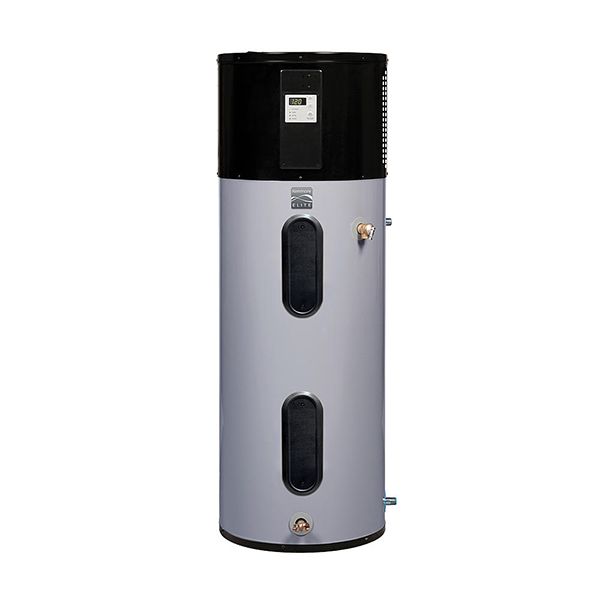 TIP: Government regulations and innovations have increased the sizes of many water heaters. Be sure to measure your available space and compare it to the measurements of the heaters you're looking at.

---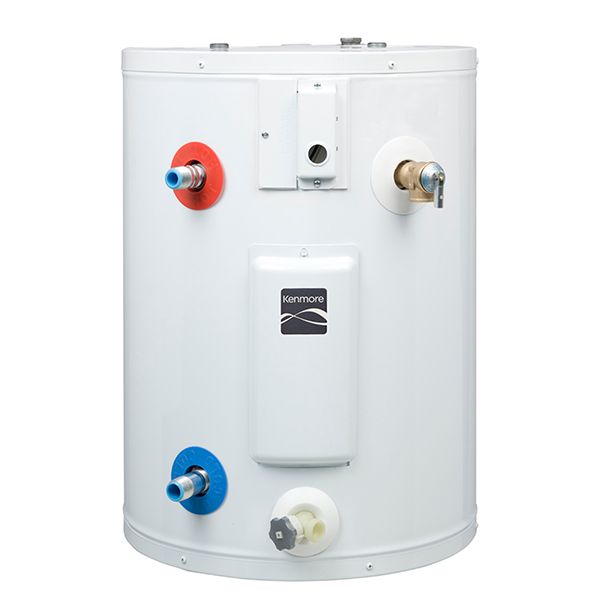 Electric
Electric water heaters use your household energy supply to get your water ready for anything. These models generally cost less than gas counterparts, don't require ventilation and offer heat quickly with a high energy factor rating.

Benefits...
Perfect for homes with an electric setup - If your home has an electric supply in a utility closet, the garage or wherever you have space, then electric is going to be your best option.
Ideal in small spaces - Because this water heater doesn't require ventilation, you can squeeze one into a small basement or beneath a sink without fear of it taking up much space.

shop all electric water heaters
---
Natural Gas
The standard model for most homes, natural gas water heaters get water hot ready quickly. Unlike electric water heaters, gas models require outdoor ventilation for safety.

Energy efficient - A gas water heater beats an electric model when it comes to energy conservation while still providing a dependable performance.
Handles power outages - If your electricity goes out due to a snowstorm or tornado, this gas option makes sure you can still run a nice and hot shower.

shop all natural gas water heaters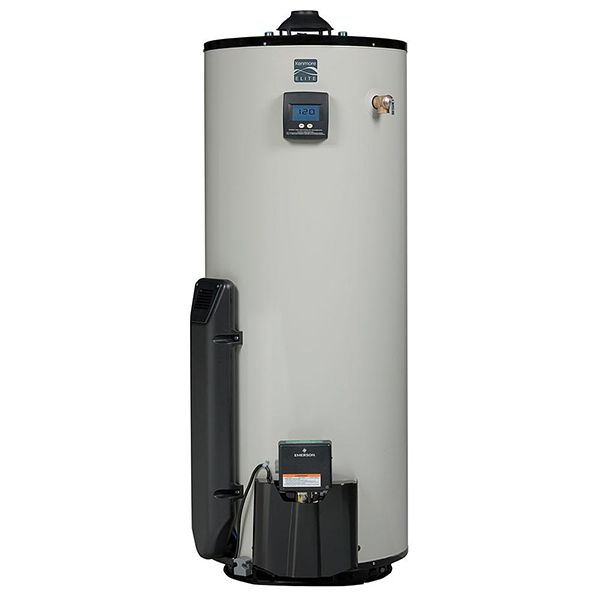 ---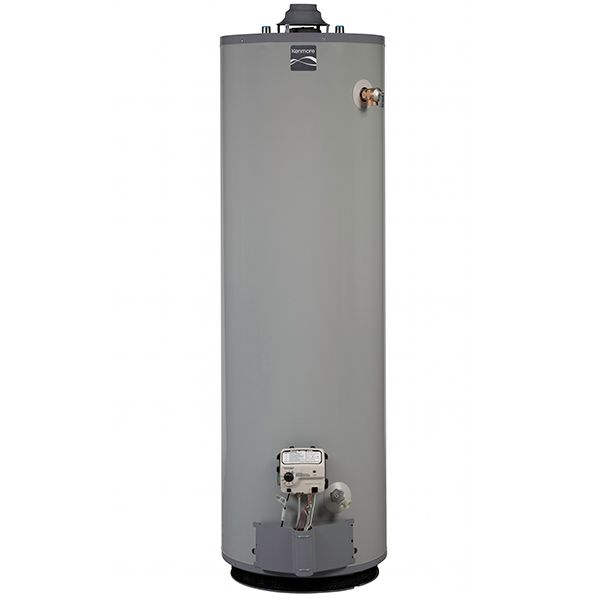 Liquid Propane
Not everyone has access to natural gas, but many homeowners still want all the benefits of using a gas heater. Liquid propane water heaters are a great option to get hot water fast.

Benefits...
Fast recovery time - Liquid propane heaters are designed to recover faster than other models. This means you can get more hot water from a smaller tank, saving energy as it stores large amounts of hot water.
A perfect replacement - If natural gas isn't available in your area, a liquid propane unit is a reliable fuel source.

shop all LP gas water heaters
---
Features of Water Heaters

GPH - Stands for "gallons per hour," referring to the number of gallons of water each heater will heat in an hour. The larger your household size, the larger your GPH.
Digital Display - This display helps you monitor water levels and customize the operation.
Mobile App - Select models allow you connect your heater with third-party Smart Home technology to monitor, energy savings and troubleshooting.
Thermostats - Make temperature adjustments to your water heater when needed.
Pilot lights - A light-emitting diode (LED) pilot light will confirm that a unit is in operation and working correctly.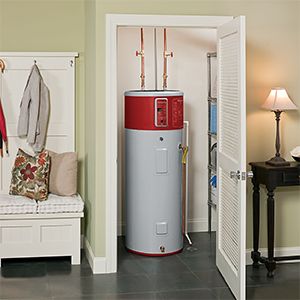 Auto shut-off - An automatic shut-off valve can be used to prevent fires in case of any surge in gas flow.
Direct Vent - Perfect for situations with insufficient combustion air, this vent type takes air in from the outside and vents combustion gases directly back to the outside.
Power Vent - Power vent models come with a blower installed on top of the water heater for vertical and horizontal application.
ENERGY STAR® Certified - Many water heaters come with an ENERGY STAR® rating, a government standard of energy efficiency.
Insulation - Water heaters have a layer of insulation between the tank and the outer jacket. Three materials are used as insulation in water heaters: non-CFC polyurethane foam, fiberglass and polyester.

---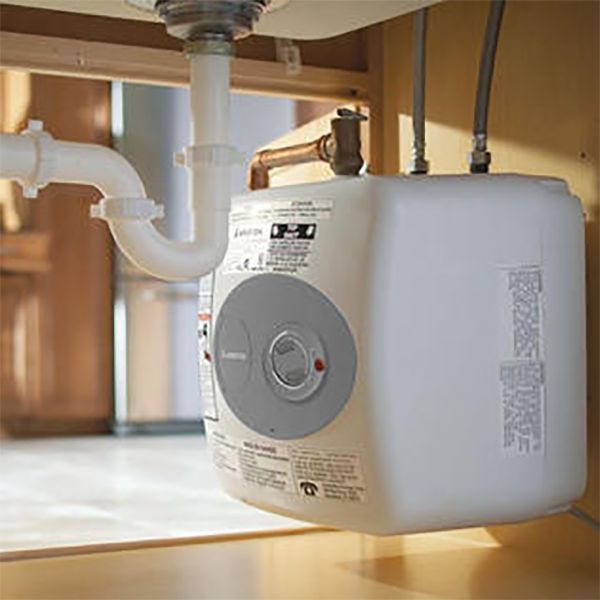 Small tanks - If you have 1-3 people in your household, you'll want a tank between 30-40 gallons.
Medium tanks - When you need hot water for 3-5 people, a tank that can hold 40-50 gallons is perfect.
Large tanks - The ideal tank size for 6 or more people is typically 60-80 gallons.
---
California has specific sustainability standards that the average water heater won't meet, so you'll need to pick up a water heater for select California markets.

California residents - These models have been specifically designed to meet the California state emission standards. Make sure to check your local requirements before purchase so you find the model that meets the standards required.

Lo-NOx burners - To further reduce green house gas emissions, many California water heaters use lo-NOx burners to cutdown on the amount of nitrogen oxide released.


shop all California market water heaters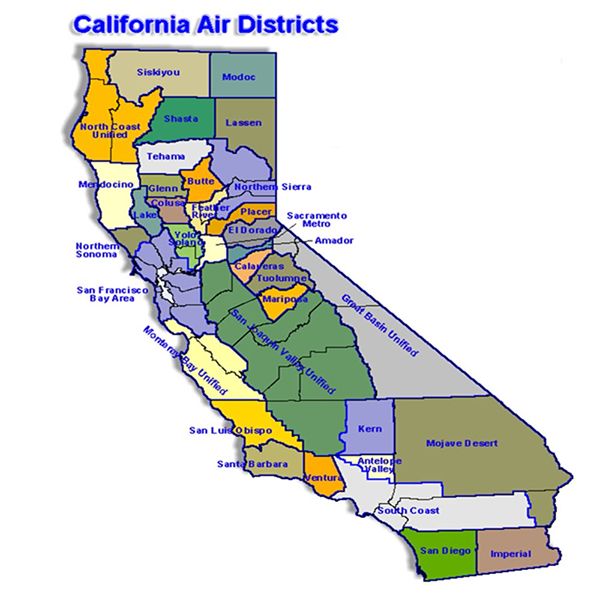 ---
---
---