How to Buy Women's Sunglasses: Everything You Need to Know
How to Buy Women's Sunglasses: Everything You Need to Know

Sunglasses are a staple accessory for every woman. They not only protect your eyes from the sun, but sunglasses also help create a stylish image. Whether you choose frames that take inspiration from old Hollywood glamour or designs that speak to modern trends, your shades allow your personality to shine. Here are a few tips for finding your perfect pair of women's sunglasses.



Face the Facts: Identify Your Face Shape
Oval Face
An oval face is slightly longer than it is wide. The chin tapers from the forehead and an oval face typically has high cheekbones. Most frame shapes will flatter your face shape, but take care to not choose frames that are too big, which can overpower your features.

Best choices - Butterfly, Cat Eye, Oval, Aviator, Wayfarer, Round, Shield/Wrap, Rimless
Examples - Julia Roberts, Beyonce and Tyra Banks

Round Face
A round face has full cheeks and is equal in length and width. Usually, there are no clearly defined angles. If you have a round face, frames with sharp angles will be most flattering. You may wish to avoid very round frame shapes.
Best choices - Wayfarer, Shield/Wrap
Examples - Kate Winslet, Michelle Williams, Selena Gomez

Square Face
A square face features an angular look, with a broad forehead, strong jawline and a square chin. To soften angles, choose round and curvy frames while steering clear of rectangle or square frames.
Best choices - Butterfly, Cat Eye, Oval, Aviator, Round
Examples - Rhianna, Natalie Portman, Angelina Jolie

Heart Face
A heart-shaped face features a prominent forehead which tapers into a narrow jawline and chin. You will look best in frames that add width to your cheeks to balance your features. Try to stay away from oversized frames that may make your forehead appear bigger.
Best choices - Butterfly, Cat Eye, Aviator, Round, Rimless
Examples - Reese Witherspoon, Eva Longoria, Scarlett Johansson

Expert Tip: It's easy to measure your face to find the correct size. You will need to find a straight ruler and a mirror. Use the millimeter side and hold up the ruler to measure from temple to temple. Now you know your frame size.
---
You've Been Framed: Types of Frames

Cat Eye
If you love a retro rockabilly look, cat eye sunglasses are a must for your accessory collection. These funky frames have rims that are rounded on the bottom and curve up into points at each temple. Inspired by the glamorous starlets of the silver screen, Cat eye sunglasses come in a wide array of finishes and colors, allowing your personality to take center stage.


shop all cat eye sunglasses

---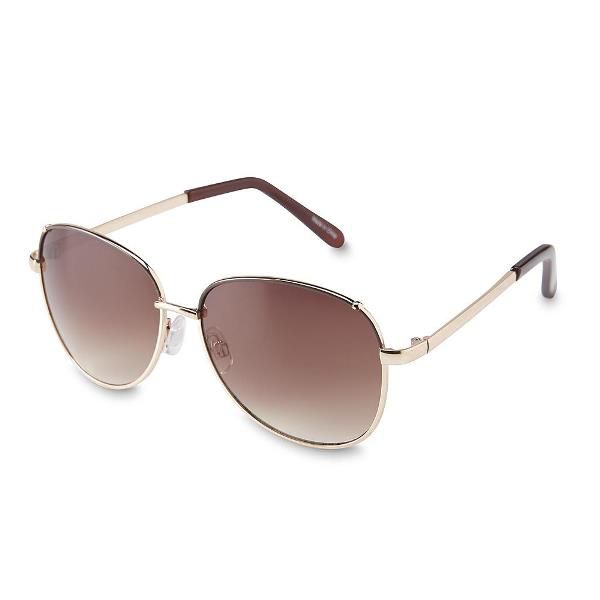 Oval
Oval frames offer full coverage and feature a classic, elegant style. This frame often has an oversized design to provide a bold look, perfect for a paparazzi-ready appearance no matter where you are.


shop all oval sunglasses

---
Aviator
Commonly referred to as pilot sunglasses, these iconic frames usually feature thin, metal rims and a lightweight feel. Various lens colors allow you to customize your shades, and some styles include a topbar.


shop all aviator sunglasses

---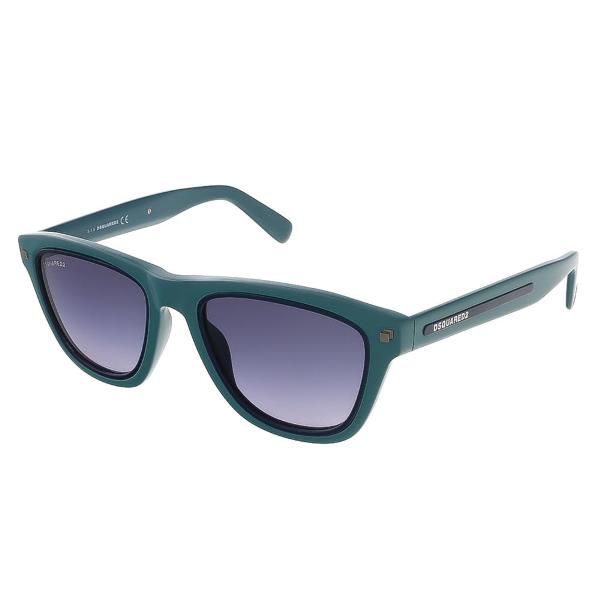 Wayfarer
These timeless sunglasses are just plain cool. The Wayfarer design, trademarked by Ray-Ban, has been a style staple for decades. Square lenses are housed in thick frames with pointed temples, creating a stunning look for oval and round faces. Black is always a fine choice with formal wear, but for the beach and around town, these vintage frames come in almost any color you can imagine.


shop all wayfarer sunglasses

---
Round
Popular in the 60s and 70s, round sunglasses are making a big comeback with the hipster crowd. Working best on oval, square and heart-shaped faces, round frames are lightweight and fun. Colorful lenses offer a retro look, while tortoiseshell frames with standard lenses create a modern, steampunk vibe.


shop all round sunglasses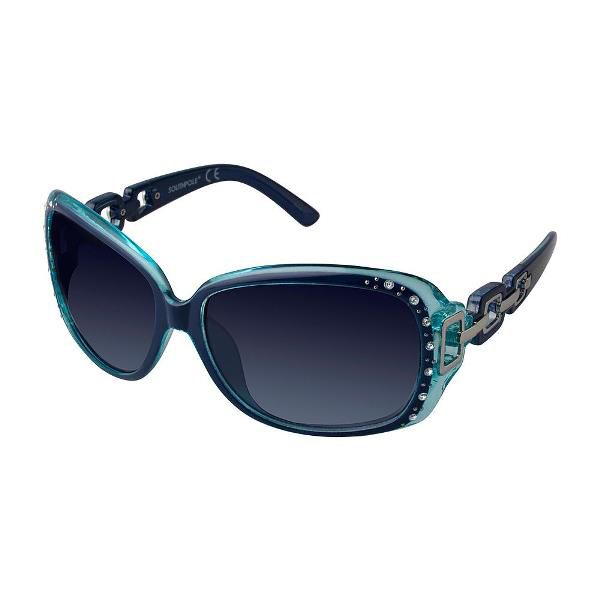 ---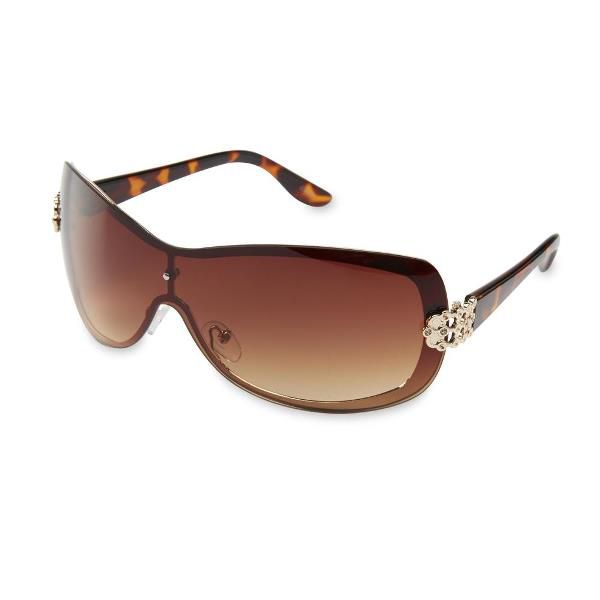 Shield & Wrap
Shield and wrap-around sunglasses are a bold fashion choice, while offering the most sun protection for your eyes. Flattering oval and round faces, shield and wrap frames are an essential accessory by the water or in sunny, snowy environments, which produce the most glare.


shop all shield sunglasses | wrap sunglasses

---
Rimless & Semi-Rimless
If sleek and lightweight are your two most important traits in sunglasses, look no further than rimless or semi-rimless frames. Featuring square or oval lenses, rimless frames are secured by the bridge or a topbar, creating a chic, minimalist style. Those with oval and heart-shaped faces will benefit from either of these designs.


shop all rimless sunglasses | semi-rimless sunglasses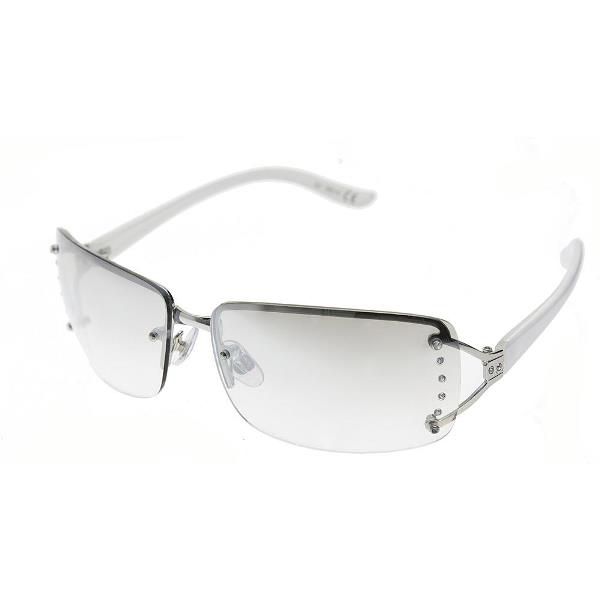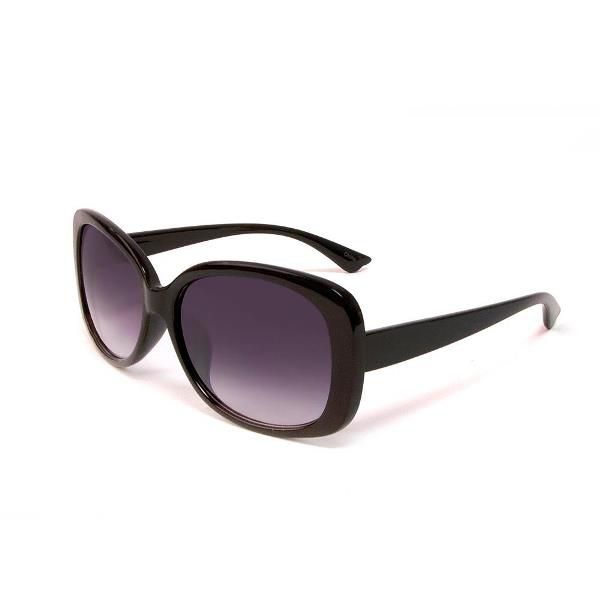 Butterfly
These frames resemble the shape of butterfly wings. They're thin in the middle at the bridge and widen out to the temple. This chic design runs from understated to big and bold, lending high-style, Hollywood appeal to any ensemble.


shop all butterfly sunglasses

Expert Tip: Your face shape shouldn't stop you from trying on an array of sunglasses. Choose a pair of shades that makes you feel good.

Pull It Into Focus: Types of Lenses

Lens colors and finishes add extra oomph to your frames while ensuring your world is crystal clear
Brown/gray/green - Allows you to see objects in their true color while reducing glare. These are the most popular lens colors.
Yellow/gold/amber - This color family strengthens contrast and increases vision in low-light situations.
Pink/red - Pink and red contrast with blue and green, helping to cut glare near the water or while spending time outside on a cloudy day.
Mirrored - This is a type of coated lens which reflects glare away from your eyes.
Polarized - This type of lens is ideal for the brightest of days, reducing glare and providing clarity. Polarized lenses also protect your eyes from harmful UV rays.
Expert Tip: Caring for your lenses is as simple as running them under lukewarm water and drying with a lint-free cloth. For a more extensive cleaning, read How to Clean Sunglasses.
---
---
---