Easter Looks for Boys: 3 Styles That Match the Occasion
Easter Looks for Boys: 3 Styles That Match the Occasion


Easter is right around the corner, and chances are you still need to find the perfect outfit for your little man. Don't worry! We got you covered with these effortless Easter looks for boys. From egg hunts to brunch and everything in between, he'll be comfortable and stylish all day long.

Sharp Yet Comfortable
The latest dress clothes have come a long way. While staying with a classic formal look, modern suits are designed with an emphasis on comfort. A straight-cut boys' dress shirt and elastic waist dress pants give him room to move from church to Easter brunch. Does tying ties stress you out? No worries. Clip-on neckties are the ideal length with a permanent knot.


Style tip: A pastel or gray dresswear set comes with everything you need to create a sharp, coordinated look. Just add a pair of dapper dress shoes to complete the ensemble.

Shop the Look: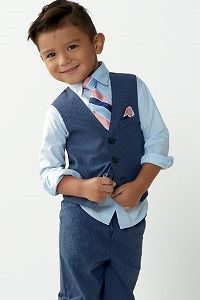 ---
Practical in Plaid or Stripes
Help him make the right impression this Easter. Casual plaid or stripe shirts give your young man a polished yet simple look. Convertible sleeves provide a more relaxed appearance. Plus, he can pair this shirt with jeans to complete an outfit that's modern and cool, while still looking clean-cut at restaurants and family gatherings.


Style tip: Opt for a striped polo or plaid button-front shirt to pair with stylish jeans. This combo will provide maximum comfort while keeping him well-dressed at the same time.

Shop the Look:
---
Lay a Foundation for Style
You want him to look nice, but you know he feels at home in tees and shorts. A trendy, layered look keeps him presentable for Easter gatherings without sacrificing comfort. With a crew neck t-shirt anchoring his outfit, an open, button-front shirt keeps him cool with short sleeve styling. Cargo shorts lend a polished look, and the relaxed fit offers room to move.


Style tip: A pair of plaid cargo shorts is a spring essential for every boy. The soft cotton fabric and adjustable waist make these easy to pair with everything from a crew neck tee to a striped button-front shirt.

Shop the Look: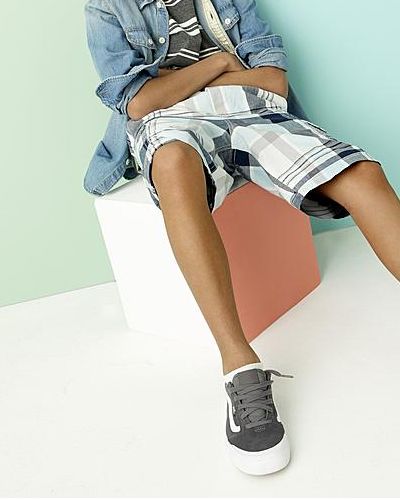 ---
---
---