Going Graphic: 3 Ways to Add Graphics to Kids' Fashion This Fall
Going Graphic: 3 Ways to Add Graphics to Kids' Fashion This Fall
This fall season, graphics are all the rage. From logos and slogans to characters and cartoons, kids' clothing is getting a colorful design boost. We found our top three ways to give boys and girls a cool graphic update while still looking polished and school-appropriate.

The Graphic T-Shirt
The graphic tee is a staple in every kids' closet. But today's modern tee has a reinvented look. Heavyweight knits and shapeless cuts have been replaced with lighter fabric blends and stylish details to make these new tees great for layering or showing off.
For Her - T-shirt slogans have taken a positive spin, offering motivational messages that encourage her to dream big and be her own person. Look for shirts that are enhanced with glam glitter and top them with a brightly printed cardigan for a cool look to wear in and out of the classroom.
For Him - Whether he's into video games, outer space or athletics, there's a t-shirt to match his personality. The key is to pair it with a button-front shirt. Worn open, the woven shirt gives him a more structured look without affecting his casual comfort.

shop all boys' graphic tees and girls' graphic tees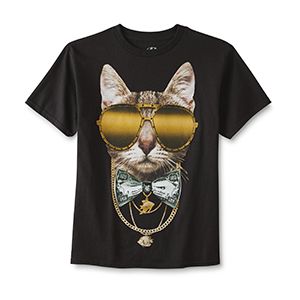 ---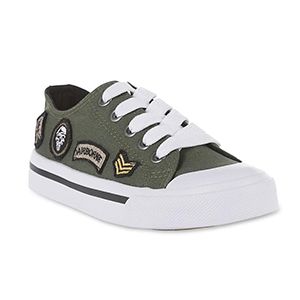 The Graphic Athletic Shoe
Gym shoes are a must for every age. The new graphic designs ensure style is just as important as function. That means kids still get all the ankle support, cushioning and traction they need for playtime, while showing off colorful prints with personality.
For Her - Emojis are it this season. Canvas sneakers are available displaying a full range of cool prints, including smiley faces, unicorns, rainbows and more. Or, she can opt for a bit of contrast from cool patches and embroidery to elevate her kicks.
For Him - Let superhero appliques bring new action to his steps. Sneakers can be found mirroring the logos and likeness of all his favorite movie heroes and villains, including Darth Vader and the Stormtroopers from Star Wars or Iron Man, Spider-Man and the characters from the Justice League.

shop all boys' athletic shoes and girls' athletic shoes
---
The Graphic Backpack
When school dress codes are a factor, kids can still put their favorite designs on display by carrying the latest graphic backpack. Durable nylon and canvas designs provide an ideal backdrop for whatever their passion or preference, offering a weather-resistant surface to withstand everyday use.
For Her & Him - Geometrics stand out this season, offering a world of colorful patterns that go beyond gender. Intricate line designs, interlocking shapes, scales and more bring out the cool mathematician in everyone.

shop all boys' backpacks and girls' backpacks
---
Add a patch - Stick-on and iron-on patches are a fun and inexpensive way to add a graphic element to everything from denim jackets to lunch boxes and notebooks.
Pin it - Decorative pins are back and show off a variety of fun phrases, faces and patterns. A cluster of three or four brings a cool update to denim jackets, backpacks and even hoodies.
Lace it up - Classic gym shoes can get a bold burst from printed laces. Available in a range of colors and patterns, decorative laces are sure to make a quick and cool impact.

---
---
---