How to Buy a Suit: Everything You Need to Know
---
How to Buy a Suit: Everything You Need to Know

When you think about the most important events in life, what is almost every guy wearing? For a job interview, an anniversary party or even your own wedding, the proper attire is essential. We want to help you choose a men's suit that exudes confidence while highlighting your own personal style. Here are some types, features and considerations to consider.


This may seem like a no-brainer, but knowing your size is extremely important. Take a few minutes to measure your body, preferably in a t-shirt and jeans, so that you know what to look for when shopping.
For Your Jacket:
Chest - Measure the largest part of your chest in inches. The tape measure should be flat against your body, but not pulling tight.
Shoulders - Measure your shoulders from seam to seam.
For Your Pants:
Waist - As you do with any other pair of pants, measure your waist in inches.
Inseam - Measure your inseam. This is the inside line of your leg.

Expert Tip: Consider going to a tailor to help you measure. This ensures the most accurate numbers. You can usually find one at your local dry cleaner.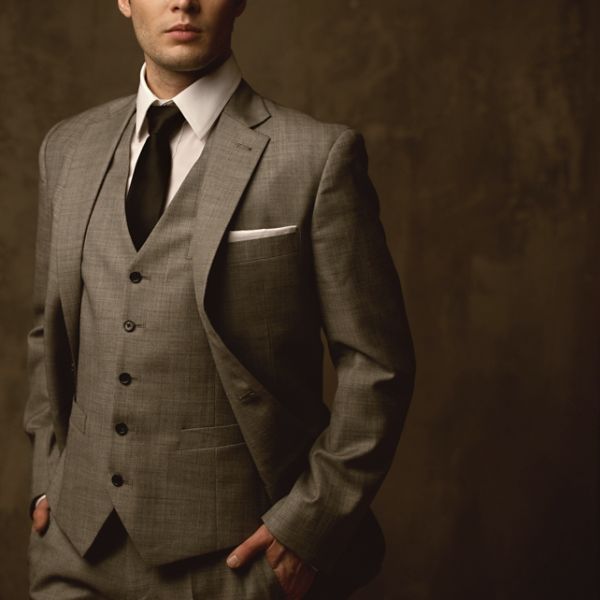 ---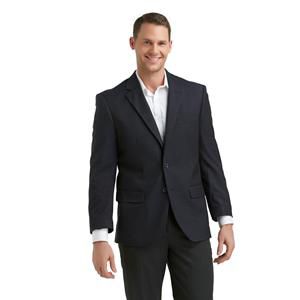 Single-Breasted Suit Jackets
A single-breasted suit is the most popular design, featuring a single line of buttons securing the front.
How to wear it - Look for a jacket with 2 or 3 buttons, and always leave the bottom button undone.
Occasion - This style is ideal for a job interview, professional office attire, weddings and funerals. You can dress it up with a bow-tie or wear one without a tie at all, helping you get the most out of your investment.
shop all single-breased men's suits
---
Double-Breasted Suit Jackets
A double-breasted suit jacket overlaps with two lines of buttons in the front, creating a more formal and stately look. It's normally worn by taller men because it helps enlogate their frame.
How to wear it - Always fasten the middle button and leave the bottom one undone when standing. Make sure to keep the anchor button on the inside fastened at all times.
Occasion - This design is typically reserved for extra-special events like weddings.
shop all double-breasted suits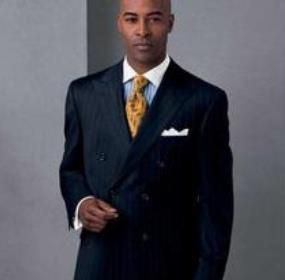 ---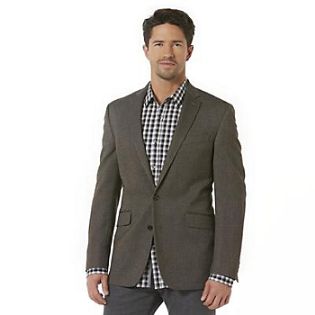 Sport Coats
A sport coat is single-breasted and much more casual than a suit jacket.
How to wear it - Feel free to wear this with just one button fastened. During formal events, wear it with a tie and dress pants. However, for more relaxed occasions, you can dress it down with a plain t-shirt and even a pair of jeans.
Occasion - A sport coat is appropriate for the office or less formal events like date nights or evenings on the town with friends.
shop all sport coats
---
We aren't saying you need to hit the gym before buying a suit; you look great! We are talking about the shape of the jacket you're going to purchase. There are three shapes to consider:
The sack fit - This boasts a classic cut with soft, narrow shoulders and covers your torso in a straight line from shoulder to hem. Most body shapes are flattered by this design, especially a man with a more generous build.
The structured fit - A structured fit is the most formal suit jacket with slightly padded shoulders and a slim waist. This design is based on military uniforms, providing a crisp and trim appearance.
The fitted jacket - This option is best reserved for a well-toned torso. This jacket is equipped with soft shoulders and a tailored, close-to-the-body presentation.
Expert Tip: If a jacket feels tight across your shoulders, put it back on the hanger. Keep in mind that a jacket that's a little big can be tailored to fit.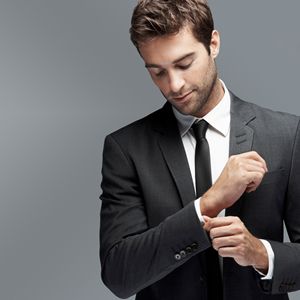 ---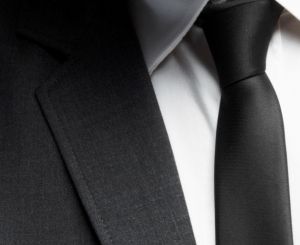 Now that you've got the basics down, it's time to look for those extra details to make your suit stand out from the rest.

Common Suit Lapels
Notched - Notched lapels face downward and are typically found on a single-breasted jacket. Sometimes a notched lapel is accented with contrast satin or velvet fabric.
Peaked - These styles create a V-shape and are most commonly found on double-breasted jackets. Facing upwards, this type of lapel accentuates the shoulders and slims the look of the torso.
Expert Tip: Notched and peak lapels feature a button hole on one side. Many years ago, men used their suit jackets as coats and needed a button near the neck for warmth. The button is gone, but the button hole remains, creating the perfect space for a boutonniere.
---
Patterns
Pinstripes - From far away a pinstripe suit looks as if it has very faint, thin lines running vertically throughout the entire suit. If you look closer, you'll notice that these lines are actually made up of tiny dots placed close enough together to appear solid at a distance.
Shadow stripes - The shadow stripe pattern boasts two-tone vertical stripesin similar colors so that they look more like shadows than multi-color stripes.
Chalk stripes - The chalk stripe pattern is made up of thin vertical lines, with a look similar to pinstripes but slightly more noticeable since they aresolid lines instead of dots.
Windowpane plaid - This pattern consists of lines that make up an open check pattern reminiscent of a window hence the name windowpane plaid. One example of windowpane plaid is the typical pattern on a girls' plaid school uniform skirt.
Glen plaid - Glen plaid, otherwise known as the Prince of Wales check, is a mix of different patterns from houndstooth to striped zig-zagswith varying sizes to create a mixed-plaid look.
Houndstooth - This two-colored design consists of solid and broken up checked squares to create a unique look.
Herringbone - Another two-colored pattern, herringbone has columns of stripes that are slanted inwards to create a v-shaped pattern.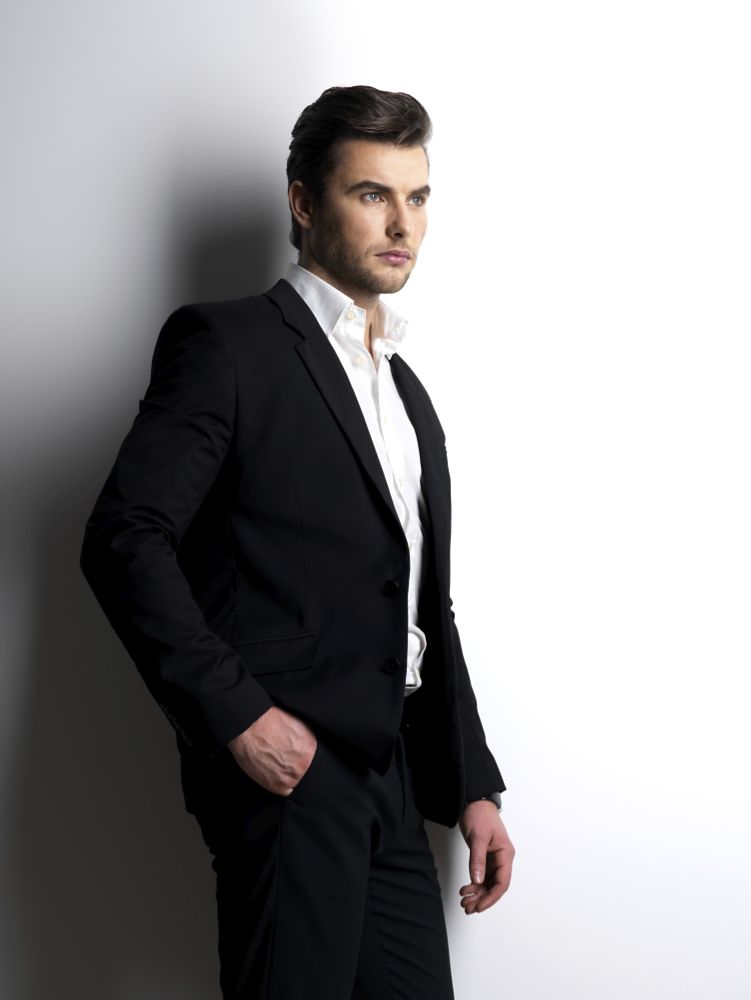 ---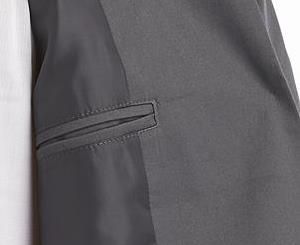 Pockets
Most suit jackets are equipped with a left chest pocket. Flap hip pockets are appropriate for most suit jackets. Sport coats have more casual patch pockets, while tuxedos have jetted, streamlined pockets.

Expert Tip: Loading up your hip pockets will add bulk to your frame. Use an interior pocket for your phone and store a slim wallet in your pants pocket. Think flat and small for jacket pockets, like business cards or a handkerchief.
---
Fabrics
Wool - This is the heaviest and most commonly used fabric. Wool retains its shape, ensuring your jacket holds up for years to come.
Cotton - Cotton is an excellent choice for warm weather and provides a more relaxed, less structured look. Although it's comfortable, this fabric does not hold its shape as well as wool.
Linen - This is the lightest type of suit fabric and helps keep you cool. Linen is reserved for more casual events.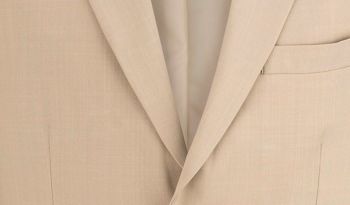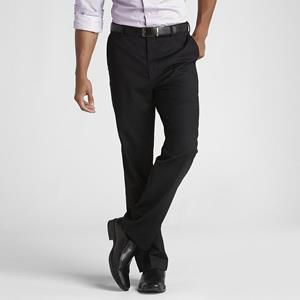 Suit Pants
Oh no, you're not done. You still need suit pants. Fortunately, choosing pants is not as involved as selecting a jacket. Length is most important. Where your cuffs hit your shoe is called the break. A quarter break is ideal, which means cuffs hover on your laces and sit slightly over the back of your shoe.
Pleated - Pleated pants are a classic choice and offer more room to move. Pleats tend to accentuate your waist and thighs.
Flat - Flat front pants offer a more modern look and streamlined look.

Expert Tip: Suit pants should always have a front crease.

shop all men's dress pants
---
Dress Shirts
A shirt may not seem like an accessory, but it's important to pay attention to the dress shirt you select.
Colors - White is a staple, but choosing a bold color can add instant charm to your ensemble. When wearing a patterned suit, a solid color shirt is best.
Measurement - Most dress shirts are sized for the neck and sleeve length. Measure the base of your neck around your Adam's apple with room to breathe for neck size. Next, put your hand on your hip and measure from center of neck, around your elbow and to wrist to find your sleeve length.

shop all men's button-front shirts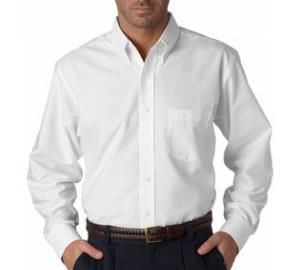 ---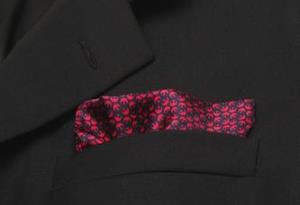 Pocket Squares
Remember that chest pocket we told you about? Here's your chance to incorporate texture and dimension to your suit with a printed pocket square. A simple rectangular fold, exposing a small amount of fabric is a solid bet.

shop all pocket squares
---
Ties
When wearing a suit to work or a social occasion, a necktie is usually required. Choose from a traditional necktie or a contemporary bow tie. Coordinate patterns with your shirt and pocket square. Overwhelming your ensemble with too many prints can ruin your look. When in doubt, choose one print and keep the rest conservative.

shop all men's ties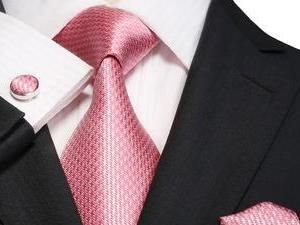 ---
---
---