How to Measure Men's Dress Pants
How to Measure Men's Dress Pants
Whether you're dressing for work or a special event, you want to look your best. Men's trousers come in a variety of cuts, styles and fabrics, but the most important part of looking good is ensuring you have the proper fit … and finding it is easier than you think. All you need are two crucial measurements: your waist and your inseam. Read on to find out how to take your own measurements to find your ideal fit.
You will need:
Pencil & paper
A fabric tape measure
You may want a friend to help get the most accurate measurements
---
Taking Waist Measurement
1. Identify the height where you wear your pants. Most dress trousers are worn above the hip bones and at or just below the navel.
2. Put the measuring tape or string around your waist. The tape should be snug, but still allow room to fit your index finger inside the tape. This is called ease, and it ensures you have breathing room when you sit down.
3. Note the measurement. Always round to the next highest number. Remember that dress shirts are always tucked into the pants, so you will want to add about half an inch to your waist length to accommodate this.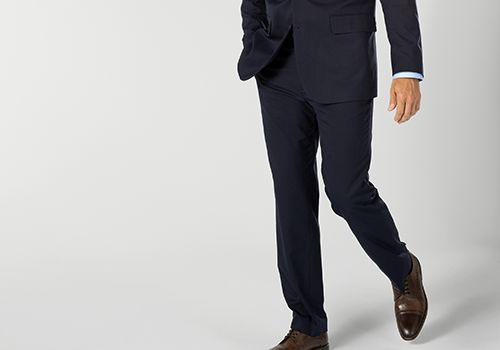 ---
Taking Inseam Measurement
1. Know what you're measuring. The inseam is essentially the inside length of your pant leg.
2. Stand fully clothed in a normal, comfortable position. Wear whatever shoe you typically wear with trousers.
3. Measure from the lowest part of your crotch area to the bottom of your shoe. Make sure the tape is tight along the inside of your leg. You want to make sure your pants don't show any sock when you're standing, and also don't come close to touching the floor.
Note: You can also take this measurement from a pair of pants in your closet. Place them on a flat surface. Measure from the crotch to the inside of the heel. You can add or subtract length as needed. This won't be as accurate as measuring on your body, but it will provide a good reference when shopping.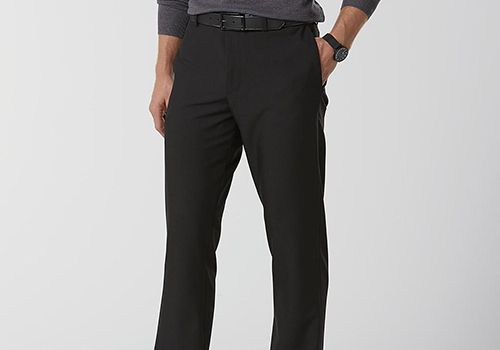 ---
---
---