Automatic Autumn Attire: 5 Men's Fall Trends for 2017
Automatic Autumn Attire: 5 Men's Fall Trends for 2018



There are plenty of ways to make a statement this season without spending a ton of time in front of the mirror. Enjoy looking good while keeping comfortable with a simple yet striking casual outfit that incorporates relaxed cuts, neutral tones and layers. These five must-have options make the seasonal transition easy while staying on-trend.

Plaid Perfection
It's not just for lumberjacks and nature buffs. Plaid flannel shirts offer crisp collars, chest pockets and long sleeves to maintain a classic sense of style. Oversized shirt jackets provide extra padding and warmth that look the part for weekend hangouts and more.

How to wear it: Contrast classic cuts. The relaxed button-front flannel shirt pairs best with slim fit, distressed jeans for a worn-in look that shows off your easy-going sense of style.

shop all men's plaid shirts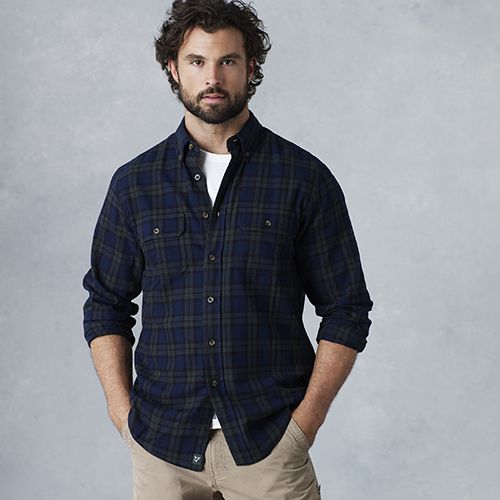 ---
Keep Pace with Joggers
Even if the gym isn't a part of your routine, you can still capture the essence of athleisure with jogger pants. Whether you're looking for a lightweight woven design or the warmth of a thick knit, joggers offer the fit and feel you want. Elastic waistbands provide movability while you're on the go, and cuffs create a slouchy, unstructured appearance.

How to wear it: Shout out to the shoes! These sporty pants are best suited with high-top sneakers to serve up sporty style as you run errands or go grocery shopping.

shop all men's jogger pants
---
All-Weather Warrior
No matter the season, rely on the versatility of the bomber jacket. Recognizable for its defined neck, ribbed trim and zipper front, the masculine bomber jacket offers a flattering fit. A nylon or polyester shell provides the versatility of lightweight warmth with weather resistance, making it ideal for the transitioning of seasons.

How to wear it: Ditch the boundaries. When worn with sweatpants and a hoodie this jacket has casual flair you can count on. A button-front shirt or sweater with slim pants shows a more polished look that's ready for anything.

shop all men's bomber jackets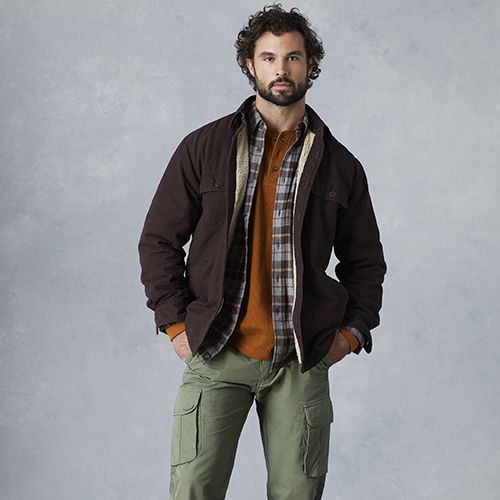 ---
Word to the Wise
Even if you're a man of few words, it's easy to make a statement with a graphic t-shirt featuring short or long sleeves. Take a nostalgic route with a throwback print or vintage concert tee, or state what's on your mind with a more current design. Soft knit crew necks and V-necks create a base layer that stands the test of time.

How to wear it: Stay with smart attire. Wear a graphic t-shirt with chinos in a neutral color for refined style that won't look childish.

shop all men's graphic t-shirts
---
Taking Care of Business
The key to unlocking the look of the quarter-zip sweater is what you wear underneath it. This knit sweater can be dressed up or down for an ideal layered outfit based on the dress code you need to meet. With a mock neck and quarter-zipper closure, this sweater supplies warmth while keeping you on office-ready ground. However, this pullover is also perfectly suitable when worn over a t-shirt.

How to wear it: Keep it crisp. Use a dress shirt and necktie combo for a look best suited for the workplace and other formal occasions. You can also wear a button-front shirt underneath for the times you want to look put-together during a date or a night out.

shop all men's quarter-zip sweaters
---
---
---