Winter 2018: A Quick Guide to Warm & Stylish Men's Jackets
Winter 2018: A Quick Guide to Warm & Stylish Men's Jackets


With the cool breeze in the air, the importance of coverage cannot be overstressed. But we're not just talking about offense versus defense. You need the right coverage, specifically the kind you get from a sharp-looking casual jacket. Check out these five hip designs and you can suit up like a superstar.


They're the Bomb
Who needs a wingman? Fly solo in a bomber jacket, and you'll ace any social situation. While you can't go wrong with leather, nylon will definitely make your look soar. Turn up the throttle and consider jackets that feature embroidered designs or patches. Alternatively, go for knit construction with two-tone colors for a varsity jacket vibe.

How to wear it: Comfort is the key. Keep things casual with crew neck shirts that complement the jacket's rib knit collar. Jeans work for every day, or pull on some twill slacks for a night out.

shop all men's bomber jackets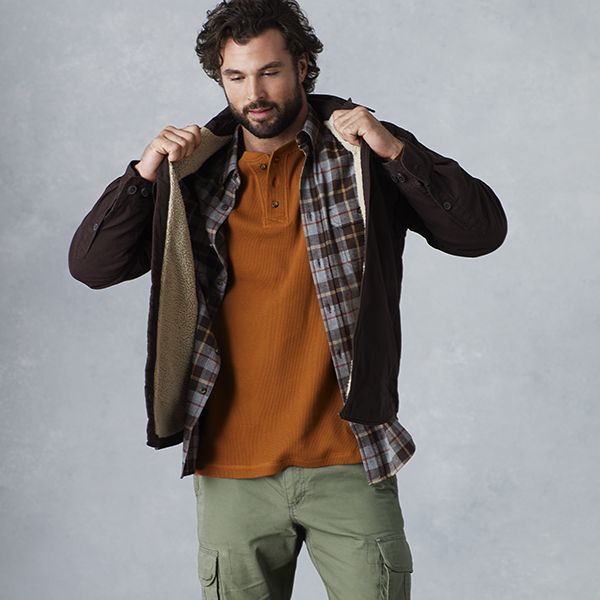 ---
From Ship to Shore
For a shipshape image, deck yourself out with attire that includes a peacoat. Though navy is a traditional color, versatile black always makes a statement. Consider gray, green or camel as ways to stand out while enjoying a very "in" trend.

How to wear it: Depends on the weather. For nicer days, wear it open to show off that spiffy sweater or patterned shirt. When the temps drop, spruce it up with a colorful scarf for contrast.

shop all men's peacoats
---
The Axe Man Goeth
Show off your fashion chops with a shirt jacket. It doesn't matter that you're not a lumberjack; you'll make the cut for on-trend style with this collared, button-front design. Traditional flannel and denim construction are obvious choices, but rugged waxed canvas will also stand up to the weather without feeling bulky or giving the impression you just rolled out of a logging camp.

How to wear it: Polish the look with a collared shirt and dress pants; then downshift with a casual crew neck and cuffed or rolled jeans. Layer it over a sweatshirt and jogger pants for warmth with laid-back comfort.

shop all men's shirt jackets
---
Get Your Motor Runnin'
You don't need a bike to get revved up about moto jackets. While the iconic biker jacket that made Brando a Wild One rocks hard, this modern design sports a stand collar with a sleek, close fit and a waist- or hip-length cut. Quilting at the shoulders and elbows adds a padded look that says you can handle any rough roads ahead.

How to wear it: Play it thin. Avoid bulky shirts and sweaters to maintain your aerodynamic appearance. Dark jeans will also keep your image in high gear. Simple sneakers or ankle boots are great to keep in step with the season.

shop all men's moto jackets
---
Puffed Daddy
A puffer jacket shouldn't make you feel like a marshmallow. In fact, a variety of fitted modern designs now include cropped cuts along with large wing or funnel collars and squared shoulders to keep you warm while looking cool. Attached or removable hoods add further convenience with a dash of sporty flair.

How to wear it: Quilt while you're ahead. Opt for a quilted design instead of the traditional ski jacket style. It relaxes the fullness of the insulation and gives you more of a tailored silhouette.

shop all men's puffer jackets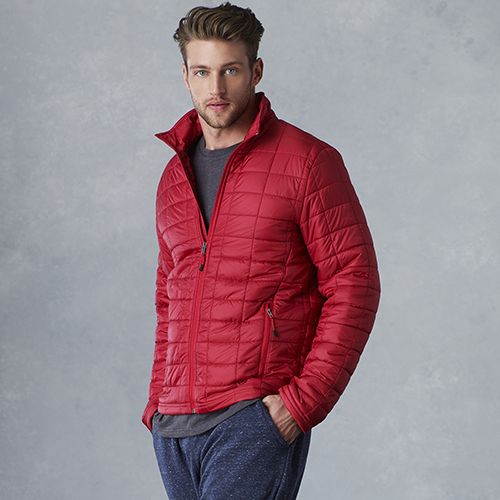 ---
---
---