A Beginner's Guide to Buying a Suit
A Beginner's Guide to Buying a Suit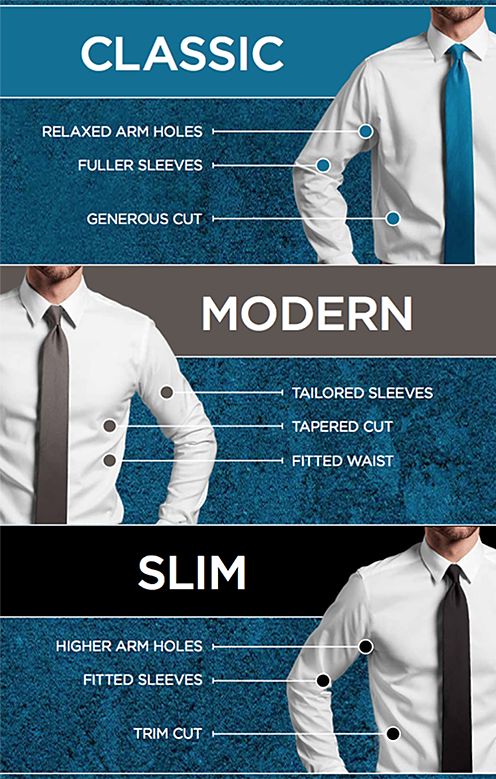 ---
Sized for Style
Suit jackets are measured using a number which refers to your chest measurement, and a descriptive word that refers to the length of the sport coat. For example, 38 short or 40 regular. Big refers to individuals with a 48 chest size and larger.
Short Length: Short jackets are made for men who are 5' 7-1/2" and shorter.
Regular Length: Regular jackets offer a perfect fit for those between 5' 8" and 6' 2".
Long Length: Long suit jackets fit those who are 6' 2-1/2" to 6' 5".
Tall Length: Tall jackets are classified to fit men 6' 2-1/2" and above.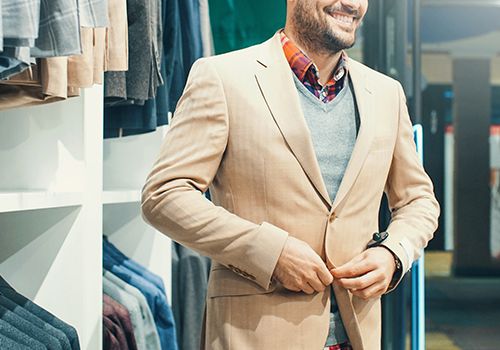 ---
Measure Up
Finding your perfect size can seem tricky, but taking a few simple measurements can offer a clear answer:
Measure around the broadest part of your shoulders and upper arms, this is called the overarm measurement.

Next, measure around your chest. If your overarm is more than 7" larger than your chest, you should choose a suit that is one size larger than your chest.
Picking your pant size can be determined by the drop. Drop is the difference between the size of your jacket and the size of the pants. Classic suits typically have a 6" drop, for example, a 40 regular jacket would be paired with size 34 pants. A slim suit traditionally has a 7" drop, while an extra slim suit has an 8" drop.
Cutting the Slack
No matter the fit you pick, your sport coat should be tailored to you. Sleeves should show a bit of shirt cuff, while the bottom of the jacket should not extend beyond your fingertips. Slacks should not bag over the top of the shoe or show too much sock. Pants with no cuff are a more modern choice, but if you have long legs or are taller, a cuff can provide a more balanced appearance.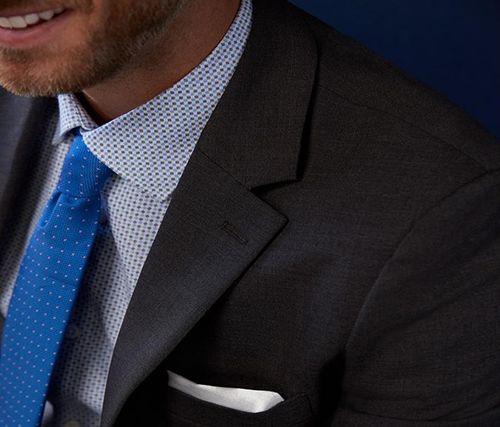 ---
Colors, Fabrics & Patterns
Black suits are easily what comes to mind when you think of a traditional suit ensemble, but they may not be the most versatile choice. For a first suit, go with a color that will help you mix-and-match the jacket with a variety of trousers to fit your occasion. Charcoal and navy deliver ultimate versatility.
Wool: This is the most common suiting fabric as it's breathable but also lends warmth.
Velvet: Most commonly used in smoking jackets or a holiday tuxedo. The soft hand offers a festive dressy look, but it is not an appropriate fabric for work-related functions.
Cotton: Great for the guy who doesn't need a suit for year-round wear, but wants a contemporary style at summer occasions or social engagements in mild weather.
Linen: Despite wrinkles, linen is a go-to summer suit fabric. This fabric is perfect for a tropical wedding and hot occasions.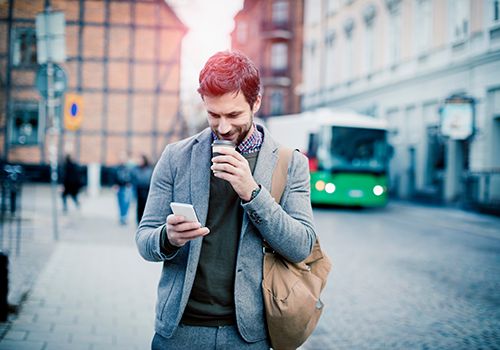 If purchasing your first suit, a solid pattern is a good and sensible choice. If you have a solid suit, building your collection of textures and patterns is a good next step.
Birdseye & Herringbone Textures: Both these textures are conservative but add depth to a solid-color suit. Birdseye features tiny dots, while herringbone is defined by a zigzag pattern.
Striped: Pin, chalk or cable, all stripes have subtle differences and will change up the look of your suit. When wearing a striped suit it's fun to enhance the look with a solid shirt to break up the wall of stripes.
Checkered: A checked suit should be the final addition to a collection as it is much less versatile. They work great with lighter shades of gray or blue, and often pair well with a solid shirt and tie.
---
Button-Up
Consider buttons. Typically a two-button jacket is more modern than a jacket with three buttons. As a rule, never fasten the bottom button. When seated, open all buttons for classic jacket etiquette.
Lapel Learning
There are three main types of lapels found on men's suits. Notched, which offers a V-shaped notch, peaked, which comes to sharp upward point and shawl, which is typical in tuxedos and boasts a more rounded finish. Overall, a slender lapel delivers a more modern look, while a wider lapel offers traditional style.
Double breasted jacket: Choose a peaked lapel.
Single breasted jacket: For a professional look, choose a peaked lapel. For a more casual look, choose a notched lapel.
Tuxedo jacket: Choose a shawl lapel.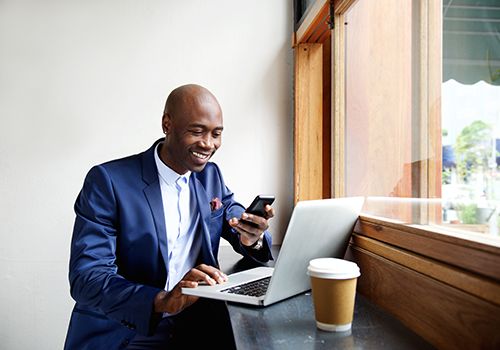 ---
Vent It
The vent is the back portion of a suit jacket that offers more flexibility and mobility. There are three main kinds of jacket vents to consider.
Single Vent: Also known as the American vent. This vent flatters most men of nearly all builds, and is ideal for a man with a larger rear. Single vented suit jackets are arguably the most common and simple choice.
No Vent: This style fits best on a slimmer and shorter man. A no-vent jacket creates a slimming effect, but offers the least amount of flexibility.
Double Vent: This venting style features two slits and delivers the most mobility and flexibility. Double venting flatters all body types, especially taller men.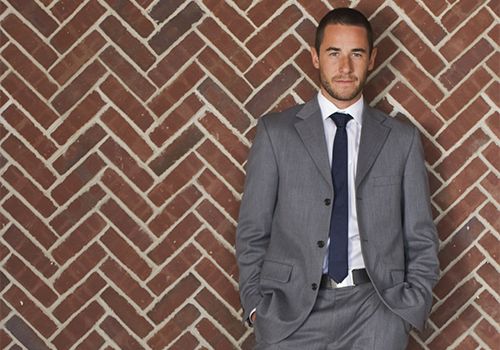 ---
---
---