5 Summer Wardrobe Essentials to Heat up Your Style
5 Summer Wardrobe Essentials to Heat up Your Style

When the weather is sunny and temperatures are soaring, you want your fashion to be light, carefree and always on trend. That's easy to do with the right pieces in your wardrobe. Just focus on a handful of current styles you can mix with everyday basics. Here are five ideas for stocking your closet with sure-fire, summertime favorites.

1. An Off-the-Shoulder Top
There's no better way to stay cool in the heat than with a breezy, cold shoulder top. An embroidered off-the-shoulder top, like the latest look from Simply Styled, stays light and airy with gauzy fabric, and features a bonus ruffle that accentuates the cut. The best part about bringing your shoulders into view? It creates a flattering triangle-shaped torso that slims or balances whatever you wear on the bottom.

Style Tip: Anything goes when it comes to showing your shoulders. Try a one-shoulder look for asymmetric flair, or bare both sides for equal coverage.
shop all off-the-shoulder tops
---
2. Weekend-Ready Shorts
For casual days, it's shorts all the way. A classic style gives you all the versatility you need with a mid-rise design and moderate length. Look for hems with folded cuffs so you can pair your shorts with dressier pieces, as well as with t-shirts and tank tops.

Style Tip: Flatter with a flat-front design. Forego pleats and gathers and opt for smooth fabric that creates a more modern, streamlined look.
shop all women's shorts
---
3. A Sweeping Maxi Skirt
Swap pants for the wispy look and feel of a long, lightweight maxi skirt. Simple for sunny days or balmy evenings, this style stays casual with your favorite t-shirt or dresses up with a sleeveless blouse. Plus, draping fabric stays loose and roomy, delivering that easygoing feel you love about summer.

Style Tip: Stray from a standard straight design. Play with ruffle, side drape or slit skirt designs for different lines or contours.
shop all women's maxi skirts
---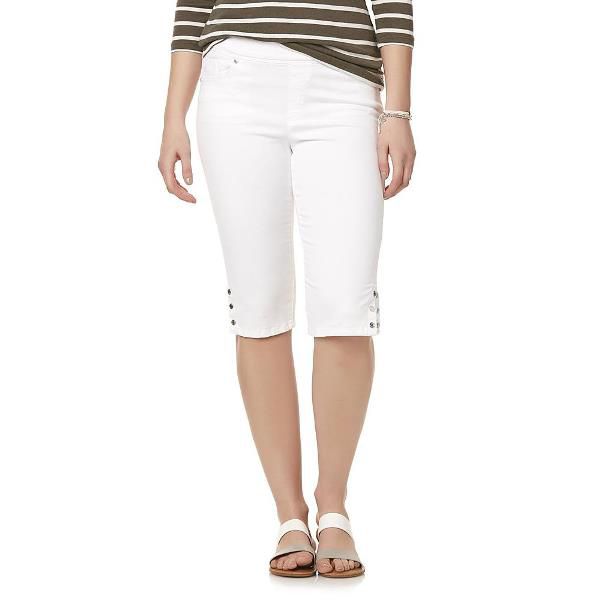 4. Easy Capris
Your go-to jeans the rest of the year turn lightweight for summer months with comfortable capri pants. Wear them in any fabric or style, from stretch-knit leggings to denim designs, for a look that's always sunny and fresh. You can keep them leisurely with tank tops and sandals, or gussy them up with blouses and heels.

Style Tip: Neutral is the new noticeable. Try light-colored capris with other nude hues for a monochrome look that's particularly summer-appropriate.
shop all women's capris
---
5. An Effortless Dress
Summer was made for sleeveless dresses in lighter fabrics and softer silhouettes. The Simply Styled shift dress, shown on the right, lends a low-key yet highly presentable vibe with a boho print and a fit that skims. An above-the-knee length is the cut you want for going from indoors to out in the sun.

Style Tip: Layer for the occasion. Throw on a blazer or cardigan sweater if your dress needs extra coverage at work. For weekends, add a jean jacket or a street-inspired moto design.
shop all women's summer dresses
---
---
---