Top 5 Women's Plus Fall Fashion Trends
Top 5 Women's Plus Fall Fashion Trends


There is something about shifting from summer to fall that makes us all work a little harder at staying stylish. Like, maybe it takes more energy to be chic as sunny days fade away to crisp, cooler weather. Lucky for us, autumn is also a metaphor for letting go of old looks and trying out new trends. Here are five women's plus wardrobe musts to keep your fall fashion seeming effortlessly fresh.


1. Velveteen Dream
For fall versatility, look no further than these essential velour leggings from Simply Emma. These shapely pants show off right-now texture in the form of a velvety finish. Perfect for dressing up daytime looks, this luxe look also transitions to evening. Plus, you're sure to welcome a measure of comfort stretch.
Style tip: Play with texture. Try velvet leggings with a rib knit sweater for a particularly autumn-appropriate pairing.

shop all women's plus velvet leggings


2. Everything's Sweeter with Pleats
Universally flattering and always comfortable, pleated designs are a trend worth trotting out any day of the week. Folds in the fabric not only add dimension, but they softly sway and gently drape for a relaxed silhouette that still grabs attention. Don dresses, skirts or blouses with these features, from accordion creases to softly gathered styles.
Style tip: Keep it flowing. Layer pleated pieces with loose-fitting styles that won't interrupt the drape and movement.

shop all women's plus pleated apparel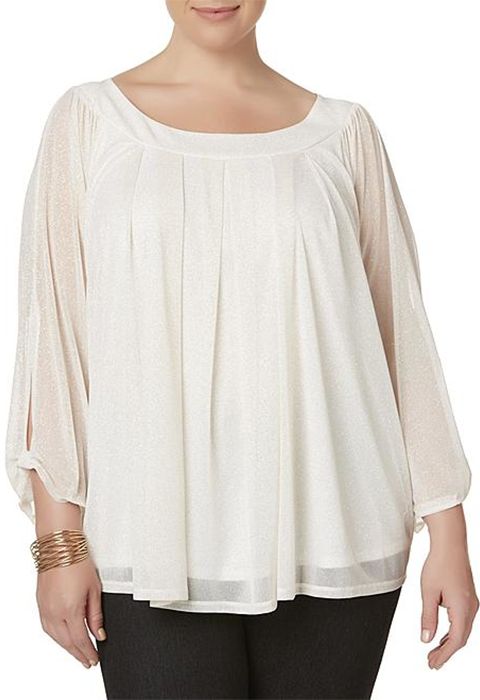 3. Ruffled Just Right
When you're feeling feminine, flaunt it with ruffle details. Definitely not for the faint of fashion, ruffles make a distinctive statement whether they're softly trimming the hem of a skirt or boldly billowing a collar. Incorporate this fluttery look with confidence, starting with a ruffle-trim jacket for work, or a boho peasant dress with flared ruffle sleeves.
Style tip: Accentuate or downplay your shape with ruffles. Wear them in places where it's okay to add volume; avoid them with features you typically try to minimize.

shop all women's plus ruffled clothing
4. Oh Man, That Suits You
Achieve your fashion yin and yang with a mix of masculine and feminine styling, starting with a Simply Emma boyfriend shirt. Designed to fit like it's sized for him (but still shaped like it was made for you), this roomy shirt is ideal for creating layered combos and tie-hem looks. Disguise it as a lightweight jacket or dress it up with skirts and heels: Your options are many with this button-front shirt that's begging for autumn wear.
Style tip: Have it both ways. Use structured-yet-slouchy boyfriend style to add sophistication to casual pieces or to tone down dressier items.

shop all women's plus boyfriend shirts

5. Playing the Field
Thanks to an explosion of workout wear that's tailored to every season, it's common and completely acceptable these days to spend the day in your gym clothes. The trick to turning sports apparel into street-appropriate style? Balance. Put bright white sneakers with your favorite fall dress, or top jogger pants with a structured jacket.
Style tip: Comfort, convenience and trendiness aside, the cardinal rule of fashion applies: always dress appropriately for the occasion.
---
---
---