A Beginner's Guide to Buying an Elliptical
A Beginner's Guide to Buying an Elliptical
WARNING: Always check with a doctor prior to beginning a new workout routine.
If you want to work out your muscles while staying gentle on your joints, an elliptical trainer is an essential addition to any home gym. With so much variety to choose from, buying the machine can feel harder than an actual workout, but it doesn't have to be. Here is some essential information about the best types of ellipticals and features for your cardio routine.

Front-Drive Ellipticals
Front drives imitate the workout of climbing stairs with an elliptical motion. The flywheel is located at the front of the machine.

Lightweight and compact - A lighter, sleeker machine is easier to move so you can easily redesign your home gym as you add more equipment. Less bulky machines are also great for home gyms on a non-ground floor, giving you peace of mind that you won't be disturbing the people below.
Typically more affordable - Those just starting a workout routine or creating a home gym will appreciate the lower pricing. Fitness enthusiasts can add a new machine without spending more than they want.
Easy to get on and off - Since you're usually lower to the ground, you can confidently get on and off with ease. Those with knee issues or less stability will have more peace of mind knowing they'll be less likely to trip on the equipment.
shop all front-drive ellipticals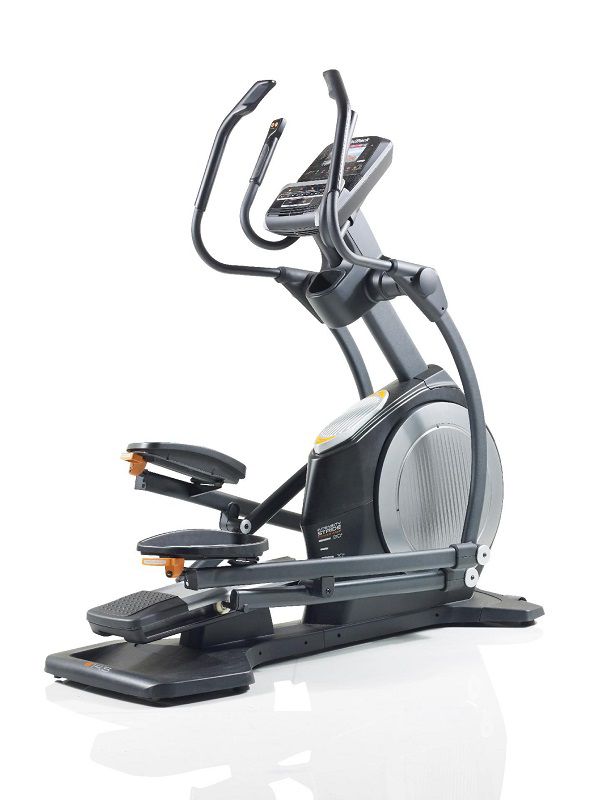 ---
Rear-Drive Ellipticals
Rear drives designs create a motion close to that of walking or jogging. The flywheel is located at the back of the machine.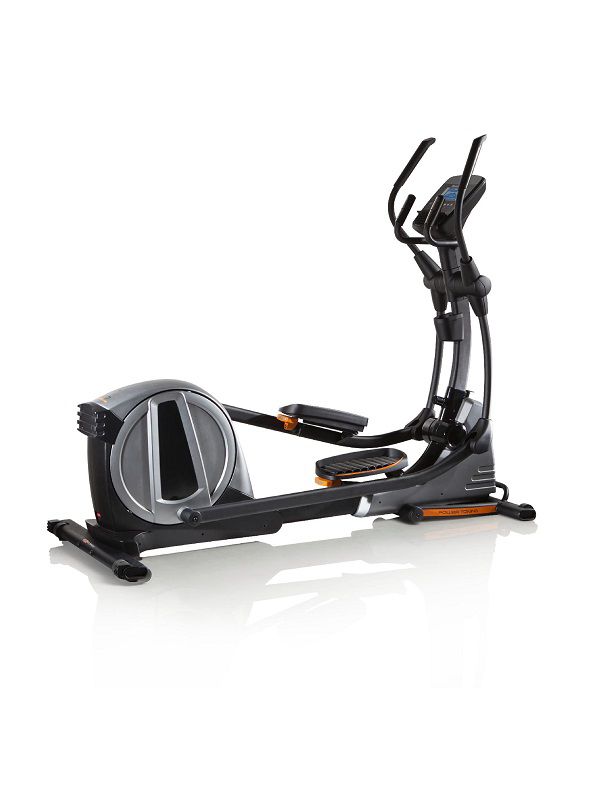 Commonly have an incline feature - Adding resistance to your routine helps prevent workout boredom, and it also makes workouts more challenging for those who want to push themselves.
Helps you stay centered - Correct body positioning is key to getting a good workout without strain. Those with balance issues won't have to constantly worry about falling during their workout. Instead, they can focus more on intensity and staying in their target heart-rate zone.
Allows for a more natural stride - This helps keep users more comfortable, ensuring a high-quality workout. A natural stride helps keep your body in the best position for a great workout.
Often offers quieter and smoother operation - If you prefer early morning or late-night routines, those who are sleeping will appreciate the machine's quietness. This feature also helps you focus more on your tunes or workout rather than the noise of the machine.
shop all rear-drive ellipticals
---
Center-Drive Ellipticals
Center drives are set in the center of the elliptical with a small flywheel on each side of the machine.

Allows for most natural position - A natural position helps users stay comfortable and balanced. This will help you stick to your routine and help ensure you're not straining your body.
Square-shaped - This space-saving design is great for smaller home gyms. Taking up less space than other types, a center-drive elliptical can allow for a more open gym.
Closer foot pedals - With foot pedals that are closer together, you'll feel less strain on your hips. This can help you get a good workout without adding more injury or soreness.

shop all center-drive ellipticals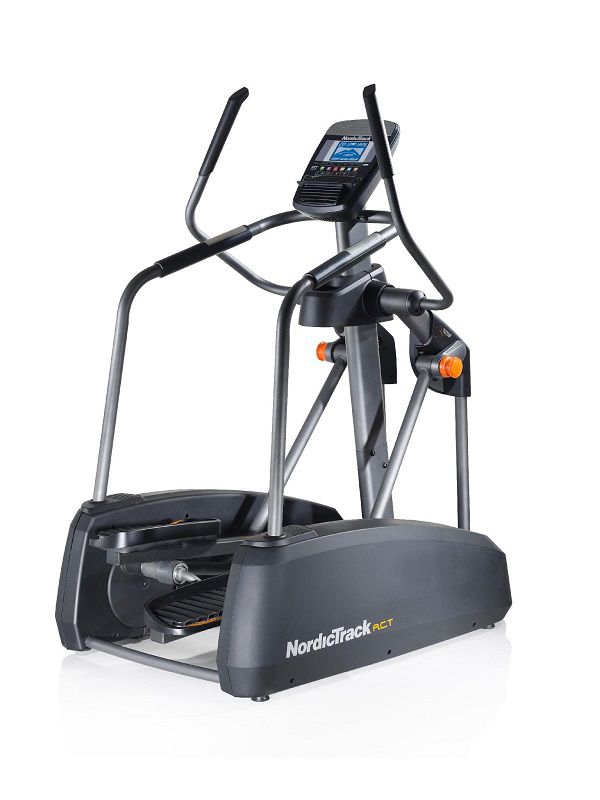 ---
Dual Elliptical Trainers
These models combine the benefits of a standard elliptical with an exercise cycle.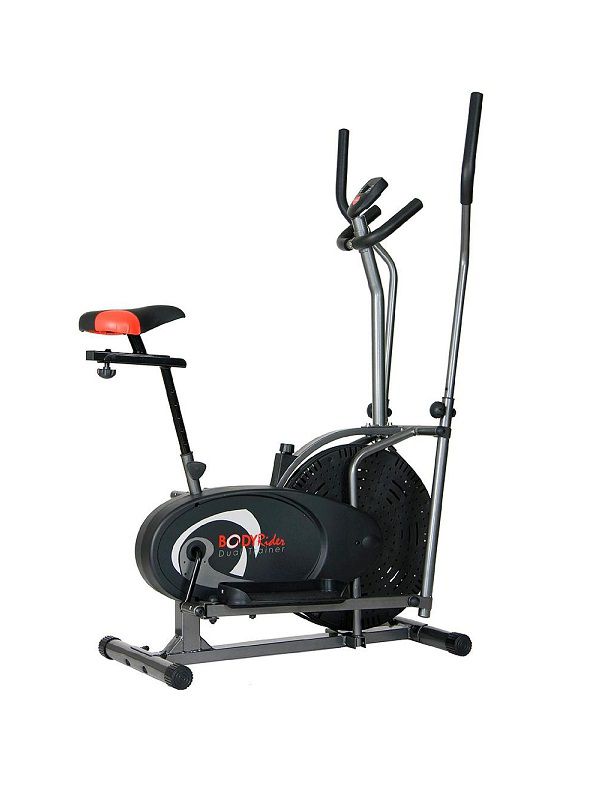 Workout while standing on the elliptical - Get all the benefits of an intense cardio session without overworking your joints.
Take a seat and work out on a bike - The exercise bike is great for beginners who are still getting used to daily exercise. It's also great for those with back, knee or joint problems that aren't comfortable standing for extended periods.
More workout variety - With the combination of two types of equipment, you can add more variety to your daily routine. You can alternate how you use the machine for interval training or switch up your workout to prevent boredom.
shop all dual elliptical trainers
---
Elliptical Gliders
Elliptical gliders have pedals that move back and forth instead of in a circular rotation. There is no flywheel as gliders are driven by the user's legs.

Great for a lower body workout - A lower body workout not only helps develop better leg muscles, but is great for cardio.
Moving arm components for an upper body workout - Those looking to tone the upper body should chose a model with moving arm components. Gliders can provide a full body workout for optimal exercise.
Ideal for minimal joint impact - With minimal joint impact, all ages and body types can get an intense workout without strain or pain. This will ensure you can exercise daily without taking too much time to recover.
Foldable for easy storage when not in use - Those not looking to turn a whole room into a home gym can easily store this machine in a corner or fold it up and put it away in a closet. Many models are foldable for simple storage.
shop all elliptical gliders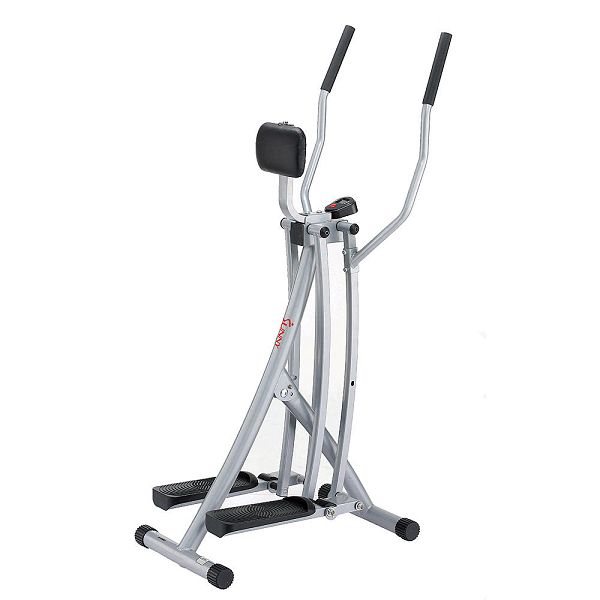 ---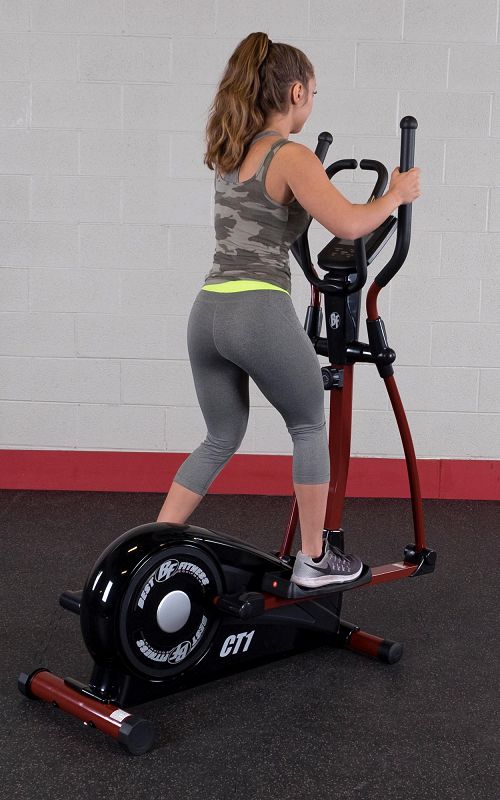 Performance Features
Incline - An incline lets you adjust the slope of your movement to simulate walking uphill. An adjustable incline allows you to target muscle groups in your legs for a targeted workout, while increasing your heart rate and exercise intensity.
Resistance - Adjusting the machine's resistance changes how difficult it is to move the pedals. This is great for interval training, where you can alternate between high intensity and low intensity all on one machine.
Flywheel weight - This determines how hard you can go and how much weight is supported.
Pedals - With adjustable pedals, you can modify them to accommodate your body's needs for comfort and stability.
Reverse motion - Reverse motion allows you to move your legs backward, so you can work different muscles.
Stride length - Your best stride length is determined by your height. Stride length is important for comfort and performance during the workout. Those shorter than 5'3" should utilize a stride length of 16"-18", those measuring 5'3" to 5'7" should utilize a stride of 19"-21" and those taller than 5'7" will find a stride length of 21" or longer most comfortable.
---
Console & Programs
Screens - Some ellipticals offer LED, touchscreen and backlit LCD screens, making it easier to read information on the screen when tracking your workout progress.
Data tracking - This displays your workout stats at a glance, including heart rate and calories burned.
iFit (Google Maps) - iFit is powered by Google Maps and automatically adjusts the incline or decline to match outdoor terrain while displaying Google Street View images. This program also helps you track your workouts, create customized workouts and offers hundreds of other programs to choose from to prevent boredom.
Pre-programmed workouts - Built-in workouts are designed for weight loss, heart health, interval training and more so you can let the machine do all the planning.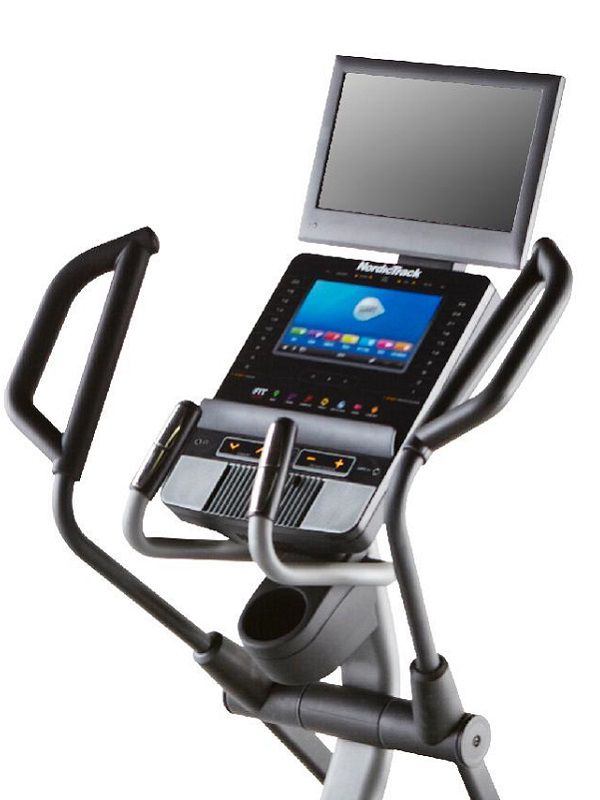 ---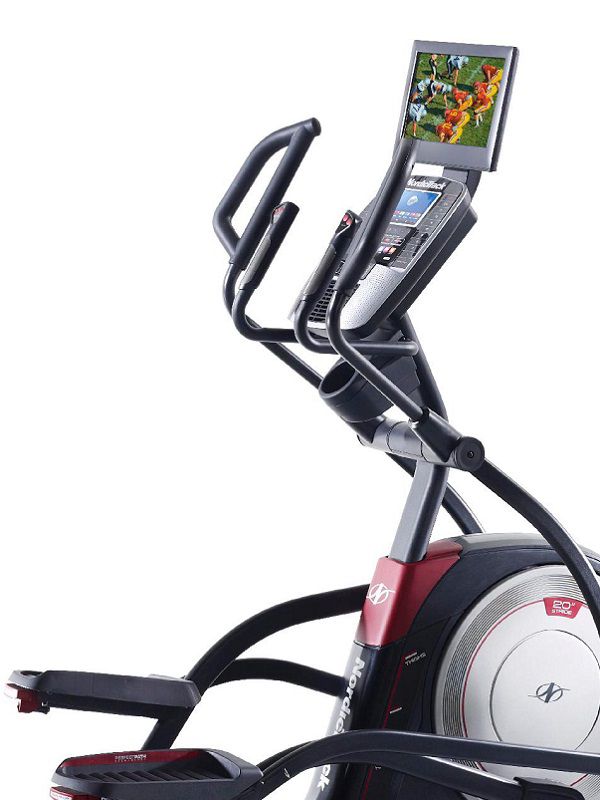 Conveniences
Pulse grip handles - Grip the handles to easily calculate, monitor and track your pulse.
MP3 input - Plug in your MP3 player and control your media playlist directly through the machine's larger console.
Water bottle holder - Keep hydrated by ensuring your water bottle is nearby for a quick sip.
Tablet holders - With a built-in holder, you can catch up on news or stream videos using a tablet or reader.
Bluetooth - Specialized machines have Bluetooth connections to track your workout on your favorite fitness tracking app or device.
Media capabilities - Many models allow you to plug in MP3 players, tablets or other mobile devices to use during a workout. The machine typically supplies charging capabilities for these devices as well.
---
---
---