Home Gym Planning Tips: How to Set Up Your Space
Home Gym Planning Tips: How to Set Up Your Space
You've finally decided to take fitness into your own hands. This means all the Monday mornings you've used the weather as an excuse to skip a workout are a thing of the past; all you have to do is walk a few steps into your workout space. Gone are the days of waiting in line for the cardio machine, rushing to or from work to beat the crowd or paying an expensive monthly membership. Here are some tips to help you get rid of that membership card with some tips to set up your very own fitness oasis.
Plan the Space
The first step is to figure out where to get down and sweaty. Whether you're converting a basement, garage, office or spare room into a fitness space, you'll need to figure out what can fit without being too cramped.
While a dedicated, private room with a door is recommended, you'll want to consider an area at least 8' x 8'. No matter how much room you have to work with, it's always better to start with enough space for a couple machines and a standard yoga mat, with the option of adding equipment over time. If that means the guest bed or your DVD collection have to move to another room, then so be it. It's for a worthy cause.
If possible, consider a bright space with natural light for a more uplifting environment that will help you stay enthusiastic while getting in shape.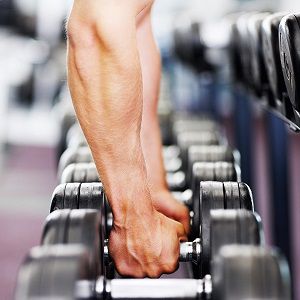 Select Your Equipment
Next, think about your fitness goals. Once you know what you're training for, you'll have a better idea of where to begin.
Strength/resistance equipment is perfect for developing lean muscle and adding definition. Power towers, barbells and bench sets are perfect if you have the space, but even adjustable dumbbells and resistance bands work wonders for those on a budget.
Cardio equipment is designed to help you burn off calories and trim fat. Jump ropes are excellent for those on a budget, but treadmills and bikes give you a higher intensity workout.
Balance equipment is beneficial for those who are pregnant, elderly or recently lost a lot of weight. Stability balls and balance boards help improve your ability to control and stabilize your body, and don't cost an arm and a leg to own.
Flexibility equipment is best for those who practice yoga or Pilates. Foam rollers and mats will become your best friends, but don't count out additional accessories.
Look for equipment that satisfies your specific workout needs while diversifying daily routines. If space is at a premium, think about space-saving units like a folding treadmill or an all-in-one machine that combines strength and resistance training. Also, following certain fitness programs can help give you an idea of specific equipment you'll need for more customized workouts.
shop all fitness equipment
Determine Your Budget
One of the biggest hurdles in planning a home gym will be determining a budget. You want to lose weight, not weigh yourself down in debt. Big-ticket equipment has plenty of perks, but don't sweat it if they're not in your price range. There are plenty of wallet-friendly ways to work those muscles.
Research prices to give yourself a good idea of what to expect at the finish line. Start only with what you need and can afford, then add more as you go along. It's okay to take your time.
Set It Up
Now it's time to map out the space, but take a step back to think about where everything should go. Think about how you normally start your workouts. If you typically begin with stretches and light cardio, an open warmup station with a yoga mat and jump rope will put you in the right frame of mind. Consider how your workout evolves, and design your gym in a way that complements your individual style, allowing you to move from one station to the next with fluid ease.
At this stage of planning, remember that you want to give yourself enough room to do your routine workouts. Try to incorporate at least 3' of space around your stations, machines and walls.
Add Some Finishing Touches
If you have room to spare, hook up a stereo system or speakers with your MP3 player to give you the motivation to power through your workouts. Playing your pump-up playlist during resistance and cardio workouts and soothing tunes during yoga help to make all the difference.
Consider adding a full-body mirror to your space that may help motivate and help you improve your form and technique. Plus, it will help give the room a larger look so that even small rooms won't feel as tight.
Finally, ask yourself what will make you feel most comfortable. Accessorize your home gym with houseplants, a hanging TV or inspiring artwork to help make your workouts more manageable.
shop all speakers | televisions
---
---
---